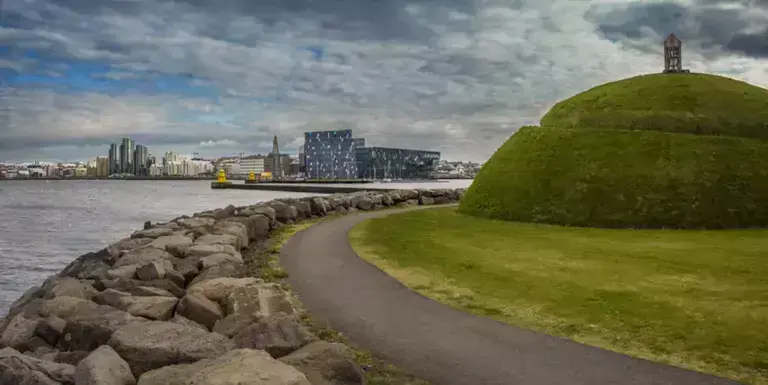 Reykjavík in 48 hours
What can you do in Reykjavik, Iceland with just 48 hours to spare? Let's take a look at our 2-day tour guide itinerary
We've put together an itinerary of things to do in Reykjavik to help you make the most of your time while in Reykjavik, Iceland — even if you only have 2 days - 48 hours - to spend in the city.
The itinerary includes must-see sights and must-do activities for a short stop in Iceland's capital city of Reykjavík. The town is very accessible on foot, so we recommend walking if you're able to. You can always grab a scooter, rent a bike, grab a bus, or drive from place to place in a car if that's more your speed.
And don't worry about the weather - it usually changes every 5 minutes or so! Wear layers and channel the hearty Viking spirit.
Day 1:
This pool is a staple of the hip west-side neighbourhood, which is home to Björk and other artists and musicians, as well as many foreign diplomats. You can swim laps, sweat out the toxins in a steam bath or just soak in one of many hot tubs and let your worries melt away. You're likely to find a few Icelanders ready to strike up a conversation in one of the hot tubs — it's practically a national pastime.
Please follow the instructions about showering from head to toe with soap and water before entering the pool. If you need a swimsuit or towel, you can rent one at the help desk.
Mid-morning snack
Vesturbær is home to several of the highest-rated local bakeries and coffee shops, most notably Brauð and Co. and Kaffi Vest, so if you're craving a quick bite and sip after your dip in the pool, you have plenty of options.
Located at the tip of Seltjarnarnes Peninsula, Grótta is a picturesque lighthouse surrounded by beautiful nature and bustling bird life. The lighthouse is accessible during low tide, and you can enjoy looking at it from a distance during high tide. It's worth taking some time to walk on the black-sand beach, watch the birds and enjoy the soothing sound of waves meeting the shore.
101 Reykjavík
From the suburban oasis of Seltjarnarnes, you can walk, bike, scooter or drive back to the heart of downtown Reykjavík. 101 Reykjavík boasts a rich history, beautiful architecture and all the culture, food, and shopping options you could hope for.
Parliament and Austurvöllur Square
One of the most distinctive buildings downtown is the National Parliament House, Alþingi, built-in 1881. Opposite Alþingi is Austurvöllur, a grassy square that's used as a thoroughfare and gathering place. Be sure to check out the statue of Jón Sigurðsson, a central figure in Iceland's independence movement.
Bæjarins Beztu (the city's best hot dogs)
Around the corner from Austuvöllur is an Icelandic staple no less important than Parliament and Jón Sigurðsson: Bæjarins Beztu, the oldest hot dog stand in Reykjavik. It's been in operation since 1937 and has served the likes of Bill Clinton, Kim Kardashian and Anthony Bourdain. You've probably seen it recommended by foodies as a must-dine spot. Order "eina með öllu" and dig in!
If your legs still have some life left in them, consider taking a stroll around the big pond downtown, Tjörnin. You'll find ducks (and, depending on the time of year, maybe baby ducklings) as well as swans and seagulls who are always ready to greet visitors. A walking path loops around the pond, and the surrounding area is lush with flowers and greenery.
Reykjavík has many museum offerings, some more eclectic than others. The world's largest penis museum, the Icelandic Phallological Museum and the underground Icelandic Punk Museum are located in the heart of downtown. If you're looking for a more traditional museum experience, consider checking out The Settlement Exhibition or Reykjavík Art Museum.
Laugavegur is one of the oldest shopping streets in Reykjavik. Its name derives from back when the road led to Laugardalur, where people would walk to wash laundry in the "Laugar", or geothermal pools. Laugavegur is packed full of shops, restaurants, and coffee shops — something to suit everyone's style and budget
Dinner
After all this walking, you're probably famished. Consider one of these delicious and affordable (by Iceland standards) options:
Hlemmur Mathöll: Hlemmur used to be a bus station, but today it's a trendy food hall with many delicious Skál! - in 2019 was awarded a Michelin Bib Gourmand.
Jörgensen Kitchen & Bar: Across the street from Hlemmur is Jörgensen Kitchen & Bar, a cosy spot with something to suit every palate and diet.
Ban Thai: Just up the road is the popular Ban Thai, often named the Best Thai Restaurant in the Reykjavík Grapevine Magazine.
Day 2:
Perlan: Perlan has an iconic look and offers within it a science museum and a tremendous 360-degree view of Reykjavík and the ocean. Plus, there is a restaurant area that spins in circles (don't worry - it's very, veeerrry slow).
The surrounding area is called Öskjuhlíð and has plenty of cool little nature trails to spot cute little wild bunnies hopping around! Very close by is also Nauthólsvík Geothermal Beach, which is our next stop.
Nauthólsvík is a geothermal beach a man-made white sand beach complete with outdoor activities for beach volleyball and there are open-air hot tubs.
You can marvel at the sea swimmers' audacity as you chill out in the hot tubs.
Hot water also runs into a cove area - but if you want to join the local sea swimmers you can head out into the bay for an ice-cold swim. There are numerous potential health benefits - but be careful. The Nauthólsvík website has the following words of advice regarding sea swimming:
"Swimming in cold water is said to boost the immune system and have various health benefits. However, it can be dangerous for an untrained person. Here are some guidelines that we ask you to follow:
Never swim alone. Always have a partner with you.
Always watch your partner. Monitor their condition by speaking regularly.
Don't go too far from the coast.
Don't start swimming until you have started to breathe normally and stay for small periods of time, to begin with.
Recognize the possible symptoms of hypothermia.
Listen to your body.
In case of an emergency, dial 112. The staff can not ensure the safety of guests while in the sea."
The opening hours during the summer are from 10 AM to 7 PM
One of Iceland's staples is having ice cream on the weekend, on a sunny day, or just because! You can join in the fun and enjoy a soft-serve ice cream, a milkshake, or something called a "bragðarefur" which is a blend of sweets and ice cream mixed in a blender. Icelanders enjoy taking their ice cream in a stroller, but if the weather is not all that great (it very often isn't), then you can do as they do and take it with you for a drive. Some notable ice cream establishments include Reykjavik: Ísbúð Vesturbæjar, Huppa, Skúbb, Valdís and Ísbúðin Laugalæk.
Hallgrímskirkja + Leifur Eiríksson statue
At the top of Skólavörðustígur, you will be face-to-face with Leifur, a.k.a. "Leif the Lucky" Eiríksson, a Viking pioneer who discovered North America before Columbus. This statue was a gift to Iceland from the United States in 1930 on the occasion of the 1000-year anniversary of Alþingi, or Parliament.
Just past the majestic statue of Leifur is Hallgrímskirkja, the largest church in Iceland and the tallest building in Reykjavík. You could say that Hallgrímskirkja stands guard over Reykjavík. The church is both a parish church and is also considered a national sanctuary in Iceland.
The church is named after the 17th-century clergyman Hallgrímur Pétursson, author of Hymns of the Passion. Hallgrímskirkja is an Evangelical-Lutheran church and is a part of the Evangelical Lutheran Church of Iceland. Hallgrímskirkja is one of the most visited places by tourists in Iceland, with thousands of people visiting the church every day. Admission to the church itself is free, and for a small fee ( ISK 100 for children and ISK 1000 for adults you can take an elevator to the viewing tower, which gives an amazing panorama of downtown Reykjavík.
You may or may not have noticed but Iceland is a nation of coffee drinkers. We celebrate this bold and marvellous black nectar. You won't have to go far to grab a cup of coffee, but as a tour guide in written form, would like to recommend you stop by Reykjavik Roasters. You can grab a drink to go or sit down for a spell and enjoy the atmosphere. There are two locations close by Hallgrímskirkja. Reykjavík Roasters has its original location on Kárastígur (about 5 minutes walking distance from Hallgrímskirkja) and a very cosy spot in the museum Ásmundarsalur (also about 5 minutes walking distance from Hallgrímskirkja!). You can also check out Kaktus espresso bar (which might take you a whopping 6 minutes) which specialises in Italian quality coffee.
There are many sculptures and statues all around Reykjavik and the towns next to the capital of Iceland. You should definitely not miss out on the Sun Voyager. It overlooks Faxaflói Bay and you can see beautiful Mount Esja in the north. The Sun Voyager is both a striking and iconic-looking steel sculpture by Jón Gunnar Árnason, resembling a Viking ship in an abstract form but it is in fact more of a dream boat and an ode to the sun.
It's beautiful in the morning, and during the daytime as well, and you definitely can't go wrong standing next to it at sunset.
A perfect way to begin winding down from an action-packed day, Sky Lagoon thermal spa and lagoon is sure to make you nice, warmed-up and relaxed. Sky Lagoon is located in Kópavogur, just minutes away from Reykjavík. From the warm pools of water, you can experience an impressive view of the North Atlantic Ocean. During the winter months, you might catch some dazzling Northern Lights dancing above you. You can stand underneath a man-made waterfall or get a cocktail from the bar (that's right - a drink of your choice right there in the lagoon). There are different packages available, either with an in-depth spa experience or a simpler option if you're in a hurry.
Prices start at 7,900 ISK per person - make sure to book in advance.
There are plenty of options for you to enjoy a delicious dinner in the capital area. Just a few minutes away from Kópavogur is the town of Hafnarfjörður, the literal translation of the name is Harbourfjord. One of the town's preeminent restaurants is Krydd.
Krydd Restaurant boasts a varied menu with options for meat-eaters, vegetarians and vegans, plus a kids menu. One restaurant-goer said: "Great food and very friendly staff. The dessert was breathtaking and beautiful ❤️ What a treat to have such a great and trendy place in beautiful Hafnarfjordur."