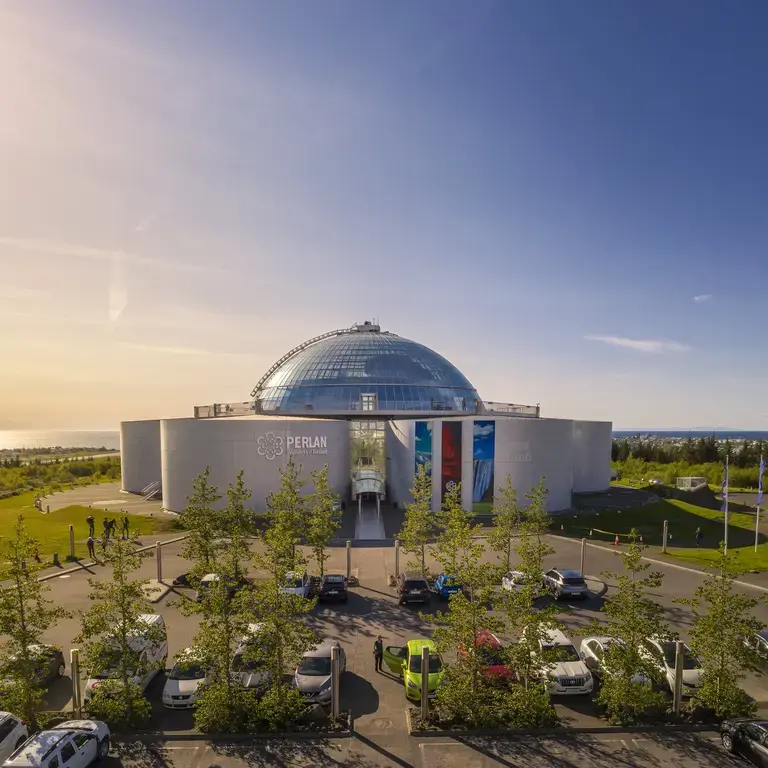 Perlan Museum
Varmahlíð 1, Reykjavík 105, 5669000
Opening Hours:
Mon - Sun: 9.00am - 9.00pm
Website: https://perlan.is/
Email: info@perlan.is
Perlan resembles a pearl sitting on top of Reykjavík. It is surrounded by the charming woodland of Öskjuhlíð hill, with 360° views all over the capital area.
There is something for everyone to do and enjoy in any weather condition. Perlan houses a modern nature exhibition, a real indoor ice cave, a 4K planetarium, a 360° viewing platform, an ice cream shop, a lovely café, bouncy castles with fun trials, and more.
Nature exhibitions
Perlan's nature exhibition brings the wonders of Iceland alive for anyone to experience and learn about. It features cutting-edge technology, spectacular photography, and fun activities for everyone. You experience the forces of volcanoes and Iceland's geological history, explore life in a realistic replica of Europe's largest bird cliff, see the oceanic wonders of Iceland, and more. There is even a 100m long real ice cave where you get a magical glacier experience.
The National Museum of Icelandic Nature has a fun exhibition at Perlan, called Water in Icelandic nature. There, you discover the mysteries and nature of water through activities, technology, texts, and imagery.
Áróra – The northern lights planetarium experience
Áróra is Perlan's award-winning planetarium show, where the northern lights dance all around you. They come alive through science, art, technology, stories, and music by beloved Icelandic musicians. You virtually travel through space and time to see how they are formed and experience them in new ways.
Ice cream shop
Perlan's ice cream shop offers homemade ice cream you can enjoy on the 360° observation deck or under the glass dome on the top of Reykjavík. The ice cream is made with love, brought to you at special prices all around the year.
Perlan Café
Under Perlan's glass dome on the 5th floor, you find Perlan's café. It is perfect for enjoying the views in good company, with a drink of choice and a snack or something sweet.