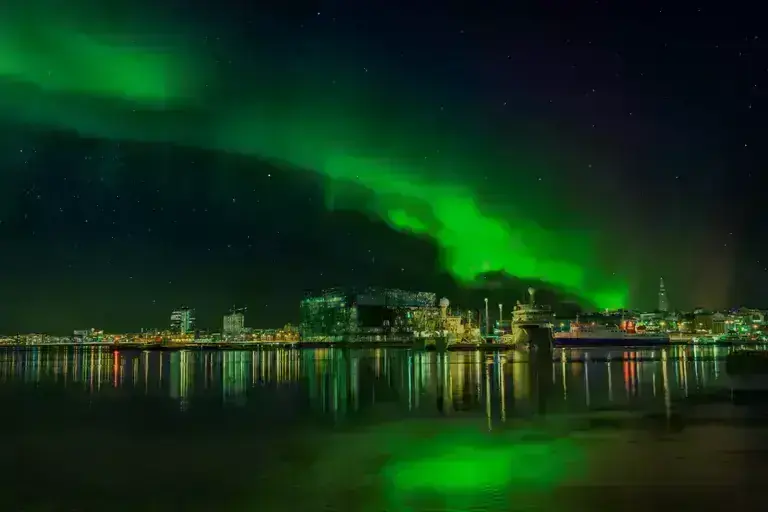 FAQ
Icelanders are privileged when it comes to the Northern Lights. They are visible for eight months a year, from early September to the end of April, and in any of these months, you are likely to see some aurora activity—it just depends on your luck, the weather, and solar activity.
Here on our national weather forecast website, you can see the northern lights forecast. The green clouds, and on the right side you can see how strong the solar activity has been, everything over 3 is considered good.
Heiðmörk and Krýsuvík are excellent locations within the Capital area


The monetary unit of Iceland is the Krona (ISK). As a method of payment, Icelanders use almost exclusively credit and debit cards. Thus credit and debit cards are accepted in most shops while foreign currencies are very rarely accepted in Iceland. We have a 4 number pin code system, most operators are using a chip confirmation so a pin is necessary.
It depends on what you would like to do. Midnight sun and warmer temperatures make summer a great season to visit Reykjavík, whereas October - March is typically the best time for the Northern Lights and crispy snow
Reykjavík's largest swimming pool is also the most popular one; both among locals and visitors. Laugardalslaug features two 50-meter pools, 7 hot tubs ranging in heat, a steam bath, a cold tub, a large water slide, and more. It's a short distance from the city centre.
Right in the centre is Sundhöllin, Reykjavík's oldest pool (but most recently renovated). It's a popular destination with great facilities.
Then there are many other great pools of the grid. Take Lágafellslaug in Mosfellsbær for an example: it features 3 water slides that the kids love, a great kids pool as well as cosy hut tubs. Álftaneslaug on the Presidential Peninsula is another perfect destination for families. There you'll find an excellent kids' pool, a large water slide and even a "tidal pool" which replicates a wavy beach.
Yes. Butt naked! But of course, the dressing and shower rooms are divided between men-women. But don't let that discourage you. The locals have been bathing naked at the local pool since birth and most definitely have no interest in other people's private parts. A poster can be found in all shower rooms explaining how to wash all these different parts; something that many visitors find both strange, funny, and confusing. This rule was set many years ago to keep the quality of the water and minimize the use of chlorine. If breaking the rule, you might receive a friendly reminder from a dedicated swimmer to take off your clothes.
There are so many fabulous things to see and do, with a selection of museums and galleries, countless shops and restaurants, and plenty of activities. The city centre is close to the Old Harbour and stretches from Reykjavík's oldest street, Aðalstræti, all the way up the hill to the end of the main street, Laugavegur. The city also boasts beautiful nature, historical buildings and some thoroughly eclectic sculptures on the nearby island of Viðey.
Get your hands on a Reykjavík City Card for free access to museums and pools, a ferry ride to Viðey and numerous discounts in city shops and restaurants.
Most people are quick to notice popular landmarks such as Hallgrímskirkja Church, the Pearl, Tjörnin (the pond) and Mount Esja rising over the city, which can all be reached on foot or by bus.
Laugavegur is the main shopping street and runs through the city centre. Skólavörðurstígur lies next to Laugavegur and is now considered one of two main shopping streets.
There are two large shopping malls, Kringlan and Smáralind. Kringlan is located just east of the city centre and about 10 minutes by bus from the city centre. To get to Kringlan you can take bus number 1, 3, 4 or 6 from Hlemmur or Laekjartorg bus stop. Smáralind shopping mall is located in Kopavogur and about 30 minutes by bus from the city centre. To get to Smaralind you can take bus number S2 from Hlemmur central bus station.
Several coach companies offer trips to the Blue Lagoon including, Iceland Excursions, Reykjavík Excursions, and Bus Travel Iceland, with admission included in their price. These companies also offer trips to the lagoon from Keflavík airport, giving you the option of visiting either when you arrive or before your trip home.
Experiencing the Icelandic countryside on horseback is an unforgettable experience and there are several companies and farms offering trips ranging from short one-hour tours to longer tours for more experienced riders.
The ocean around Iceland is a natural habitat for many different types of whales. Commonly sighted on whale-watching tours from Reykjavík are Minke whales, White-beaked dolphins, harbour porpoises, and Humpback whales. In the North of Iceland, a lucky few have had the rare glimpse of a blue whale or two.
The main whale watching season runs from April to October: winter whale watching tours are scheduled from November throughout March while the puffin season starts in mid-May and lasts until mid-August. Note that although marine mammals are almost always sighted on whale watching trips, no guarantees are offered.
Reykjavík has an astounding variety of restaurants, offering both traditional and international cuisine cooked using the finest ingredients. The pride of Icelandic cuisine is the fresh fish and the delicious lamb, which we cheerfully claim is the best in the world.
Reykjavík is famous for its vibrant nightlife and there's a selection of everything from trendy bars and nightclubs to rock 'n roll establishments in Reykjavík, most of which are open until the early hours of the morning. The main nightlife area is on and around the main street Laugavegur, and the party starts around or after midnight.
Bláfjöll is the ski resort that is closest to Reykjavík. It's less than an hour's drive from the city centre. The skiing area is open when weather and snow conditions allow.
You can claim your tax refund (15% of the retail price) at Keflavík airport, which is open during departing flights, from around 6:00 - 18:00. Note that the payslip for individual refunds of 6,000kr and over will need to be stamped at the customs office at Keflavík Airport. Goods purchased generating 6,000kr and over in refunds will also need to be inspected at the same time. These rules do not apply to purchases of woollen goods.
Luggage Lockers are available in the BSÍ bus terminal, the Reykjavik Domestic Airport, Traðarkot Car Park and Holtagarðar Bus Terminal.
If you click on our chat window on the bottom right you can ask our chatbot, Miss Reykjavík, all kinds of things about the Reykjavík capital area!