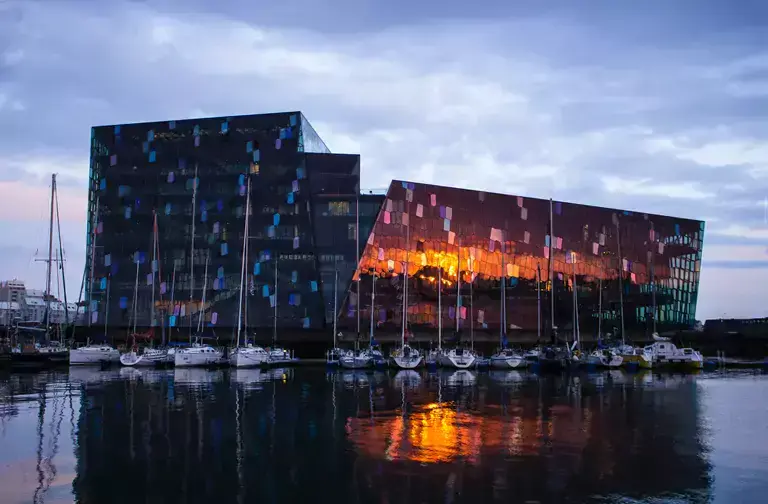 Meet in Reykjavík
Meet in Reykjavik is the Official Convention Bureau of one of the world's cleanest & greenest capital, Reykjavik. We help in the initial planning for unforgettable events next door to epic nature scapes.
With its strategic location midway between North America and Europe, award-winning Harpa Conference Centre and rapidly increasing hotel capacity, Reykjavik is expanding its meetings infrastructure and evolving into a premiere location choice for congress, event and incentive planners. New flight connections are added each year making the island more accessible than you imagined.
Good energy is contagious
Some places unexpectedly capture you far more tightly than you imagined possible. The power of Iceland lies in the energetic source of nature, culture and local mindset. All these elements serve as the perfect backdrop for a memorable and effective event. Visitors claim it is the island's energy, diversity and authenticity that gives the country an otherworldliness and spiritual inspiration.
The condition of the global meetings and events industry is continually enriched by new initiatives that increase participants' energy levels and improve their wellbeing. One particularly well-documented method is the implementation of activities that rest the mind through exposure to nature – something that invigorates travelers and refreshes their ability to be alert and receptive to new ideas.
Safe and hassle-free city
Unlike some major European cities whose size can be intimidating, Reykjavik has a small-scale urban center that attendees find easy to navigate. The hassle-free city center is safe, clean and packed with restaurants, shopping, culture and vibrant nightlife. Visiting delegates enjoy interacting with the friendly Icelanders who speak English as their second language, and often other Scandinavian and European languages.
Epic landscape
Reykjavik is nestled by stunning landscapes and incentive groups are transported to quiet nature bountiful in glaciers, waterfalls, volcanoes, lava fields, geysers, hot springs, and fjords further enhanced by winter's Northern Lights or summer's Midnight Sun.

Meet in Reykjavik Convention Bureau
Our wide network of suppliers offers the resources and know-how to design unforgettable itineraries with activities such as snowmobiling, white-water rafting, horseback riding, hiking, glacier tours, whale-watching, cave exploration, Super Jeep safaris and wellness options in our numerous geothermal spas. Destination Management Companies have years of experience in Icelandic conditions, so planners can be confident that every precaution is taken to ensure the safety and enjoyment of participants.
Meet in Reykjavik assists meeting and incentive planners by offering free, impartial information on facilities, services, and suppliers, as well as organizing site inspections. Your journey begins with us.

www.meetinreykjavik.is
conference@meetinreykjavik.is