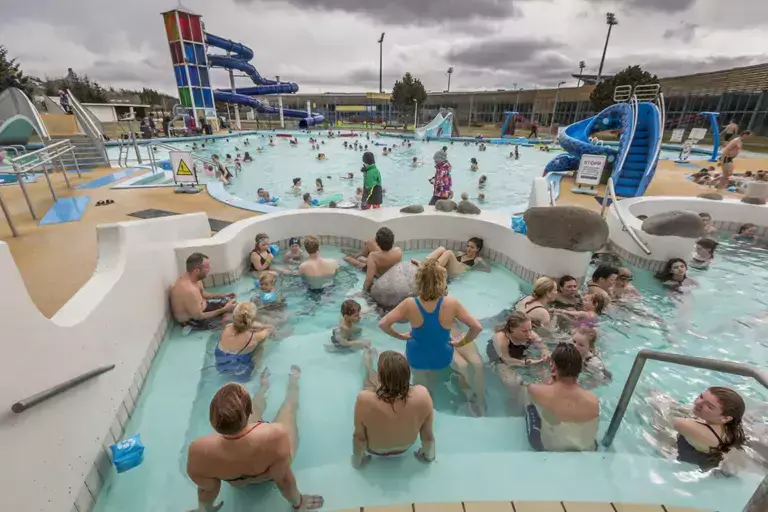 Family Itinerary
Family-Friendly Things to do in Reykjavík, Iceland
What are some family-friendly things to do in Reykjavik? If you're looking for a safe, family-friendly, kid-friendly, accessible travel destination, look no further than Iceland. The capital city of Reykjavík, Iceland is designed with kids in mind, full of fun activities for visitors of all ages.
Read on for our top suggestions, as we play tour guide and recommend how you can plan your family-friendly stay in Reykjavík.
Going to public swimming pools is one of Icelanders' favourite activities, especially with children. Regardless of the weather, Reykjavík's heated pools are a wonderful place to splash around and enjoy kid-friendly amenities like slides, water basketball, wading pools, and water toys.
All swimming pools in Iceland tend to be very kid-friendly, but the pool known to be the most kid-friendly of all is Árbæjarlaug, located in a residential district of Reykjavík. This pool is unique because it has an indoor swimming pool that connects to the outside swimming pool, a large slide for older kids and a small slide for toddlers, a wading pool, infant facilities, plus all the amenities adults enjoy, such as a steam bath and variety of hot tubs. If that isn't enough to convince you, the pool also has a spectacular view of Reykjavík.
Other solid pool options for family swimming are Laugardalslaug, Vesturbæjarlaug, Sundhöll Reykjavíkur and Breiðholtslaug. Please note that everyone, children included, must shower head to toe with soap and water before entering a pool. If you need a swimsuit or towel, you can rent them at the help desk.
Árbær Open Air Museum - (Árbæjarsafn)
About a 10-minute drive from Árbæjarlaug is the Árbær Open Air Museum, which showcases the way Icelanders lived in earlier times. Visitors can see a stable, slaughterhouse, granary, church, and smithy. There's plenty of space for children to run around and explore. The museum is open every day from 10-17 and admission is 1950 ISK for those who are 18 years and older. This museum is included in the City Card.
Every day at 13:00 there is a guided tour - be sure to check it out!
Reykjavík Family Park and Zoo - (Fjölskyldu- og Húsdýragarðurinn)
Located in Laugardalur, the Family Park and Zoo is a cross between an outdoor recreation area, a petting zoo and an amusement park. You'll meet seals, foxes, goats, sheep, horses, and reindeer, but sadly no polar bears. Children can also enjoy amusement rides such as a merry-go-round, drop-tower, a mini-train, and boats. The park is equipped with outdoor grills if you'd like to have a picnic. Price of admission: 0-5 years old Free, 6-12 years old 750 ISK, 13 years old and over 980 ISK. (included in the City Card)
One of Iceland's staples is having ice cream on the weekend, on a sunny day, or just because! You can join in the fun and enjoy a soft-serve ice cream, a milkshake, or something called a "bragðarefur" which is a blend of sweets and ice cream mixed in a blender. Icelanders enjoy taking their ice cream for a stroll, but if it's too windy or rainy, then you can go the Icelandic route and take your ice cream for a drive.
The state-of-the-art experience of Flyover Iceland takes you on a simulated journey into picturesque Icelandic nature. Flyover Iceland gives you the feeling of flying through the air, using special effects like wind, mist, and scents - while you safely hang suspended in the air. There are so many breathtaking visions of Iceland packed in this experience that you won't want to miss it for the world. Admission is 4,990 ISK and children must be at least 102cm (40") tall.
The Whales of Iceland exhibition is quite possibly the largest museum in the world dedicated solely to whales. It boasts 23 life-size models of various whale species that can be found in the waters surrounding Iceland. Each of the replicas was modelled after a real-life whale, and you can marvel at the Beluga, the Harbour Porpoise, the Striped Dolphin and the Humpback Whale. If you stop by between 11 AM and 3 PM, there is a free live guided tour that you can catch.
Opening Hours are between 10 AM to 5 PM. Admission: Children ages 7-15 years old 1,700 ISK, Adults 3,400 ISK, Families (Two adults and two children with one adult per two children) 6,800 ISK
Located at the tip of Seltjarnarnes Peninsula, Grótta is a picturesque lighthouse surrounded by beautiful nature and bustling bird life. The lighthouse is accessible during low tide, and you can enjoy looking at it from a distance during high tide. It's worth taking some time to walk on the black-sand beach, watch the birds and enjoy the soothing sound of waves meeting the shore.
Hallgrímskirkja + Leifur Eiríksson statue
At the top of Skólavörðustígur, you will be face-to-face with Leifur, a.k.a. "Leif the Lucky" Eiríksson, a Viking pioneer who discovered North America before Columbus. This statue was a gift to Iceland from the United States in 1930 on the occasion of the 1000 year anniversary of Alþingi, or Parliament.
Just past the majestic statue of Leifur is Hallgrímskirkja, the largest church in Iceland and the tallest building in Reykjavík. You could say that Hallgrímskirkja stands guard over Reykjavík. The church is both a parish church and also considered a national sanctuary in Iceland.
The church is named after the 17th-century clergyman Hallgrímur Pétursson, author of Hymns of the Passion. Hallgrímskirkja is an Evangelical-Lutheran church and is a part of the Evangelical Lutheran Church of Iceland. Hallgrímskirkja is one of the most visited places by tourists in Iceland, with thousands of people visiting the church every day. Admission to the church itself is free, and for a small fee (ISK 100 for children and ISK 1000 for adults) you can take an elevator to the viewing tower, which gives an amazing panorama of downtown Reykjavík.
A Hot Dog With Everything ("Eina með öllu") and sit by Tjörnin watching the birds
Iceland's oldest and most frequented hot-dog stand is located in downtown Reykjavik in the 101 area. You can choose from condiments such as ketchup, mustard, remoulade and onions both crispy and fresh. If you choose to go with all of the above, you can order "eina með öllu". About 10 minutes away there is Tjörnin, the big pond downtown. You can have a seat and look at ducks (and depending on the time of year, you might glimpse baby ducklings) as well as swans and seagulls who are often curious about human visitors. A walking path loops around the pond, and the surrounding area is lush with flowers and greenery. On a walk around Tjörnin you can see in the distance, Hallgrímskirkja, the University of Iceland, and Perlan.
Perlan has an iconic look and offers within it a science museum and exhibits, a tremendous 360-degree view of Reykjavík and the ocean (you can watch from inside or out on the Observation Deck). Plus, there is a restaurant area that spins in circles (don't worry - it's very, veeerrry slow).
Perlan is an exploratorium with a science museum and exhibits. There's a planetarium that displays the northern lights. A real-life glacier indoors. And museum areas focus on the forces that are at work in making the Icelandic landscape complete with a show about volcanoes. The water in Icelandic nature is also covered in detail and there's a replica of an actual bird cliff.
Nauthólsvík is a geothermal beach a man-made white sand beach complete with outdoor activity areas for beach volleyball and there are open-air hot tubs for relaxing. Hot water also runs into a cove area - but if you want to join the local sea swimmers you can head out into the bay for an ice-cold swim. This might not be the best family activity but you can marvel at the sea swimmers' audacity as you chill out in the hot tubs. On a sunny day, you can expect the area to be bustling with beach-goers. The entrance fee is 740 ISK and there are changing facilities and services on site. The opening hours during the summer are from 10 AM to 7 PM.
The Natural History Museum of Kópavogur
The museum has a zoological part focusing on the rich birdlife in Iceland, our wonderful mammals, slippery fish and fascinating invertebrates. The geological part of the museum focuses on the loud and fiery formation of Iceland, and you can find out all about the different types of rocks and minerals that we have on our little island (they might be very different from the ones you're used to). Kopavogur is a town right next door to Reykjavik, located just a little bit south (10-20 minute drive depending where you start from). The museum staff can provide guidance to visiting parties if requested. Note: You should preferably be in touch beforehand to reserve guidance in advance. Guidance is part of the museum's service and is always free.
For more family-friendly ideas check out the Family activity slider on this page.