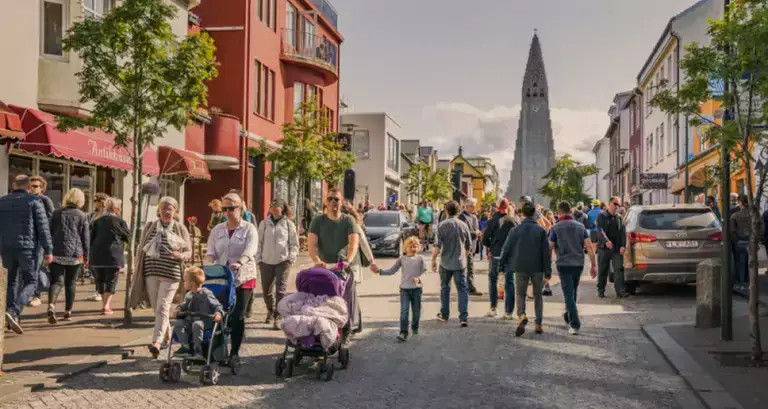 Explore Reykjavik like a local
How do you explore Reykjavik like a local? We have some ideas...
There are definitely plenty of attractions that are popular with everyone who comes to Iceland. What will be covered here is how to explore the capital area of Reykjavik as less of a tourist and more of a native.
We've put together an itinerary to help you enjoy your time in Reykjavik, Iceland, focusing on the genuine local sights and must-do activities for an authentic Icelandic experience in the capital.
The capital city of Iceland, Reykjavik, is celebrated mainly because of the abundance of Reykjavik's culture, breathtaking natural surroundings, and eclectic arts scene. The area in and around Iceland's capital has everything, museums, exhibits, beaches, history, and excellent foodie culture.
Reykjavik, the country's capital city, is surrounded by breathtaking, picturesque nature, full of life, history and mystical energy. This combination of elements has enormously influenced a very important aspect of Icelandic culture... The music.
The Reykjavik Music Scene
A deeper understanding and appreciation of the Icelandic music scene brings you closer to becoming a bona fide Icelander (sort of!). Ever since Björk and the Sugarcubes exploded onto the airwaves in the 80s, Reykjavík's vibrant musical culture has drawn fans of all stripes from all over the world. The world-class concert hall and Reykjavík landmark Harpa hosts diverse local and international acts in four state-of-the-art auditoriums - on any given day you can catch anything from original Icelandic opera to local black metal. Just outside the city in Kópavogur is the music venue Salurinn, a spacious and yet intimate venue that frequently hosts concerts. And if you find yourself in Reykjavík during the winter, you're in luck! The annual city-wide festival Iceland Airwaves transforms all of Reykjavík into one big venue for two days in November, and in December alone you can choose from 60-70 holiday concerts for music lovers of all ages. To check upcoming events click here for our event calendar!
The Reykjavik Maritime Museum is located at Reykjavik's Old Harbour. It is focused on Iceland's essential and significant maritime history. It's a fantastic museum that covers everything from the Vikings all the way up to the Icelandic Cod War with the United Kingdom. Admission for Adulst (18+) is 2,050 ISK. Children 0-17 years old and the disabled are admitted for free.
Rent a car And "Rúnt" Around
There's an Icelandic expression, "að rúnta", which essentially translates as "to drive around". Exploring Reykjavik in a car gives you the freedom and flexibility to chart your very own course. Icelanders enjoy driving as a means to get from place to place and simply to take in all that there is along the way to your destination. Icelanders are known for their reliance on automobiles due to the often unpredictable island-in-the-middle-of-the-North-Atlantic weather. Still, they also enjoy the "rúntur", driving around neighbourhoods and different city areas, looking at buildings and people and seeing if the weather is different over on the west side of Reykjavik from how it is in the east. You can check out popular haunts such as Grótta in Seltjarnarnes, see the Rauðhólar (Red Hills) of the Heiðmörk nature reserve, or drive over to beautiful Álftanes where the presidential residence Bessastaðir is located.
The roads in the capital are well-maintained, and there is good signage to keep you headed in the right direction (when are you headed towards Reykjavik and when are you headed towards Kópavogur)! If you want to live like a local, renting a car is one way. When you arrive at Keflavík International Airport or Reykjavik City, car rental options exist. Rest assured that you can pick up a rental car swiftly. With the keys in the ignition, begin your adventure in Iceland and move seamlessly between the urban centre and the natural world. A car will also allow you to enjoy day tours like the Golden Circle and the South coast of Iceland - enjoying the natural beauty Iceland generously offers to locals and visitors alike.
Kolaportið: Reykjavík's Oldest (And Only) Flea market
Check out the local flea market KOLAPORTIÐ. Kolaportið is an unofficial institution in Reykjavík. Located right next to the harbour downtown, a stone's throw away from Harpa Concert Hall. In recent years, this flea market was given a makeover, dolled up on the outside, but inside it remains a tried & true flea market. In Kolaportið, you will find dozens of vendors with stalls selling second-hand books, CDs, vinyl albums, an assortment of knick-knacks, and an unsparing array of colourful clothes and attire. Here, you can find a retro souvenir or a needed practical item. You can also purchase food at Kolaportið. Local delicacies, pastries, candies, liquorice, and harðfiskur are available. Harðfiskur, dried fish, is a must-try in Iceland if you want to dip your toes in living like a local! Since it is a flea market, it's not cosmopolitan or trendy - but it has its unique vibe as Reykjavik's oldest and only flea market. Kolaportið is genuinely a local tradition that's worthwhile exploring.
* If you like second hand clothes and items check out this page which has a slider of 12 second hand stores around the city!
You may or may not have heard of the abundant swimming pools in Iceland. The local swimming pools in Iceland are way above your average run-of-the-mill public pool, and Icelanders love them! Why you may wonder, are Icelanders obsessed with their pools? Well, for starters, Icelandic swimming pools aren't just pools! They have hot tubs, saunas, and steam rooms, where the locals like to sweat and chat, soak and chat - one of the few places you can get Icelanders talking off the cuff. There are frigid pools for cooling off and play areas for children. There are many swimming pools to choose from. The hidden treasure among them all is Lágafellslaug, which is a bit off the beaten path. Located in Mosfellsbær, about 20 minutes by car from downtown Reykjavík. It's a quaint swimming pool where chances are good you will find more locals than tourists having a good soak.
Icelanders are obsessed with ice cream. It's just a fact that a frosty, milky treat is the quintessential Icelandic thing to do. Is it sunny outside and 25 degrees? Eat ice-cream. Is it raining and drizzly, and you just want to be inside? Go to an ice cream parlour and enjoy your treat indoors. Is it freezing cold? Is there a winter storm raging outside? Does it look like a snowpocalypse is happening outside your window? If you are Icelandic, NOW is always the perfect time to eat Ice cream! Because ice cream is a local favourite, you must make several choices. First, what ice cream parlour will you pick? Do you want conventional ice cream, frozen yoghurt, a vegan concoction, or lactose-free? There's soft-serve, milkshakes, gelato, or hand-scooped decadence on a cone or in a bowl? Oh my! Now, choose what size you want, and which flavours. Do you want one topping or several? You get the idea! Ice cream is an institution in Iceland. Don't leave Iceland without having experienced ice cream in Reykjavík at least once. Quick Tip: if you want to do as the locals do, check out the esteemed Ísbúð Vesturbæjar. Located in Vestubær, Reykjavík, the original establishment is on Hagamelur #67. You also have the option to check out their other locations: Grensásvegur 50, and Skipholt 50c. And in Bæjarlind 1-3 Kópavogur, and Fjarðargata 19, Hafnarfjörður. Other notable ice cream establishments popular with locals: Ísbúðin Fákafeni, Fákafeni 9 Reykjavík. Ísbúðin Háaleiti, Háaleiti 58-60 Reykjavík. Ísbúð Huppu is in multiple locations: Spönginni 16, Reykjavík, Álfheimar 4-6, Reykjavík, Garðatorg 6B, Garðabæ, Reykjavíkurvegur 72, Hafnarfjörður and Austurströnd 7, Seltjarnarnes.
Even though EVERYONE complains about the weather in Iceland (especially the locals), camping is a popular pastime here. If you want to camp but aren't interested in leaving Reykjavík, pitch a tent here! Reykjavík Campsite is a green oasis in Laugardalur valley and a great location for an authentic camping experience while still enjoying urban amenities. You can also find a fully-equipped campsite in the suburbs of Hafnarfjörður.
Jog in Fossvogsdalur
Fossvogur is a Reykjavík neighbourhood that boasts a park-like setting. Locals jog and walk here daily, huffing and puffing on its well-maintained paths. Why don't you join them? If you do, you'll enjoy fresh air and nature – despite being within city limits. Fossvogsdalur is a beautiful place to spend time: savouring nature, exploring playgrounds, and running or jogging alongside locals. However, there is a local sweet spot nearby that shouldn't be missed. To find it, you will need to head east, crossover Reykjanesbraut on the pedestrian bridge, and voilá you've made it to Reykjavík's hidden gem Elliðaádalur. In the forest, there are hiking trails. However, suppose you just follow the tarmac path. In that case, you will see a gorgeous waterfall (Kermóafoss) that is a good place to picnic and take pictures. Even though Elliðaádalur is notable for its lovely scenery, the local favourite of this place is the rabbit colony that lives here. There are hundreds of rabbits residing in this knoll. Go see them, but remember, if you want to blend in with the locals, bring cabbage, carrots, and lettuce to share with Reykjavík's furry friends!
The Local Legends - Favourite Restaurants of Locals
Ban Thai is a little gem of a restaurant that reigns supreme when it comes to Thai restaurants in Iceland. Ban Thai has been operating for 30 years, serving authentic Thai cuisine to locals in Reykjavik. Ban Thai offers a large selection of authentic Thai dishes, with something for everyone, whether you prefer your dishes strong and spicy or mild (yet still tasty). The menu has dishes marked with chilli advisory labels, so you can see how much water you'll need to douse your mouth. All of the food is cooked on the spot with fresh ingredients. Try their Massaman, Panang Curry or smoky grilled pork in a sticky tamarind glaze - yum! If you're into southern Thai food, you are in for a real treat here.
Jómfrúin offers a great selection of Danish Smørrebrød along with Danish and Scandinavian main courses, combining excellent Icelandic ingredients and age-old Danish heritage. Creating an exceptional culinary experience for its patrons is what Jómfrúin has been doing for 25 years and has built up a big group of regular guests. Jómfrúin stands for quality tradition worthy of preservation and celebrated among locals in Reykjavik. Jómfrúin is located in Lækjargata 4, the heart of Reykjavík Centrum. Behind the restaurant is a square where outdoor seating is ideal for good weather days. Velbekomme!
Sægreifinn, or the Sea Baron, is a warm and friendly little restaurant by the harbour specialising in seafood. The restaurant offers a simple yet delicious menu where everything is made from fresh ingredients of the highest quality. The Sea Baron is famous for its lobster soup, sometimes called the "World's Greatest Lobster Soup". The soup and the grilled fish on a spear are the signature dishes of the Sea Baron and are highly recommended. You can try a variety of seafood on the grill spears, such as trout, salmon, shrimp, cod, scallops and much more. Hornið Hornið was established in 1979 as the first Italian-style restaurant in Iceland and is renowned for fresh ingredients, delicious pizzas, good coffee and friendly service. This might be the longest-standing high-end pizza place in a country that loves pizza. Many have come and gone, but Hornið remains. The restaurant is situated in downtown Reykjavik, in a beautiful old house near the harbour, it's actually right next door to...
Bæjarins Beztu (the city's best hot dogs)
An Icelandic staple that keeps getting brought up for a reason, Bæjarins Beztu, is the oldest hot dog stand in Reykjavik. It's been in operation since 1937 and has served basically everyone in the entire nation of Iceland. You've probably seen it recommended by foodies as a must-dine spot. Order "eina með öllu" and see what all the fuss is about!