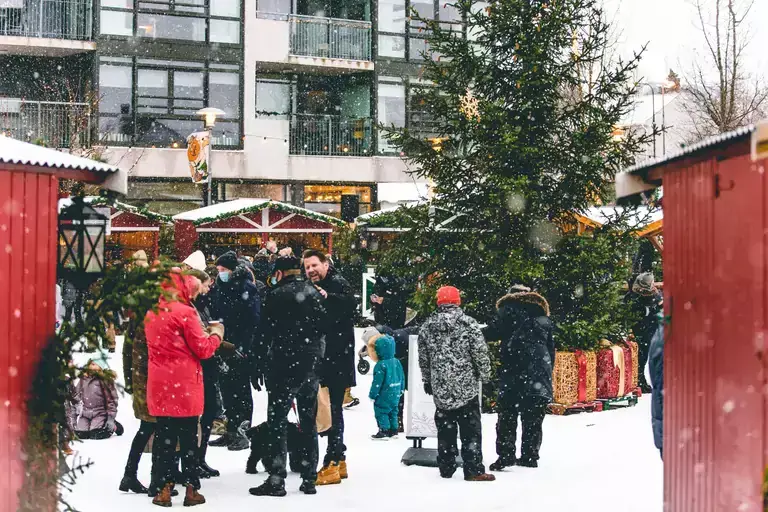 Christmas Village
A feast of sights and sounds, the Christmas Village in Hafnarfjörður is a Christmas market that offers live entertainment, visits from the Icelandic Yule Lads and a quaint village of Christmas houses selling everything from Icelandic design and craft to snacks and hot drinks. And don't forget to try some of the homemade Icelandic delicacies.
The Christmas village is open every Friday from 17:00 -20:00, Saturday and Sunday from 13:00-18:00 during Advent.

A perfect day in Hafnarfjörður – there is so much more to experience!
Start your day with a soak in one of Hafnarfjörður swimming pools. Swimming in naturally warm geothermal water is one of the "musts" of visiting Iceland!
The town centre of Hafnarfjörður is a pleasure to explore on foot, with curious little jewellery, cafes, bakeries and galleries featuring the work of local artists and designers so have some breakfast with the locals
Take a relaxing walk around the harbour, heading for the small boat marina and take in the sights, sounds and smells. This charming old harbour is the home to numerous art studios and galleries that showcase Icelandic art and design
A trip to the Hafnarfjörður Museum is something you will never forget. The main museum building houses three exhibitions tracing town history and antique toys for children. The museum is free of charge and is open during weekends from 11-17
The Hafnarborg Institute of Culture and Fine Arts presents an ambitious programme of art shows and musical events. Admission is free and opening hours are from 11-17 during weekends
Hafnarfjörður is famous for its settlement of Hidden Folk. Try to spot one of the hidden people at Hellisgerði Park. Hellisgerði is a short distance from the centre
What more pleasant way to end a fantastic day than eating a delicious meal? Hafnarfjörður has a great variety of restaurants. You can enjoy anything from a relaxing café atmosphere through quaint family restaurants to fast food. Just ask around and pick one!
A recent charming addition to Hafnarfjörður is an ice skating rink, Hjartasvellið. Here you can rent skates and glide on the rink, soaking in the wintry atmosphere. After some time on the ice, it's lovely to sip a hot chocolate and buy some snacks from local vendors.
Hafnarfjörður is a charming and vibrant seaside town, with colourful houses perched amidst sprawling rugged lava fields, beautiful nature and plenty of fresh ocean air.
Come and experience Hafnarfjörður! Take bus number 1 from downtown Reykjavík for about 20 minutes to Hafnarfjörður and you will be there! Or...spend your entire vacation in Hafnarfjörður. We have a variety of hotels and guesthouses.
We will welcome you!