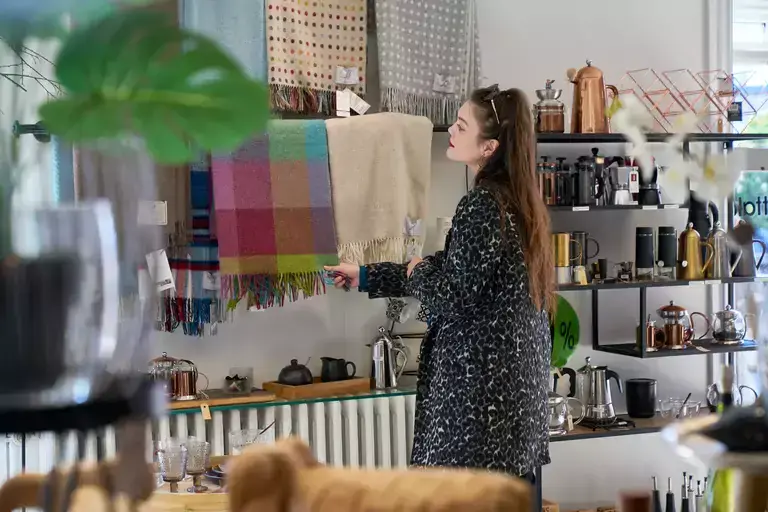 Shopping in Hafnarfjörður
The heart of Hafnarfjörður shopping is Strandgata, the town's delightful main street with a friendly harbourside vibe. Here you'll find something for everybody, with charming boutiques selling clothing, art and jewellery created by both Icelandic and international designers.
Strandgata also has a good selection of mid-priced fashion stores, a book store, giftwares and several excellent cafés and restaurants. Icelanders are very hip and demand quality, so you'll find that the shops are of a high standard and offer a wide selection at reasonable prices.
Whether you want to meet up with the locals, chat with the shop owners and designers and discover the stories behind the design process, or get some fashion tips or unique gifts, Strandgata is the place.
The nearby shopping centre Fjörður is another great shopping spot, with a wide selection of stores
Take the time to visit any of these lovely stores in Hafnarfjörður:
Gatsby
Women's clothing store with dresses and accessories. Strandgata 49 – Tel. (+354) 686 9590
Álfagull
Gift shop selling Icelandic art, design and more. Strandgata 49 – Tel. (+354) 537 2770 - Find us on Facebook
Garnbúð Eddu
Edda's local yarn shop sells hand-dyed yarn and patterns. Strandgata 39 – Tel. (+354) 555 8898 – garnbudeddu.is
Sjónlínan
Optician and eyewear shop. Strandgata 39 – Tel. (+354) 555 7060 - sjonlinan.is
Nonni Gull
A selection of watches, jewellery and gifts. Unique Icelandic design and popular international brands. Strandgata 37 – Tel. (+354) 565 4040 - nonnigull.is
Litla Gæludýrabúðin
Pet store with a self-service dog wash. Strandgata 32 – Tel. (+354) 517 8666 - Find us on Facebook
Penninn Eymundsson
Books, souvenirs, gifts, toys, stationery, office supplies and art supplies. Strandgata 31 – Tel. (+354) 540 2160 - penninn.is
Stína fína
Consignment store - Strandata 29 – Tel. (+354) 699-1954
Nýform
Furniture store with various items for the home. Strandgata 24 – Tel. (+354) 565 4100 - nyform.is
Lilja Boutique
Women's clothing, gift items and Icelandic art and design. Strandgata 21 – Tel. (+354) 554 2060 - Find us on Facebook
Litla hönnunarbúðin
Design store selling fun and eclectic homewares from around the world. Strandgata 19 – (+354) 555 7010 - litlahonnunarbudin.is
Dalakofinn
Women's clothing store for women of all ages. Linnetstígur 2 – Tel (+354) 555 4295 - Find us on Facebook
Kailash
Where the East meets West. Yoga and Meditation supplies. Strandgata 11 – Tel. (+354) 512 3777 - kailash.is
Kaki Fashion for women of all ages
Also sells items from Monro Icelandic design Strandgata 11 – Tel. (+354) 564 6999 - Find us on Facebook
Sigga & Timo
Icelandic designer jewellery and custom pieces made at Sigga's and Timo's Hafnarfjörður workshop. Linnetstígur 2 Tel (+354) 565 4854 - siggaogtimo.is
Burkni Blómabúð
Florist and gift shop selling bouquets, potted plants and more. Linnetstígur 3 – Tel. (+354) 555 0971 – burkni.is
Fjörður Shopping Centre
A friendly shopping mall in the heart of Hafnarfjörður. Fjarðargata 13-15 – Tel. (+354) 565 5666 - fjordur.is
Gamla matarbúðin
A little taste of Iceland. Handmade gourmet products made from Icelandic herbs. Austurgata 47 – Tel. (+354) 470 1300 - urta.is
NÍNÓ Veterinarian and shop
Selling various products for cats and dogs. Lækjargata 34b – Tel. (+354) 533 - Find us on Facebook
Gullsmiðjan
Goldsmith specialises in designing and creating jewellery. Lækjargata 34c – Tel. (+354) 565 4453 - gullsmidjan.is
Föndurlist
Art and crafts shops sell a wide range of products for creative types. Strandgata 75 – Tel. (+354) 553 1800 - fondurlist.is
Sign
We design and craft jewellery that typically reflects the beautiful and mystical features of Icelandic nature. Fornubúðir 12 – Tel. (+354) 555 0800 - sign.is
AndreA by AndreA
An Icelandic designer label created by fashion designer Andrea. Norðurbakka 1 – Tel. (+354) 551 3900 - andrea.is
Heiðdís Helgadóttir
Stylish art prints by talented local artist Heiðdís Helgadóttir.Norðurbakki 1 – Tel. (+354) 694 6449 - Find us on Facebook
Litla Álfabúðin / The Little Elf Store
Café and shop selling local art, souvenirs and books. Hellisgata 3 (Hellisgerði) - Find us on Facebook
Músik og Sport
Sportswear includes clothing, shoes, swimwear and accessories. Reykjarvíkurvegur 60 – Tel. (+354) 555 2887 - Find us on Facebook
Handprjón
Yarn store where you can find almost everything a knitter or crocheter could wish for. Reykjavíkurvegur 64 – Tel. (+354) 856 5560 - handprjon.is
HB-búðin
Specialist lingerie shop. Underwear and pyjamas in many different sizes. Reykjavíkurvegur 66 – Tel. (+354) 555 0070 - Find us on Facebook
Hjólasprettur
Bicycle shop and Automotive repairs . Dalshraun 13 – Tel. (+354) 565 2292 - hjolasprettur.is
Sóley Organics
Natural and organic skincare made in Iceland from wild herbs. Bæjarhraun 10 – Tel. (+354) 555 2222 - soleyorganics.com