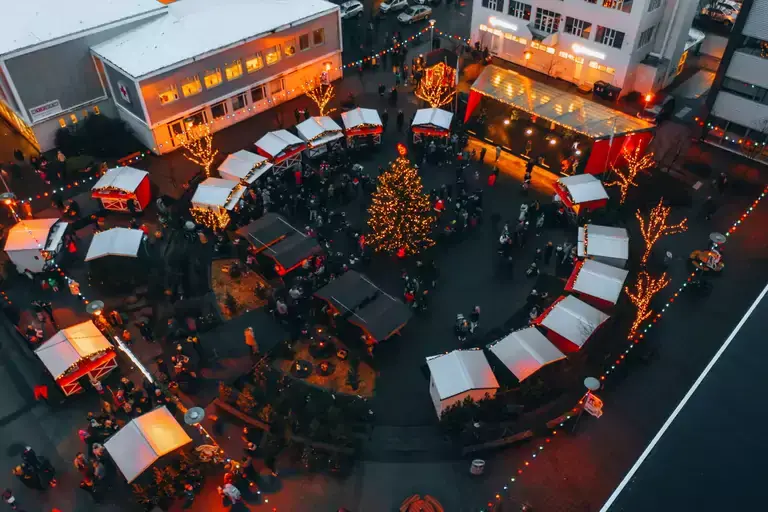 Hafnarfjörður Christmas Itinerary
Enjoy The Festive Christmas Season In Hafnarfjörður, Iceland
There are lots of wonderful Christmas things to do in Iceland in December. The Christmas festivities are Iceland's most significant holiday. When winter is at its darkest, the importance of light, joy, and gathering together is vitally necessary during this most festive period. People decorate their Christmas trees at home and hang up decorations and Christmas lights. Kids might get little presents in their shoes from the thirteen yule lads (a singularly Icelandic tradition if there ever was one!). Christmas celebrations take many different forms during the holiday season. With many fun, festive activities available, you are bound to feel a little festive magic while visiting Iceland in December.
Hafnarfjörður is just the place to get in the Christmas spirit. A charming and vibrant seaside town, Hafnarfjörður is packed with colourful houses perched amidst sprawling lava fields, beautiful nature and fresh ocean air.
Come and experience Hafnarfjörður for some beautiful Christmas activities while you visit Iceland! You can take bus number 1 from downtown Reykjavík which will get you to downtown Hafnarfjörður in about 20 minutes to Hafnarfjörður. There are also a variety of hotels and guesthouses in Hafnarfjörður if you'd like to experience a more laid-back town feeling with a robust Christmasy spirit. As special times approach, everyone is getting ready for Christmas Day's joys and wonder and bringing in the New Year with crazy, wild and colourful fireworks! Why not experience the Christmas spirit of Hafnarfjörður firsthand?
Jólaþorpið - The Christmas Village
The small town of Hafnarfjordur, outside Reykjavik, hosts a very popular Christmas market in December. It's a real feast of sights and sounds, selling Icelandic jewellery, crafts, hot drinks, and snacks. Get into the Christmas spirit while taking in the town's scenery, where shops, restaurants, and cafes have joined in the Christmas spirit by decorating storefronts and offering holiday treats.
The Christmas Village in Hafnarfjörður offers live entertainment, such as visits from the quirky and offbeat Icelandic Yule Lads and a quaint village of Christmas houses selling everything from Icelandic design and craft to snacks and hot drinks. Definitely don't forget to try some of the homemade Icelandic delicacies. Elves and trolls are strongly associated with the Icelandic Christmas traditions, so it is fitting that Hafnarfjordur takes a more prominent place in the Christmas celebration every year.
The Christmas village is open every Friday from 17:00 -20:00, Saturday and Sunday from 13:00-18:00 during Advent. The last day for the Christmas village is the 23rd of December when it's open from 13:00 - 21:00.
In addition to its 30,000 human residents, Hafnarfjörður surprisingly is also the home of many elves, dwarfs and other mystical beings, collectively called 'Hidden Folk'. Supposedly, that is. Local folklore says you can visit supernatural beings like these in Hellisgerði, a beautiful little park close to the town centre packed with trees and intriguing lava formations blanketed in moss. The area is illuminated by lights, so when darkness covers everything, it becomes pretty magical.
You will have to see firsthand that Hellisgerði is indeed an enchanting garden. It's easy to imagine where the elves make their homes. The first tree plantings in the quiet, tucked-away garden were done in 1924, and since then, several unusual tree types have also been planted in the park. The garden takes its name after small caves seen in the lava formations in the central part of the garden. You could try to spot one of the hidden people yourself at Hellisgerði Park or take a guided Hidden World Walk. From Hellisgerði, it's just a stroll to Víðistaðatún Park, which features a variety of outdoor sculptures by artists from all over the world.
Book your experience at the environmentally-friendly ice rink at Hjartasvellið, 200 square-meter ice skating rink in a warm and festive environment. Hjartasvellið is located downtown in front of Bæjarbíó, outside the Hafnarfjörður Library, pleasantly connecting the Christmas village in the city centre and the splendour of light in Hellisgerði. The rink will be open from November 13th to December 23rd, 2023 - Book tickets here
The venue offers patrons great entertainment, a unique holiday experience and an excuse for the whole family to enjoy some light and laid-back exercise, there will even be hot cocoa and muffins for sale at the rink! What better way to get into the Christmas spirit than to glide smoothly with a warm húfa (English: beanie) and a trefill (English: scarf)
The skating trips will be for sale on tix.is and includes the rental of skates and helmets.
Thursdays from 16 -21 (from the 30th of November)
Fridays from 16 -21
Saturdays from 12-21
Sundays from 12 -18
You order your skating trip and skates at www.hjartasvellid.is and www.tix.is (you can only secure your skating trip by buying tickets in advance online)
Explore The Forestry Association Of Hafnarfjörður
The Forest Society of Hafnarfjordur has worked hard for years to continue tree-planting efforts in the Hafnarfjordur area. For example, the Hvaleyrarvatn Lake in Hafnarfjordur. This picturesque lake is surrounded by greenery and forest. In recent years, the Forestry Association of Hafnarfjörður helped revive the area with a sustained tree-planting campaign. In stark contrast to the lava fields and rough terrain close by, the Hvaleyrarvatn Lake region is tranquil and green. It's a great place to go for a relaxing walk in the morning, with many trails, yours to explore at your leisure. Local flora is a strong protector against the wind, which can be very harsh on our small island in the North Atlantic.
The Forestry Association of Hafnarfjordur has been instrumental in restoring the area through a continuous tree-planting program. Their efforts are continuing today with the support of local residents and schoolchildren. The small, tranquil lake is surrounded by trees, and here there are many spots where you can rest and make peaceful memories.
Northern Lights Hunting at Aurora Basecamp
The Aurora Basecamp is Iceland's only Northern Lights Observatory specifically designed to help you experience the best possible aurora sightings, no matter the weather and whatever season.
The Aurora Basecamp consists of two geodesic domes expertly designed to withstand the harsh Icelandic winter. The observatory features low-light, heated viewing platforms where you can watch the night skies, taking in their beauty while enjoying a hot cup of cocoa or tea. Suppose you would like your own little slice of celestial bliss.
The driving force and main goal behind the Aurora Basecamp Observatory: provide the best possible experience for seeing auroras.
Christmas Cocoa at the local coffee shops- Norðurbakkinn, Pallett, Súfistinn
What better way than to kick back at the coffee shop with a warm drink as we head into the holiday spirit of Christmas? It is hard to think of anything better than that, so we are giving you three fantastic options for Christmas coffee or festive hot cocoa.
Nordurbakkinn is focused on offering high-quality coffee first and foremost. You can rely on them in the festive season for an array of refreshments, afternoon tea, cakes, and a wide selection of treats to please your palate.
Pallett is a cosy, mellow little spot that takes its coffee seriously and stoically. The place is adorned from top to bottom with quirky knick-knacks and antique books. Pallett takes coffee seriously, and serious coffee lovers can indulge their coffee cravings or catch a simple and soothing hot cocoa at the laid-back Pallett establishment. The service is friendly, the decor is second-hand kitsch, and their scones are to die for (just what the doctor ordered for the holidays). It's just the loveliest little cafe place you could hope for.
Súfistinn is another snug little place at Strandgata 9 on the main downtown shopping street. Founded in 1994, it is an institution in Hafnarfjordur known for its tasty pie offerings, an array of sides, and incredible coffee made diligently with passion. The atmosphere and offerings make it an excellent option for a sit-down and subsequent caffeine buzz and holiday cheer.
The Restaurants
A. Hansen restaurant offers a variety of international dishes cooked with Icelandic ingredients. The emphasis is on grilled steaks & seafood courses, but also vegetarian and vegan options. Diners can enjoy reasonably priced food there; most certainly, everyone should find something to their liking on the menu. The restaurant is in a historic house full of heritage, originally built in 1880, with the current inside decor set in a warm and welcoming old-fashioned Scandinavian design.
Fjaran Restaurant – Valhalla is a cosy and unique restaurant worth visiting. Open daily from 18:00 – 22:00. We are also open for groups at lunchtime upon request. The house was built in 1841 and is the second oldest in the town of Hafnarfjörður. On the upper floor, under the sloping roof, you can sit in a cosy barrel-style corner and enjoy a cocktail before dinner or a dessert after dinner. An open doorway is between Valhalla and Fjörugarðurinn, so guests can also enjoy all that Fjörugarðurinn has to offer, as well as the special atmosphere of Valhalla. Valhalla is an elegant restaurant where the décor is made from a hundred years old snuff-and-wine barrels.
KRYDD restaurant emphasizes an excellent and varied menu, great cocktails, a good beer selection on tap and a pleasant atmosphere. KRYDD is located in Hafnarborg, at Strandgata 34 in central Hafnarfjörður.
VON Mathús ("von" meaning "hope in Icelandic) emphasizes seasonal Icelandic cuisine combined with ingredients that perfectly complement each dish. The concept behind VON mathús is to provide diners with a homey atmosphere where personal comfort and professional service are expertly interwoven to create an exceptional dining experience for patrons. Von mathús is fueled by the passion and enthusiasm of chef Einar Hjaltason and managing partner Kristjana Þura Berþórsdóttir.
Seltún
The Seltún geothermal area in Krýsuvík is worth the trip to see first-hand the bubbling hot springs, steaming smoke rising from the fumaroles, and boiling primordial mud pools. It has a mythical and ethereal feel to it that is truly transcendent.
This place is called by two names: Krysuvik (for the area itself) and Seltun (for the actual hot springs themselves).