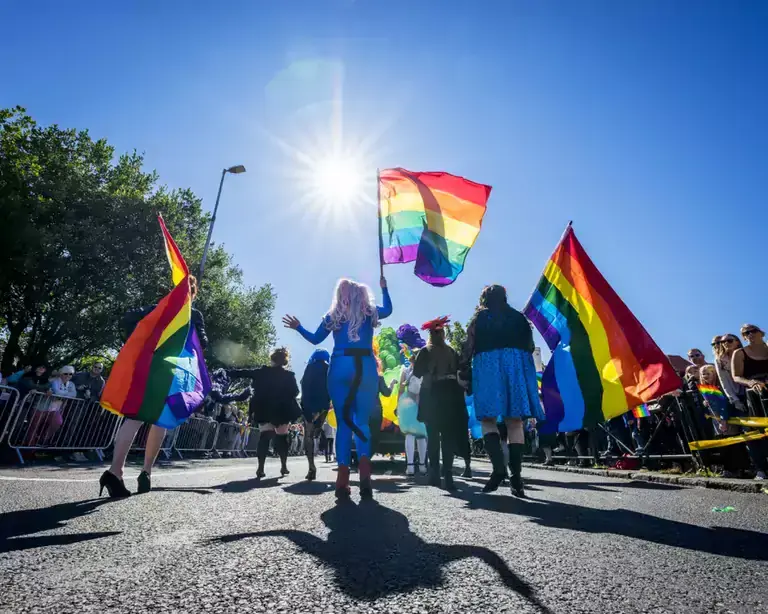 Your LGBTQIA+ Guide To Reykjavík
Reykjavík has been described as hip, trendy, and cosmopolitan, so there is no shortage of things to do in Reykjavík!
Iceland is one of the most socially progressive countries in the world, and the capital city of Reykjavík is home to many LGBTQIA+-friendly sights, activities, bars and restaurants. Let us be your tour guide and read on for a Reykjavík itinerary geared especially towards LGBTQIA+ travellers, for things to do in Reykjavík.
Before diving into the year-round LGBTQIA+ Reykjavik itinerary, it's worth shouting out one of Reykjavík's most popular, colourful cultural events of the year: Reykjavík Pride. Every summer since 1999, tens of thousands of guests come to Reykjavík Iceland, to celebrate and support universal human rights.
What better place to begin an LGBTQIA+ tour of Reykjavík than the picturesque rainbow street? In previous years, the street was painted in rainbow colours in celebration of Reykjavík Pride, but now the colours are maintained year-round. On a clear day, this street is the perfect place to take a picture of one of the city's most prominent landmarks, stately Hallgrímskirkja.
Located at Skólavörðustígur 22, Reykjavík, this funky, vibrant, gay-owned coffee shop is a destination you don't want to miss. The coffee and tea are delicious, and there is always scrumptious soup, sandwiches, and pastries on offer. Be sure to check out the bathroom on the first floor — it's full of surprises!
While churches in other parts of the world may be hostile to gay rights, that's not the case in Iceland. Same-sex marriage has been legal in Iceland since 2010, and since 2015 the Church of Iceland has performed marriages for people of all genders and sexual orientations. Inside Hallgrímskirkja, a landmark visible from almost anywhere in the city, you can not only look at the church but also pay a small fee to take an elevator and an observation deck in the church tower, which gives you an amazing panoramic view of Reykjavík.
In Iceland, going to public swimming pools is a national pastime. Icelanders love to soak in the warm water of the pools year-round, bouncing between hot tubs, saunas, and swimming laps. Ask any tour guide worth their salt - going for a swim is one of the coolest (and warmest!) things to do in Reykjavík. Swimmers are required to shower head to toe with soap and water before entering the pools, and all pools in Reykjavík are equipped with communal showers and single/unisex showers, so you can pick the one that's most comfortable for you.
If you're not too tired after a dip in the public pool, it's worth taking a stroll down Sæbraut, the street that runs along the sea. In the distance, you'll see the holographic windows of Harpa concert hall, and within closer reach, you'll see a steel Sun Voyager sculpture that's perfect for a photo.
Harpa Concert Hall and Conference Centre
Harpa is one of the most distinctive landmarks in Reykjavík; you'll quickly spot its unique, colourful glass facade which was inspired by Iceland's basalt landscape. Harpa is home to several shops and restaurants and provides ample photo opportunities. You can also catch an ongoing show or exhibit.
By now you're probably ready for a bite to eat, so head over to Tryggvagata 1 to find Bæjarins beztu, the city's undisputed best hot dog stand. This little food stand has been serving up hot dogs since 1937 and has fed the likes of Bill Clinton, Kim Kardashian, and Anthony Bourdain.
The Icelandic Phallological Museum
If you've ever wondered what a humpback whale's penis looks like, you've come to the right place. Iceland's Phallological Museum ​​contains over 200 penile specimens, one from each of the land and water animals (humans included!) that reside in and around Iceland.
Icelanders love coffee and sweets, and Iða Zimsen offers delicious varieties of both. Located at Vesturgata 2a, this lesbian-owned bookstore and coffee shop is a great place to browse the bookshelves and sip a refreshing drink.
Samtökin '78 — the National Queer Association of Iceland
On your way to the pond downtown (Tjörnin), check your watch and consider stopping by Samtökin '78, Iceland's National Queer Association. The offices are open from 1 pm to 4 pm Monday through Friday, and visitors are welcome to stop by.
If you're up for a stroll, consider circling the big pond downtown, Tjörnin. You'll find ducks (and, depending on the time of year, maybe baby ducklings) as well as swans and seagulls who are always ready to greet visitors. A walking path loops around the pond, and the surrounding area is lush with flowers and greenery.
Now that you've traipsed all over downtown Reykjavík, maybe you're ready to pick up some souvenirs. Laugavegur, Reykjavík's main shopping street, is full of traditional gift shops as well as more artisan shops selling art, jewellery, and clothing. After you make your way up and down Laugavegur, drop your bags at your hotel and get ready for dinner.
Downtown Reykjavik is a food-lovers paradise, with options to satisfy every palette. You can't go wrong with Sjávargrillið for seafood, Apotek for cutting-edge European cuisine, or Höfnin for new takes on hearty Icelandic classics. If you are vegan or vegetarian there are plenty of options as well!
LGBTQIA+ Friendly Nightlife in Reykjavík: Kiki Bar, Bravó, Gaukurinn
As you've gathered by now, Reykjavík is a small city in a small country, so there is no dedicated queer neighbourhood or district. However, there are a few LGBTQIA+-specific bars and clubs. Kiki Bar is the most famous; maybe you spotted its rainbow exterior earlier today while walking on Laugavegur. At Kiki, you can expect drag shows and other fun, celebratory events. The next door at Bravó, happy hour runs from 11 am to 8 pm, so it's a great place to grab a drink or two before heading to Kiki, which opens at 8 pm. Another popular queer hangout is Gaukurinn, which offers live music, karaoke, drag shows, and plenty of drinks!
For more information about the LGBTQI+ community in Reykjavík and the latest news, check out GayIceland