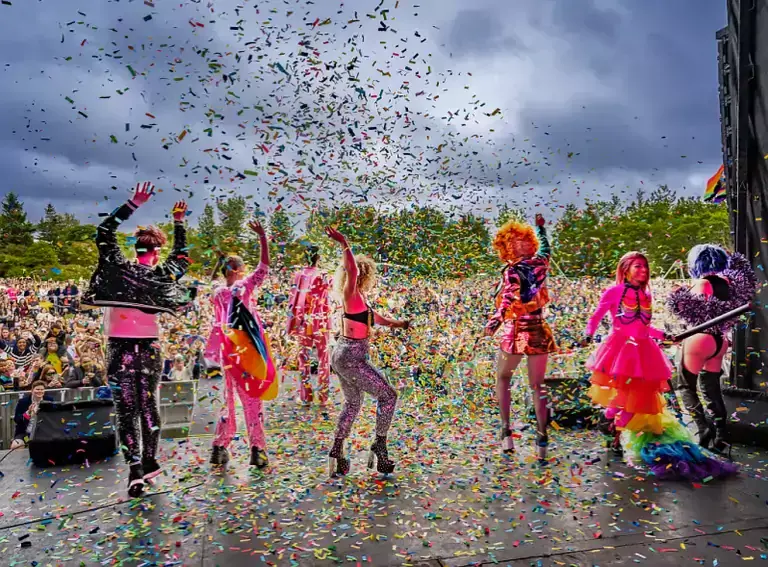 Reykjavík Pride
8. - 13. August 2023
This colourful event brings tens of thousands of people into the city centre every year to show solidarity and to have fun with the LGBTQ community in Reykjavik. People of all genders, friends, relatives, and a fast-growing number of tourists, all come together to celebrate and support universal human rights.
Reykjavik Pride has been celebrated annually since 1999. In 99', about fifteen hundred guests came together in Ingólfstorg on Saturday, 26 June, and it was promptly decided to hold a similar celebration here in the city every year. A year later, when the first Pride parade was underway, twelve thousand people attended. Our cosy little pride has blossomed and evolved into a colourful ten-day celebration that attracts over 100 thousand guests from all over the world. Reykjavík Pride is one of the biggest little Pride Parades in the world.
Reykjavik Pride is an important event for the LGBTQ community in Iceland. The festival promotes visibility and courage and provides people with a platform to manifest their pride. The celebrations do not only mark a successful stage in the LGBTQ struggle; Reykjavik Pride is also one of the most vibrant and popular events on Reykjavík's cultural calendar. By participating in the event in such large numbers, the Icelandic people regularly show valuable support, recognition and respect for the cause.
For more information about the festival please visit the Reykjavik Pride website.