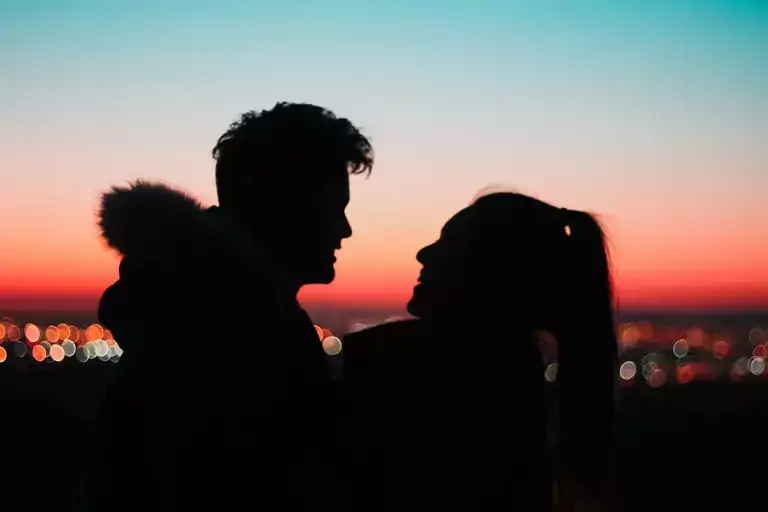 Romantic Itinerary Reykjavik
This is your travel guide to romantic places in Reykjavik.
Having a romantic getaway in Reykjavík can be relatively effortless. The city lends itself to the romantic at heart. But if you want to turn the heat up, this itinerary offers ideas for sparking romance in Reykjavík. We're here to help you plan an exciting date night in Reykjavík, a romantic adventure in Iceland's gorgeous outdoors, where you can possibly catch some northern lights. Read on for ideas on how best to relish romance in Reykjavík.
Don't stress whether your champagne is chilled or if the weather is freezing. When in doubt, remember the unofficial motto of Iceland: þetta reddast (it will all work out)...
Romantic experiences in Reykjavík can be low-key, pressure-free, and don't have to break the bank. We're giving you a road map to romantic places, so you can focus on something else – the excitement of being in love in the beautiful metropolitan Scandi-city.
Before we suggest how to capture beautiful moments and memorable experiences, we have some practical advice. Suppose your idea of romance includes champagne, red wine, liqueur, and fancy chocolate. In that case, you should check out the duty-free shop in the baggage claim at Keflavik International airport. You can purchase accoutrements for romance – as you prepare for a romantic holiday in Reykjavík. If you've already arrived in the city centre, don't fret, you can shop in your local Vínbúðin (The State Alcohol and Tobacco company). There are multiple Vínbúðin locations for all things intoxicating. Vínberið on Laugavegur is an excellent shop for decadent chocolates and sweets from around the world.
Brauð & Co bakes pastries and other sweet delights all over the capital. No matter where you are staying in the city, you can find a Brauð & Co relatively nearby. This organic bakery is thriving because it offers us delicious morsels that have won our hearts! You can buy a cup of coffee to enjoy with cinnamon rolls, vín brauð, and croissants. Romantics in Reykjavík are encouraged to try "hjónabandssæla" (marriage bliss), a traditional treat for all to enjoy! So, make your way to Brauð & Co to give your taste buds something to love!
An Enchanted Evening
Begin your evening with a stroll down Sæbraut. This shoreline walk will romance you and whoever you are with. Along the path, you will come across Sólfar (Sun Voyager). Sólfar is a modern interpretation of an old Viking ship. The sculpture pays homage to Iceland's maritime history and is strikingly graceful. In broad daylight and the midnight sun, Sólfar looks stunningly beautiful, illuminated by the glow of the sun's rays. It's gorgeous when nestled in the vibrant colours of sunset and regal when adorned with snow. Regardless of the time of day or season, Sólfar is a place to revel in romance. Hold hands while you watch the magical sunshine dance across Faxaflói bay -it is a sight to behold. As you look over the water, watch the sun travel westward, dip down towards the equator, and accentuate Snæfellsnes peninsula and Esja mountain. After you've experienced the enchantment of Sólfar, turn back towards Harpa to enjoy a concert in Reykjavík's famed concert hall.
Sky Lagoon is the local go-to place for romance, located just across the bay from Reykjavík towards the south in Kopavogur. Visitors soak in the lap of luxury in a secluded retreat not far from the city. We recommend those seeking romance to book a spot at Sky Lagoon before going because this oasis is a popular place for those seeking romance and healing in its mineral waters. It's an immersive experience in the idyllic beauty of Iceland.
At Sky Lagoon, the ambience has been designed intricately and thoughtfully. When you arrive, you will be struck by how traditional architecture sculpted the inspiration for this modern turf house. Once inside, you will be greeted by friendly staff and directed to modern, Scandinavian changing rooms. When you are in your swimsuit, you will descend an aqueous stairway into the grotto. The grotto has been carved into nature using volcanic stone – adding to the mysticism and intensity of the experience. The walls will open to a breathtaking view as you move through the waters. In the lagoon, you can soak in the mysterious romance of Iceland, blissed out in an infinity pool that draws you into the horizon of the North Atlantic.
Ice Cream, Use Cream, We All Scream For Ice Cream
Going to a nearby ice cream shop is an unmistakably Icelandic thing to do. Taking a soft-serve cone and going for a car ride or walk through the city is something you do not want to skip experiencing with your significant other. You could go with traditional soft-serve ice cream, a milkshake, or "bragðarefur" (a mix of confectionery and ice cream in a blender). Icelanders love to take their ice cream on the road. You could emulate the locals or enjoy some nice, peaceful walking. Some of Reykjavik's famous ice cream spots include: Ísbúð Vesturbæjar, Huppa, Skúbb, Valdís and Ísbúðin Laugalæk.
Nauthólsvík sits below Perlan and Sólland. Only open in summer, Nauthólsvík is a lovely, romantic spot. You and your "special someone" can soak in the sun while relaxing in Reykjavík's geothermal waters. Go sea swimming if you want to be reminded that you are near the Arctic Circle. You can take a dip in Nauthólsvík without freezing because the lagoon is kept somewhat warm by rerouted streams of geothermal water. After you've dipped your toes in the Atlantic, enjoy the spacious hot pot overlooking the bay and the sulfurous steam room that reminds you are atop volcanic terrain.
Head up to Perlan to view a beautiful panorama of the city. On Perlan's wraparound deck, your breath will catch as you stand in awe of the spectacular, mountainous landscape beyond the city. Let yourself be elated at the moment, feeling romantic vibes from the tip of your toes to the core of your heart.
There are many great pools within and near Reykjavik. You can do laps together, sweat off the toxins in the steam, or simply relax in the hot tub and let your worries melt away. Icelandic public pools are genuinely in a league of their own -- as they feature a nominal swimming pool and a hot tub, steam room, and sauna. It is a refreshing place to visit with the one you care about. Together, you get to have a mental health day, recover, and rejuvenate from the hustle and bustle of packing, unpacking, and dodging snowstorms! Here are some of the many options available around the capital: Vesturbæjarlaug, Laugardalslaug, Sundhöll Reykjavíkur, Árbæjarlaug (entry to these pools and others around Reykjavik City is included for free in the 24-, 48-, and 72-hour Reykjavik City Card).
Date Night At The Movies
A date night at the movies can be pretty romantic. It is a classic go-to date-night activity for a reason. A date movie could be a rom-com, or it could be a warm-hearted drama. Date movies can hold everyone's interest, from the more sentimental romantics to the more cynical of filmgoers. Or, you can go for a bit of international, global cinema -- or, for that matter, maybe even an Icelandic film!
The only cinema left in downtown Reykjavik is a quirky cosy space that keeps the flame of cinema alive. Enjoy a lovely evening sharing some popcorn together, have a glass of beer or wine and take in the latest Bíó Paradís has to offer. The cinema has regular film festivals and revival screenings of classics, so you will likely see world cinema showings or possibly your favourite film from the 70s, 80s or 90s. And possibly an Icelandic film with English subtitles.
A cinema that is an institution in Reykjavík, equipped with state-of-the-art projection, powerful sound and high-quality seats that no one will be disappointed by. The cinema's flagship is the new AXL hall, one of the most perfect cinema halls in the world. AXL stands for Atmos-Luxury-Laser and translates to a kick-ass time at the cinema.
Smárabíó is a world-class cinema located inside of Smáralind shopping centre in Kópavogur, specializing in the latest blockbusters. Smárabíó seats over 1.000 people in five screening rooms equipped with perfect digital technology. The movie theatre has a luxury screening room with 66 first-class armchairs which recline for maximum comfort. The latest addition to Smárabíó is an exceptional entertainment area featuring an arcade, laser tag, and karaoke.
Icelanders' love for movies is evident in the number of movie theatres in the city. The multiplex Sambio movie theatre features the most recent blockbuster films, with several locations at Álfabakki and Kringlan Shopping Mall. But it is the Egilshöll cinema that stands above the rest. It is located in the suburbs of Reykjavík (accessible by bus if you are walking). It boasts massive screens, making it well worth a drive: probably the best place to watch recent blockbusters in insane comfort.
Restaurants are abundant in the capital area. We've hand-picked choices that are exceptionally well suited for a beautiful evening together for lovers. A perfect end to a romantic day is to dine together over a delicious meal.
The menu at Eiríksson Brasserie has a European style with a particular emphasis on Italian cooking, which you can enjoy in a relaxed atmosphere. The wine cellar in an old-money vault creates an atmosphere like no other. You can find a collection of about 4.000 bottles, many of which you cannot be found on the common market. The money vault also contains a private dining room which can be reserved for special occasions.
Monkeys is located at Klapparstígur 28-30 in Hjartagarður. The restaurant has a warm, colourful and exciting environment where guests can enjoy exotic food.
It is a snack bar with a large selection of exotic dishes influenced by Peru and Japan. There is a good selection of wines, especially sparkling wines from all over the world, and great cocktails. Nikkei cooking is the name of the cuisine at Monkeys. It had its origins in the second half of the 19th century when Japanese immigrants began to settle in Peru to a considerable extent. Centuries-old cooking techniques from Japan were mixed with Peru's varied cuisine. This blend incorporates the best of Japan's elegant and refined food culture and the exquisite fresh ingredients blended with Peruvian spice.
Seasonal Icelandic ingredients are immersed subtly in exotic spices - adding luscious and inspiring influences from Lebanon and Morocco. A perfect example: Icelandic lamb combined with delicious spices and accompanied by grapes and almonds.
At Sumac, Icelandic cuisine is seduced by flavours and flair from the coastline of North Africa to Lebanon – yet with the quintessential Reykjavik mood. You can enjoy new and exciting cocktails from the bar, exploding with fresh and exotic flavours. The wine list combines European, Moroccan and Lebanese wines to pair perfectly with our sensational food. The interior of Sumac takes its inspiration from the nostalgic atmosphere of Beirut, Lebanon.
An elegant dinner destination where relaxed elegance meets refined hospitality. An all-encompassing menu features a fusion of modern Icelandic and international classics. They combine the finest ingredients, paying homage to tried and tested traditional methods and their magical team showcases classic, innovative and colourful combinations.
The restaurant is known for classy food firmly in the Icelandic tradition and is consistently good at this establishment. It has been owned and operated by the same people since it opened on March 1st, 1989. Þrír Frakkar is known for delicious fish courses, excellent service, and an intimate atmosphere.