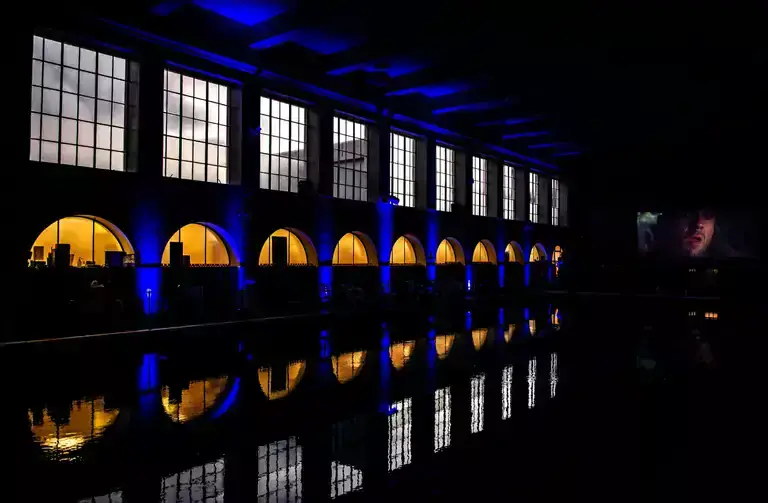 Reykjavík Film City
Over the past few decades, an extensive film industry possessing a full range of know-how and experience has been built in Reykjavik. A thriving and ever-growing film and commercial scene have produced a rich pool of professionals in all areas of film-making, production, and event management. Reykjavík-based film production companies have taken part in many large-scale film and commercial projects, combining their filmmaking professionalism with in-depth knowledge of Iceland's unique geography and landscape.
RVK Studios is located by the shores of the old industrial area of Gufunes, about 20 minute drive away from the city centre. RVK Studios offer a 34,444 ft² / 3,200 m² space comprising studios with the highest point of 52ft / 16m, dressing rooms, a make-up room, wardrobe room, casting suites, open-plan production spaces, private offices, meeting rooms, sun-decks, cafeteria, and parking space for tens of vehicles. RVK Studios will in the nearby future be the heart of Reykjavík Film Village, a concept developed by Reykjavík City in collaboration with film director Baltasar Kormákur.
Icelander's love of movies is reflected in the great number of movie theatres and multiplex cinemas located in Reykjavík, featuring the latest blockbuster movies.
Reykjavík City also supports a number of annual film festivals. Stockfish Film Festival which takes place in February, Reykjavík International Children's Film Festival in April, and last but not least the acclaimed Reykjavík International Film Festival. RIFF, is one of the biggest and most diverse cultural events in Reykjavík, taking place in September. At RIFF, locals and tourists alike are able to enjoy the best and freshest of international filmmaking, chat with directors about their works, and attend panels and workshops, concerts, and exhibitions.
For these reasons and many more Reykjavík has gotten the honour of hosting the European Film Awards on the 10th of December 2022. The European Film Awards – EFA, will take place in Harpa Concert Hall and Conference Center, together with various side events in connection with European film production. It is expected that around 1,400 guests will attend the award ceremony, which will also be broadcasted live throughout Europe. It is an important recognition of the Icelandic film industry and presents Reykjavík as an interesting filmmaking destination.