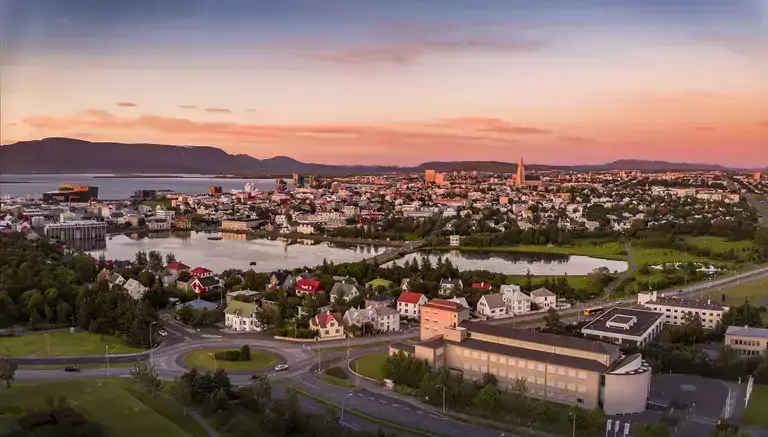 Reykjavík in 24 hours
What can you do in Reykjavík with just 24 hours to spare?
We've put together an itinerary to help you make the most of your time in Reykjavík — even if you only have 24 hours to spend in the city. Reykjavík is rich in beautiful buildings, unique architecture and statues that speak to the country's history. You can find fantastic sights all over the downtown area. The city is very accessible on foot, so we recommend walking if you're able to. Worried about the weather? Don't fret! It tends to change every five minutes or so!
Let's look at some of the activities and sights you can check out:
Skólavörðustígur: The Rainbow walking street, Mokka and Hegningarhúsið
At the bottom of Skólavörðustígur, where it merges with Laugavegur, you'll find the start of the picturesque Rainbow walking street. You have no doubt seen countless photos on Instagram of travellers and locals taking selfies on the colourful street celebrating the LGBTQIA+ community. Insider tip: about halfway up Rainbow walking street, you can get a fantastic picture of Hallgrímskirkja in the distance.
As you walk up the street, on your left you will see one of Reykjavík's oldest coffee shops, Mokka. Mokka was founded in 1958 and inside you can marvel at the sparse retro interiors and walls adorned with paintings and artwork by local artists. And of course, excellent coffee and Icelandic pastries like kleinur or a waffle with whipped cream await you.
When you exit Mokka and turn left, at the top of Skólavörðustígur you will see Hallgrímskirkja tower at the top of the hill. It's one of the most striking landmarks of Skólavörðustígur—and really of all of Reykjavík. On a clear day, you can spot the church from almost anywhere. It's a must-see place.
As you make your way up this funky street, you will pass more coffee shops, restaurants and multiple design and art galleries.
There's a plethora of wonderful little shops, coffee places and restaurants in Skólavörðustígur, so it's a good idea to spend some time exploring both sides of the rainbow. Shops on Skólavörðustígur tend to be more artisan and unique than those on the main shopping street, Laugavegur.
Just before you reach Eymundsson Bookstore, where you can find a wide range of Icelandic books in English, you'll walk by a grey stone building called Hegningarhúsið, a former jailhouse. The building dates back to 1872 and was used as a prison all the way up to 2016. You can take a selfie there just like Weird Al Yankovic
Hallgrímskirkja + Leifur Eiríksson statue + Einar Jónsson Museum
At the top of Skólavörðustígur, you will be face-to-face with Leifur, a.k.a. "Leif the Lucky" Eiríksson, a Viking pioneer who discovered North America before Columbus. This statue was a gift to Iceland from the United States in 1930 on the occasion of the 1000-year anniversary of Alþingi, or Parliament.
Just past the majestic statue of Leifur is Hallgrímskirkja, the largest church in Iceland and the tallest building in Reykjavík. You could say that Hallgrímskirkja stands guard over Reykjavík. The church is both a parish church and also considered a national sanctuary in Iceland.
The church is named after the 17th-century clergyman Hallgrímur Pétursson, author of Hymns of the Passion. Hallgrímskirkja is an Evangelical-Lutheran church and is a part of the Evangelical Lutheran Church of Iceland. Hallgrímskirkja is one of the most visited places by tourists in Iceland, with thousands of people visiting the church every day. Admission to the church itself is free, and for a small fee (ISK 100 for children and ISK 1000 for adults) you can take an elevator to the viewing tower, which gives an amazing panorama of downtown Reykjavík.
When exiting Hallgrímskirkja church, past the square and over the street to your left, is the Einar Jónsson Museum. Mr Jónsson was Iceland's very first sculptor, and his works blended together with the mythical and the religious. Even if you don't want to go into the actual museum, it's worthwhile to wander through the tranquil outdoor sculpture garden.
Icelanders love going to public swimming pools. We sometimes say sitting in hot tubs is a national pastime. We even have a public pool, Sundhöll, in the heart of downtown, at the rear end of Hallgrímskirkja. Go for a few laps or just chill out in one of many hot tubs at this newly renovated pool. Be sure to follow the instructions on showering before entering the pool.
Reykjavík Art Museum - Kjarvalsstaðir
Jóhannes S. Kjarval This museum is not only where the works of Jóhannes S. Kjarval are housed, but it also hosts regular exhibitions with a focus on paintings and sculptures of modern artists. There's also a coffee shop inside. It's a wonderful building with tall glass windows with a great view of Klambratún park, a quaint little park with benches, bushes and an ultimate-frisbee golf course
In the not-too-distant past, Hlemmur was just a bus station. You might be able to go inside to get a bus pass, use a public restroom and buy a hot dog, Coke and candy from the bodega. Today, Hlemmur is a trendy, lively food hall with many scrumptious options to grab a bite and a drink at a reasonable price.
Laugavegur - Iceland's main shopping street
Laugavegur is one of the oldest shopping streets in Reykjavik. The name is taken from the time when the road led to Laugardalur, where people would make their way with the laundry to wash in the "Laugar", or geothermal pools. Laugavegur is packed full of shops, restaurants, and coffee shops. It's a great location for a Reykjavik stroll and a good spot to find souvenirs to take home.
Bæjarins Beztu - the world-famous hot dog you shouldn't miss!
The oldest hot dog stand in Reykjavík, Iceland. It's been in operation since 1937 and has seen notable visitors such as Bill Clinton and Kim Kardashian. It was even featured in Anthony Bourdain's No Reservation travel and food show. Order "eina með öllu" and dig in!