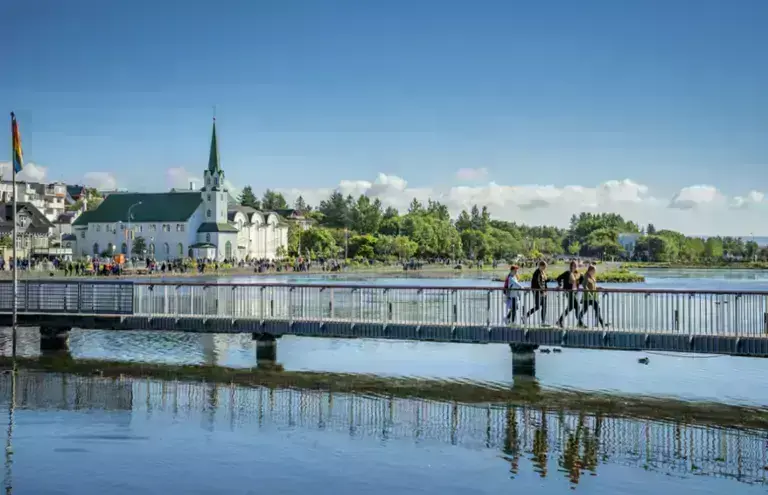 48 Hour Itinerary Culture Edition
Visit Reykjavik knows that visitors to the city of Reykjavík are looking for things to do in the capital, and culture is a large part of wanting to check out Iceland. For a tiny nation in the middle of the North Atlantic, Iceland sure does have a lot of culture! Whether it's by preserving the sagas through a tradition of storytelling or creating dramatic and heartfelt art inspired by the imposing darkness of winter and the earth-shattering (literally!) nature, Icelanders have a long history of expressing themselves through art, music, food, and language. In this itinerary, you will find some fantastic ideas for experiencing Icelandic culture in 48 hours.
Culture Night - Menningarnótt in Reykjavik
Every year in August, the city of Reykjavík transforms into an epicentre of Icelandic cultural celebrations. On streets, in squares and in various venues, museums and gathering places, you'll find concerts, pop-up musicians, art, lots of Icelandic flags, and great food. Culture Night starts off the cultural year right, with an action-packed, colourful day of music, live performances and all sorts of celebrations. It's a full program that runs from 1-11 PM, culminating in a massive and magnificent firework display down at the Reykjavik Harbour.
Perhaps the most well-known Icelandic cultural festival is Iceland Airwaves, a four-day, multi-genre music celebration at the beginning of November that showcases new music from Iceland and abroad. Everywhere from the elegant Eldborg hall in Harpa to the pews of the Free Church on Lækjargata and bars and restaurants around the city, you'll find up-and-coming bands performing their latest work.
DesignMarch is all about the most cutting-edge, vibrant and exciting design out there. It's an opportunity for all sorts of different individuals within the design world to come together. DesignMarch attracts professionals and recreational guests alike, with roughly 30,000 visitors annually attending.
When exiting Hallgrímskirkja church, past the square and over the street to your left is the Einar Jónsson museum. Mr Jónsson was Iceland's very first sculptor, and his works blended together the mythical and the religious. Even if you don't want to go into the actual museum (although with the 48-hour city card you get free access!), it's worthwhile to wander through the tranquil outdoor sculpture garden which exhibits his striking works under starry skies.
Reykjavík Art Museum - Kjarvalsstaðir
Jóhannes S. Kjarval. This museum is not only where the works of Jóhannes S. Kjarval (1885-1972) are housed, but it also hosts regular exhibitions with a focus on paintings and sculptures of modern artists. There's also a cosy coffee house situated inside the museum, overlooking Klambratún park. Kjarvalstaðir is a wonderful building of impressive tall glass windows with great views of the outside park. Benches, thick bushes, an ultimate frisbee golf course (and a volleyball sand court too!).
Reykjavík Art Museum - Ásmundarsafn
Ásmundarsafn is located in the Laugardalur area and is dedicated to the artist Ásmundur Sveinsson (1893-1982) who lived and worked on the premises. Ásmundarsafn is a venue for both the abstract works of its namesake, as well as works by modern or contemporary artists. The museum is eye-catching, with a smooth white dome exterior and Sveinsson's giant friendly-looking sculptures in the garden next to it. The museum offers a unique experience not to be missed.
This small red house takes its name from Benedikt Gröndal, who was a poet, illustrator and author. The humble home of the late Mr Gröndal is owned by the City of Reykjavik and its function is that of a literary house and residency by the Reykjavik UNESCO City of Literature.
Gljúfrasteinn - The Halldór Laxness Museum
"When a man has a flower in his life he builds a house."― Halldór Laxness, Independent People
Iceland not only has the most authors per capita, and the highest volume of published books yearly per capita, but we also have the most Nobel Prize Winners per capita - thanks to the late author Halldór Kiljan Laxness (Independent People, Iceland's Bell, Under The Glacier). The author, Mr Laxness, won in 1955 "for his vivid epic power which has renewed the great narrative art of Iceland". That single win was enough to push the tiny nation of Iceland to the status of Most Nobel Prizes per capita (we win a lot of things when you factor in the per capita of it all). Laxness and his family lived in Gljúfrasteinn for almost half a century. It is where the author spun his tales, with diligent help from his wife Auður, all told sixty-two books written in the span of 68 years. Gljúfrasteinn is located just 20 minutes away from Reykjavik and can be accessed by car quite easily, but it is also possible to visit by bus
The museum's opening hours vary depending on the time of year
The Icelandic music scene has long been famous for its idiosyncrasies and the scene has been quite fertile for many many decades, ever since The Sugarcubes and Björk exploded onto the airwaves in the late 80s. The Reykjavík Music Walk delves into exactly this, with pop/rock expert Arnar Eggert Thoroddsen leading the charge for circa 90 minutes, taking music lovers from all over the earth on an intimate tour of the history of Icelandic pop and rock music through the city of Reykjavík.
Árbæjarsafn: The Life and Ways of A Bygone Era
It's not long since Icelanders were churning their own butter and spinning their own clothes. At Árbæjarsafn open-air museum, you get a glimpse at a life lived just a couple of generations ago. You can enter replicas of turf houses and other structures from Iceland's history and learn how our ancestors lived.
Swimming Pools: Connecting With The Spirit Of Iceland
It's hard to explain to foreigners exactly why public swimming pools are so integral to Icelandic culture. There is something quintessentially Icelandic about sitting in a hot tub on a rainy day, discussing current events or genealogy with strangers (who are probably long-lost cousins).
Kirsuberjatréð (The Cherry Tree)
A design store located in the heart of Reykjavik and run by ten female artists, displaying everything from custom-made music boxes to Christmas ornaments. It's a place where artists display their works, and sell them to both locals and travellers. If you're looking for local souvenirs to take home, Kirsuberjatréð has many unique handmade options.
Since its opening in 2011, Harpa Music Hall has made an indelible mark on the city of Reykjavik, making it a considerably more metropolitan destination. Iceland has had a rich and vibrant music scene, both classical and pop, for many many decades. It's only natural that it should have a cathedral of culture such as Harpa to greet both Icelandic and international acts, which can perform in a state-of-the-art building, with its incredible design and the aural ambience that is befitting of opera, old school hip-hop, symphonies and Sigur Rós, Björk, Bubbi and Bríet. Don't miss a chance to take in the show if you are in Reykjavík.
Icelandic design abounds in Epal, located in Skeifan, Reykjavik. One of the oldest Icelandic furniture and design stores, there are multiple locations and the biggest selection is in Skeifan. Epal sells beautiful tableware, posters, giftwares, artisanal candles, blankets - you name it! Items from Epal make wonderful housewarming gifts.
The only cinema left in downtown Reykjavik, this is a quirky cosy space that is keeping the flame of cinema alive, hosting film festivals and revival screenings, along with some very regular showings of world cinema. And you can grab a drink, a refreshing beverage, a beer ("and I ain't talkin' bout no paper cup, I'm talking about a GLASS of beer." -Pulp Fiction)
The museum has ancient artefacts that are massively historically and culturally relevant to Iceland, as well as more contemporary objects. From early on in the nation's culture, to more modern things like clothing. There's been a lot of thought put into the creation and continued curation of the National Museum of Iceland. Suppose you ever wondered what an Icelandic grave looked like as centuries passed, and what accoutrements the departed brought to the afterlife. In that case, you need to go see the National Museum of Iceland at Suðurgata 41 in Reykjavík.
Höfuðstöðin - The Home of Chromo Sapiens
Höfuðstöðin is a cultural destination created by artist Hrafnhildur Arnardóttir /Shoplifter and creative producer Lilja Baldursdóttir - self-funded by the duo. It is a vibrant art piece, a mix of sculptures, wall murals and site-specific installations made of synthetic and natural hair. Höfuðstöðin is the permanent home of the installation Chromo Sapiens which debut at the Icelandic Pavilion at Venice Biennale in 2019, to worldwide critical acclaim. Höfuðstöðin is located at Rafstöðvarvegur 1a, just 10 minutes from downtown Reykjavík.
Höfnin Restaurant - The Harbour Restaurant
The focus of The Harbour is classic Icelandic cuisine. The popular dishes are shellfish soup, fish stew (a traditional staple), the arctic char, mussels and of course the old favourite Icelandic lamb and beef. The atmosphere is relaxed, the staff is friendly and the view of that harbour soothes the soul. Dining here feels a bit like eating on an old wooden ship.