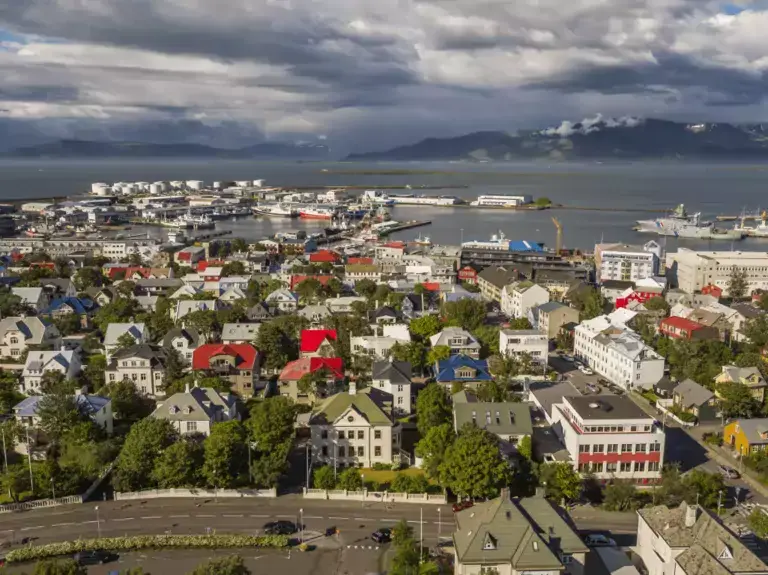 Top Free Things To Do In Reykjavík
Reykjavík can easily be enjoyed on a budget. However, it's worth mentioning that the best bang-for-the-buck in the Reykjavík City Card, which offers free access to all major museums, swimming pools and art galleries in the city. Read more about it HERE. 
Harpa Music Hall & Conference Center
Formally opened in 2011, Harpa has become one of Reykjavík's signature landmarks. Its glass dome, designed by the artist Olafur Eliasson, is a breathtaking structure, whether being viewed from the inside or outside. If you can, do catch a show in the impressive "Eldborg", the largest music hall. Either way, a visit to Harpa is well worth your time.
Austurvöllur and the Parliament
As you might know, the Iceland parliament, Alþingi, is one of the oldest parliaments in the world. It was moved to Reykjavík in 1844, after having had its sessions in Þingvellir for almost 900 years. The present parliament building was built in 1881 and is located by Austurvöllur.
Austurvöllur is a public park in 101 Reykjavík, often considered the heart of the city's downtown area. A popular picnic spot and hang-out in summer, this greenfield was also the main location of the "Kitchenware Revolution" in 2008. In the centre of Austurvöllur, a statue of Jón Sigurðsson, Iceland's national hero, can be found.
Hallgrímskirkja Church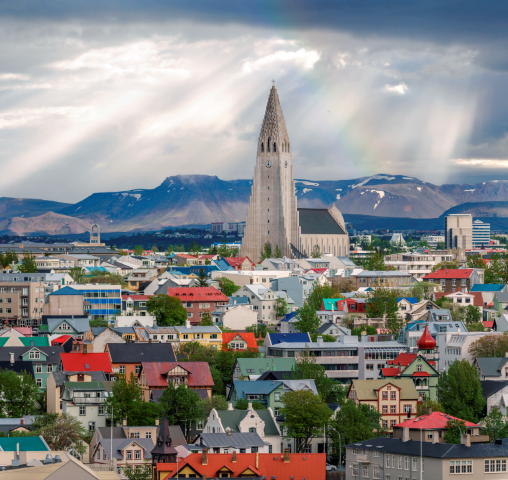 Designed in 1937, construction finally finished in 1986. Hallgrímskirkja Church is Reykjavík's main landmark, with its distinct tower which can be seen from almost anywhere in the city. A trip to the top offers great views all over the city and its surroundings.
Kópavogskirkja Church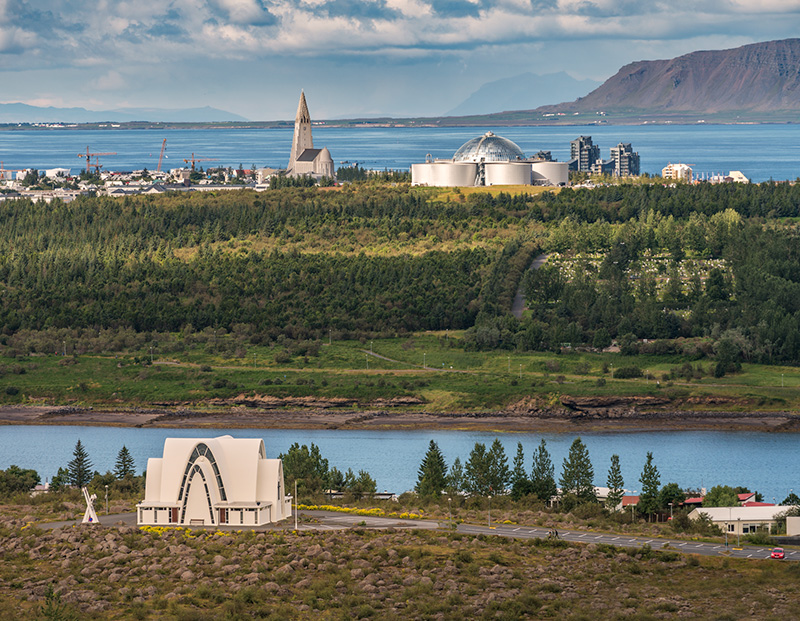 Definitely less known than its sister Hallgrímskirkja, the church in Kópavogur offers just as an impressive view over Reykjavík. The church is an interesting piece of modern architecture, but we really come here for the scenery. On a beautiful day, this place will provide some awesome photo opportunities. Borgarholt, the hill upon which the church stands, is according to folklore one of the biggest elf-colonies in Iceland. 
Free Walking Tours
Citywalk offers free, guided, walking tours in central Reykjavík every day. There are actually a few tours each day, which take about 2 hours a piece. Here you will learn about the city and Iceland's culture, history and heritage. Although completely free, donations are of course appreciated.
Bessastaðir & Álftanes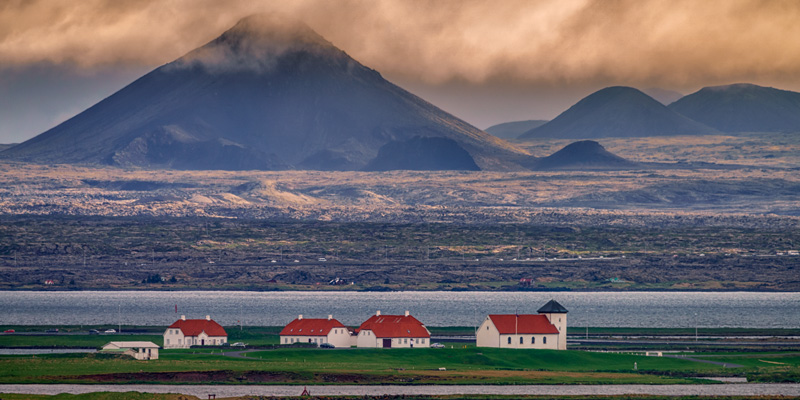 Bessastaðir is the Icelandic "White House", home of president Guðni and his family. Not as heavily guarded as many presidential residences, visitors are allowed to roam around outside the house and its surroundings. If you decide to make the trip, we recommend exploring the Álftanes area a bit. The beautiful and very Icelandic Garðakirkja church is located here. Álftaneskaffi café is not far away from Bessastaðir, well known for its excellent cakes, soups and sourdough pizzas. Last but not least is the swimming pool of Álftanes, which deserves its own entry...
Mount Úlfarsfell 

Mount Esja has become well-known among visitors as the go-to hiking spot near Reykjavík. Fewer people know about the marked trails of Mount Úlfarsfell. The mountain is closer to the centre, much lower than Esja and easier to climb. But still, it offers a very pleasant hike with great views over the city and Faxaflói Bay.
Sólfarið Sculpture (Sun Voyager)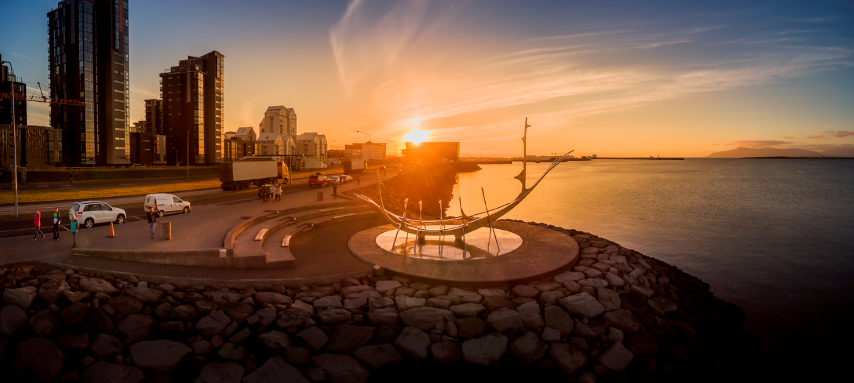 "Sólfar", the steel sculpture by Jón Gunnar Árnason, is probably one of Iceland's most famous pieces of art. With amazing mountain-view, this Viking-ship-like sculpture is one of Reykjavík's most popular photo spots.
City Hall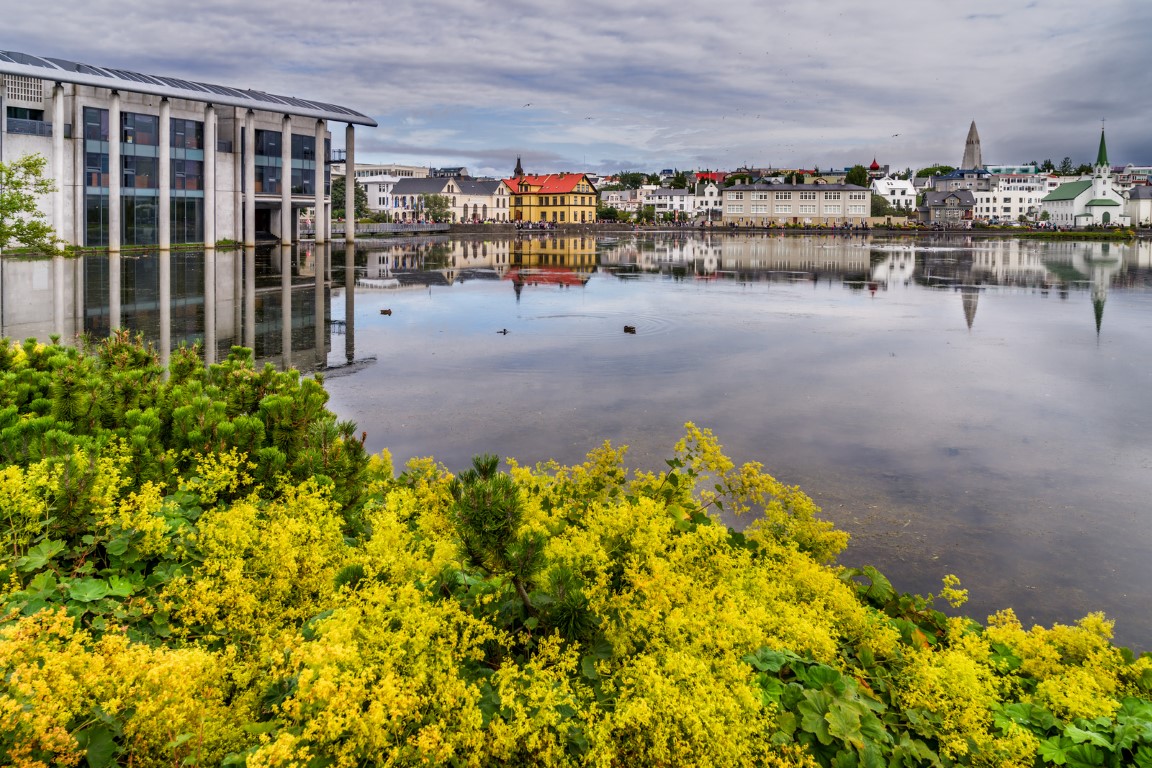 City Hall is the home of a huge 3D printed map of Iceland on the ground floor. The building itself is also quite interesting, bringing us to the next attraction … The Pond. 
Tjörnin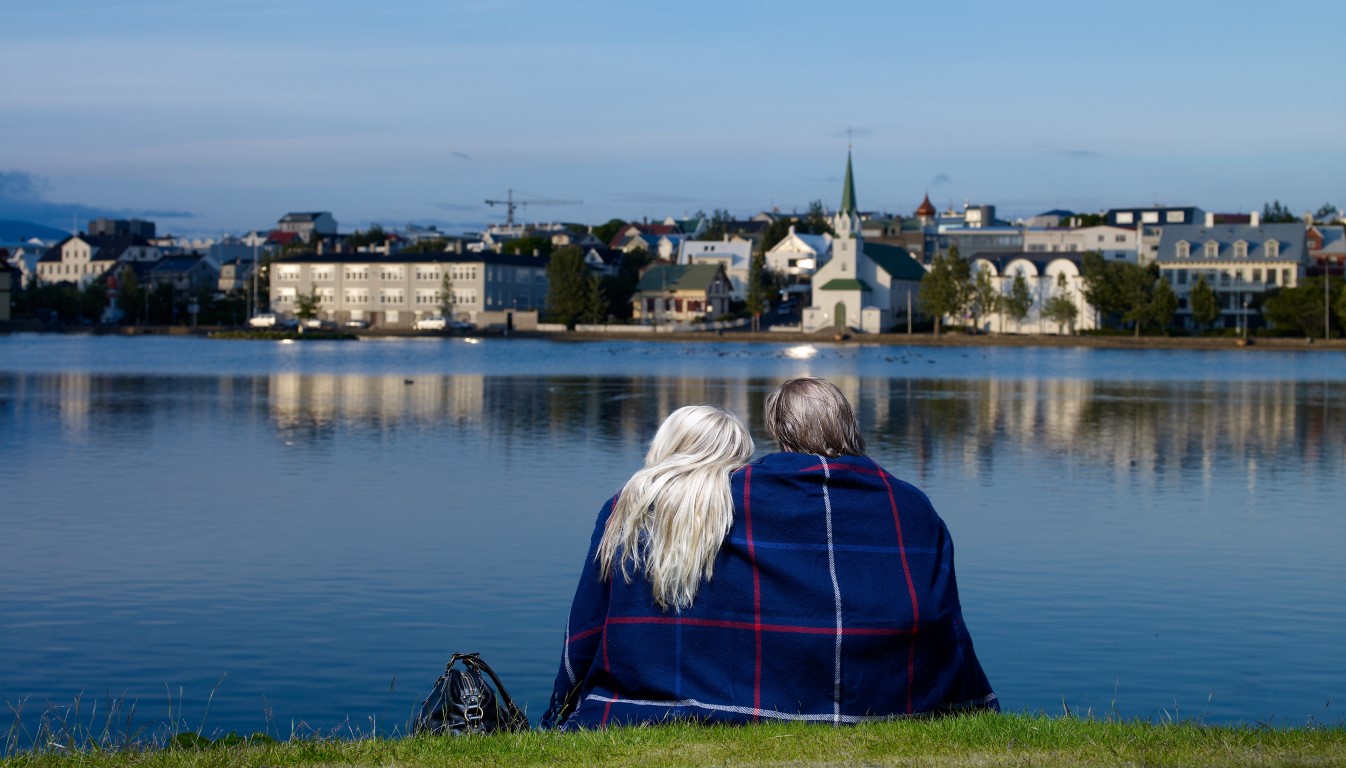 Tjörnin, or "The Pond", by City Hall, has since long become an integral part of Reykjavík city life. It's home to many of Reykjavík's best-known houses, as well as up to 50 species of birds that can be seen the year around. A part of this area is "Hljómskálagarðurinn", a large green space with walking paths and play rides for kids. People are kindly asked not to feed the ducks since it attracts birds of prey thus making it a dangerous environment for little ducklings.
Heiðmörk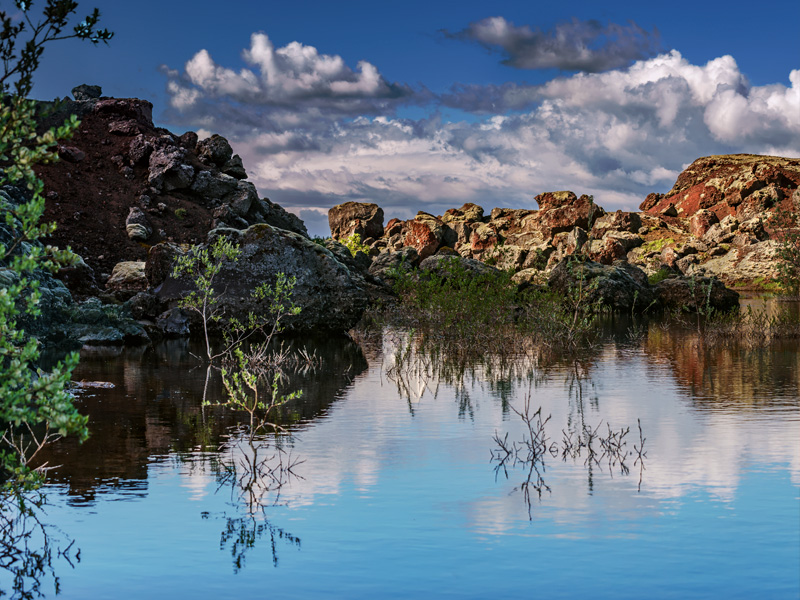 Heiðmörk is a nature reserve on the outskirts of Reykjavík. It's a huge open, green, public space with many interesting landmarks and beautiful sceneries. To name a few, Rauðhólar is an area known for its red rock-formation, standing by Elliðavatn lake. Maríuhellar is a lava cave near Garðabær, in the old days used to gather sheep. Forestry is practised in Heiðmörk in a few different areas. There are many marked hiking trails to be found.
Laugavegur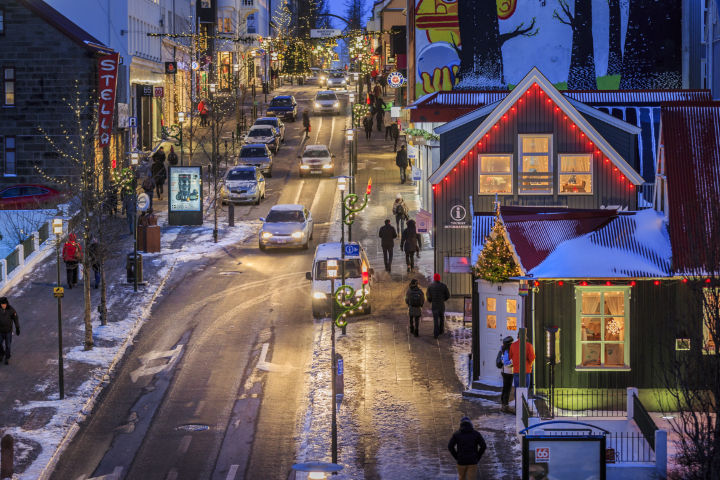 The main shopping street, Laugavegur, is also the place to go for Reykjavík's nightlife. Formerly, shops and bars were mainly to be found on this particular street, but these days they have spread over the area around as well. Skólavörðustígur, leading up to Hallgrímskirkja Church and Austurstræti, near The Icelandic Parliament, are honourable mentions.
Grótta Lighthouse
This beautiful lighthouse stands a 15-minute bus ride from the centre of Reykjavík, in Seltjarnarnes. The lighthouse is located on a small island that is only accessible during low tide. The surroundings, buzzing with birdlife, sure are beautiful with an amazing view of the mountains and over the gulf. Nearby is Iceland's oldest stone house, Nesstofa. In winter, Grotta is a popular destination for aurora-gazing.
Þúfa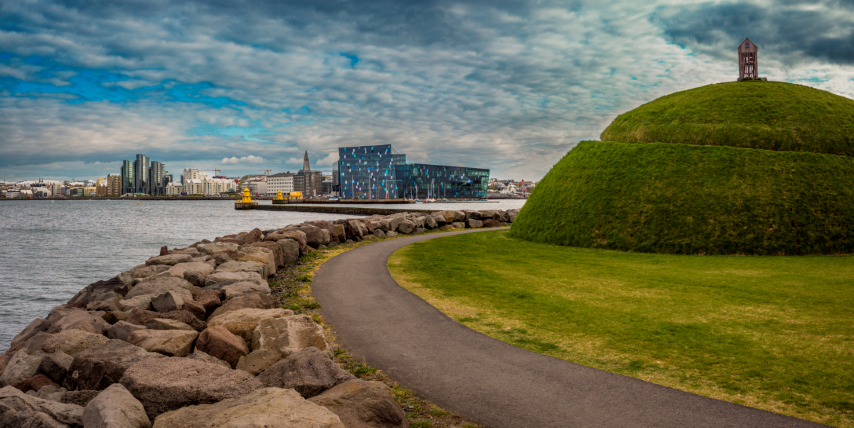 Þúfa (pronounced: th-oo-pha) is an outdoor art installation in the Grandi area by Ólöf Nordal. Not only does this little hill (that's what "Þúfa" means) offer peace within the city and reference to simpler times, but it also boasts of a great view towards Harpa Music Hall and Reykjavík's surrounding mountains.
Elliðaárdalur Valley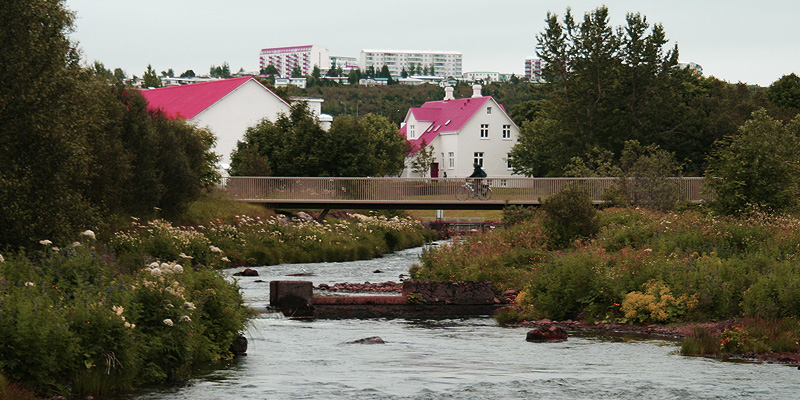 Elliðaárdalur Valley encloses one of Iceland's best salmon-fishing rivers. You'll have to join the club and participate in an annual lottery for a permit, but taking a stroll is free and everybody is welcome. There's more life here than just fish: you can expect to see rabbits hopping around and locals prepare for a marathon. Árbær Open Air Museum is not far away. And if you follow the pathway beyond the damp, you will come to Árbæjarlaug swimming pool.
Hellisgerði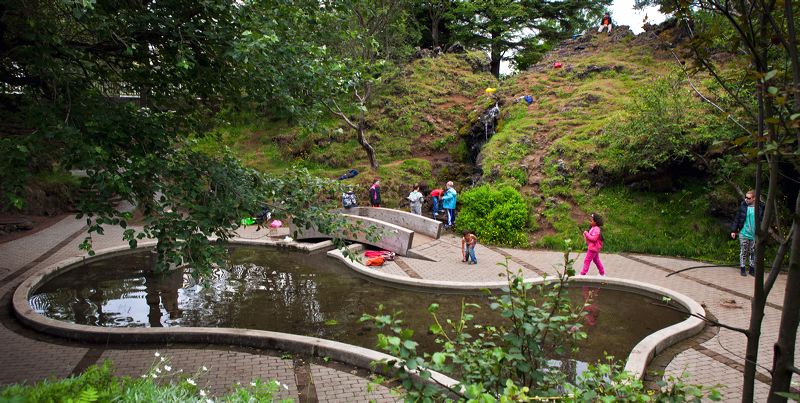 Hellisgerði is an old urban park located in Hafnarfjörður, formally opened in 1923. The volcanic rocks, caves and trees serve as a great playground for kids. Over 20 species of trees can be found in the garden, plus some smaller bushes and flowers. The water fountain is designed by Ásmundur Sveinsson, one Iceland's most important sculptors. Tucked away in a cosy residential neighbourhood, Hellisgerði is a great place for a picnic on a sunny day.
Hafnarfjordur Museum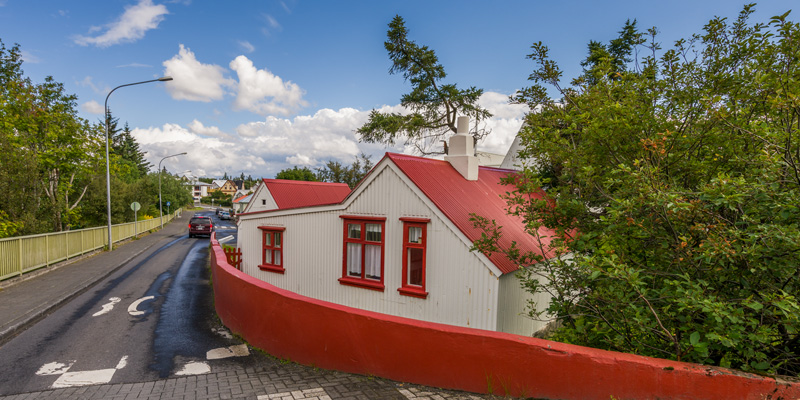 A great alternative (or accompaniment!) to Árbær Open Air Museum, Hafnarfjörður Museum also turns its spotlight towards "Old-Iceland", but in regards to the Hafnarfjörður area. The museum consists of 5 old houses and a guided pathway, which explore the history and culture of this fishing village through photographs, artefacts and other interesting objects. Especially popular with kids is the toy collection, found in Pakkhúsið house.
Marshall House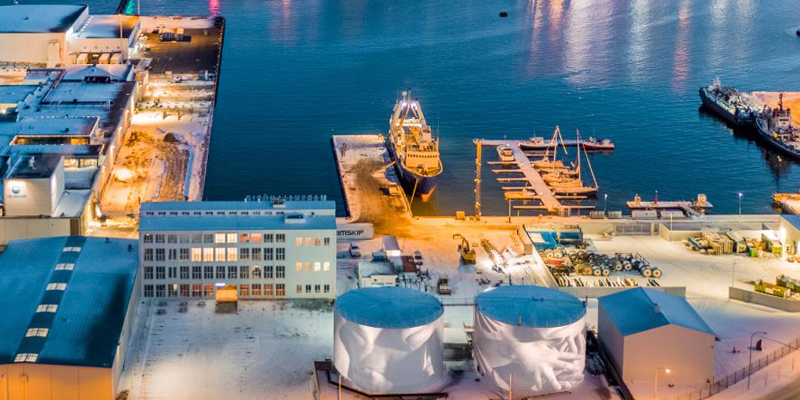 The Marshall House is a centre for visual art in the Grandi area. Formerly a fishmeal factory, the abandoned house was re-designed and renovated to become a home to contemporary art and a restaurant. Now, 4 "institutes" operate here: The Living Art Museum, Gallery Kling & Bang, Studio Ólafur Elíasson and Marshall Restaurant + Bar. An ideal place to stop on your way to Þúfa!
Álafosskvosin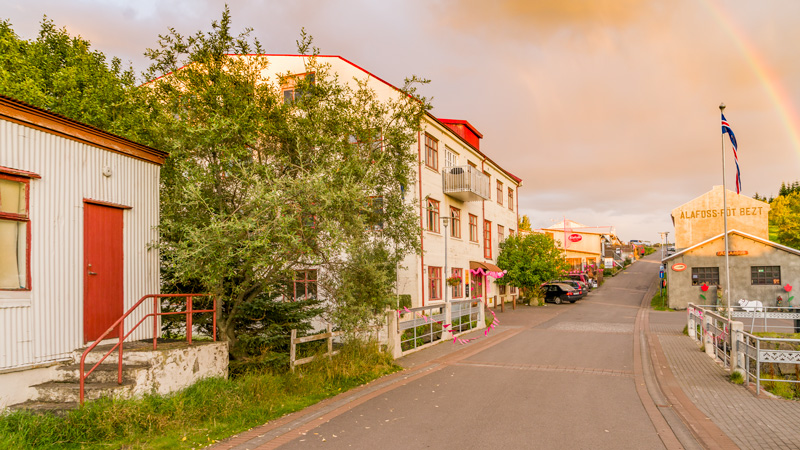 Álafosskvosin is a cute little spot in Mosfellsbær. The river Varmá runs through this small valley, and has been powering the wool factory there since 1896 (well, at least until we got electricity). Here you'll find a nice café, excellent for dining outside in summer, and the famous wool shop of Álafoss. For fans of Sigur Rós, their recording studio is located here in an old swimming pool. We might as well mention that Mosfellsbær has a great swimming pool, and Gljúfrasteinn and Mount Úlfarsfell, mentioned earlier, are not far away.