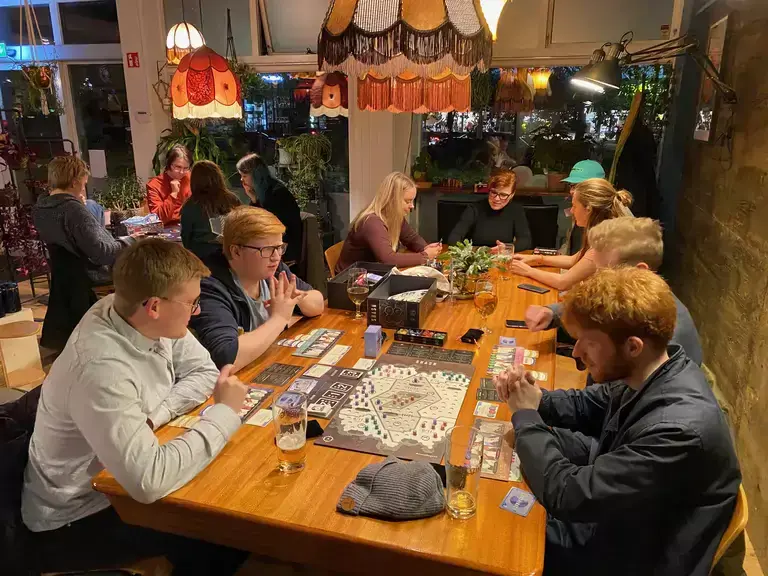 Spilakaffi
Suðurlandsbraut 48, Reykjavík 108, 5533450
Opening Hours:
Mon - Sat: 11.00am - 10.00pm
Sun: 11.00am - 6.00pm
Website: https://www.spilavinir.is/spilakaffi/
Email: spilavinir@spilavinir.is
Spilavinir is a board game café, the first one in Iceland, founded in the summer of 2020. Spilakaffi is situated inside the popular board game store, Spilavinir, in the blue houses in Skeifan. in Spilakaffi you can sit down in a cozy environment and enjoy the day with friends and family.
We offer all the regular coffee drinks, a great selection of tea from Østerlandsk 1889 Copenhagen, a good selection of beer and non-alcoholic beer and drinks in cans and bottles, and of course ice cold beer on tap (Happy Hour every day between 17-19). You can get something sweet with your coffee, grilled sandwiches, and even delicious chicken from Haninn restaurant next door (except on Sundays, when they are closed).
In the basement under Spilavinir is a large but cozy playing area with one of the largest board game collections in Iceland, plus a delightful playing area for young children. Spilakaffi maintains the basement and offers a one time price (stay as long as we are open) for singles, groups and families, plus a membership cars which gives you 15% discount in Spilavinir and 20% discount of the Spilakaffi menu).
The basement is open every day between 11-22. We recommend following Spilakaffi on Facebook for information about events, our current beer selection and more.