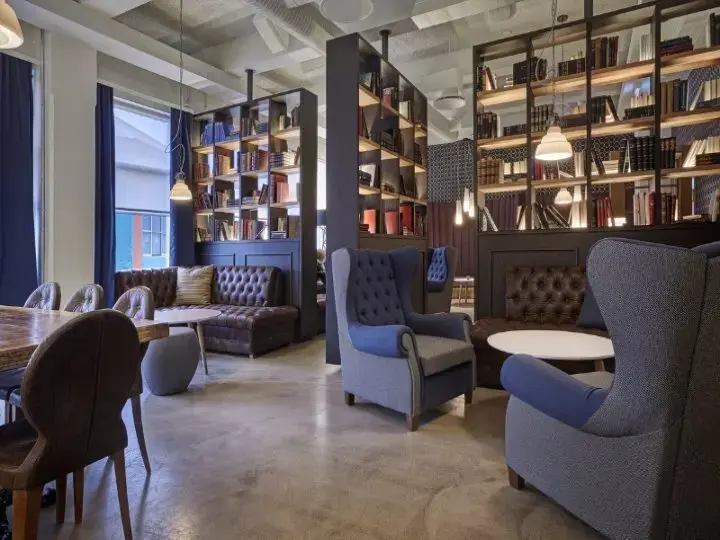 Reykjavik Marina | Berjaya Iceland Hotels
Mýrargata 2, Reykjavík 101, +3544444000
Website: https://www.icelandhotelcollectionbyberjaya.com/en/hotels/reykjavik/reykjavik-marina
Email: marina@icehotels.is
Reykjavik Marina, steps from downtown Reykjavik, is situated in a completely renovated four-story building that has become a landmark among local residents. It is located next to the historical, and still fully functioning, dry-dock called Slippur.
With an emphasis on blending the dynamic, creative atmosphere of this rapidly developing district with the country's strong fishing traditions, Reykjavik Marina offers everyone the opportunity to see and experience the capital at its most creative and colourful. Sleep and wake in fun, colourful surroundings with friendly staff to serve and assist you. Original and colourful designs characterise the hotel. Rooms are uniquely decorated with quirky styles that catch your eye, capture your heart, and could never be mistaken for anywhere else you've ever stayed.
Green hotel
The hotel is certified as a Green Hotel and operates according to the international environmental management standard ISO 14001. Our goal is to continually improve our environmental performance without compromising the outstanding level of service our guests have come to expect.
We pledge to:
Reduce waste and increase recycling
Choose nature-friendly products and services
Emphasize using local products and Icelandic ingredients
Follow the current environmental legislation and aim to exceed it
Inform guests about our environmental policy and how they can help
Educate employees and service providers about environmental issues
Reykjavik Marina's design
Icelandic design is becoming more and more renowned internationally. It is young and vibrant and very much on the rise whether it is graphic design, architecture, fashion or industrial and product design. Various design studios and shops that sell Icelandic design products are situated close to the hotel. We put great effort into our interior design. We wanted to be both colourful and fun and connect us to the history of the building and our location by the harbour. Everything in the hotel is designed and produced in Iceland.
Reykjavik Marina is packed with all kinds of objects that will pique your interest and attention. Seeing is believing, and guests often spend time strolling around the hotel, observing the thoughtful details we've laid out.
Location
Reykjavik Marina is located by a slipway in the old downtown harbour district of Reykjavik, where it has a unique view of the ocean.
The slipway is a great location for a hotel, just a stone's throw from the capital's attractions, with one of the best views across the bay.
Restaurant
Enjoy great food at Slippbarinn in a unique setting by the harbour.