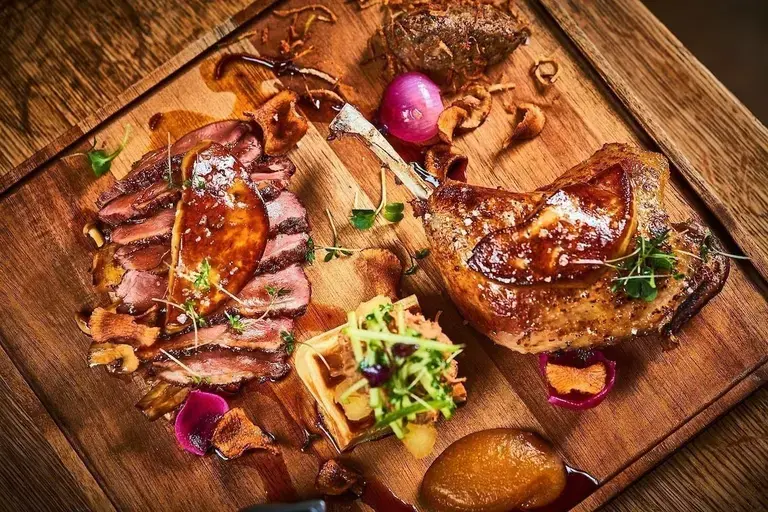 Apótek Kitchen + Bar
Austurstræti 16, Reykjavík 101, 5510011
Opening Hours:
Mon: 9.00am - 10.00pm
Tue: 11.30am - 10.00pm
Wed - Thu: 12.00pm - 10.00pm
Fri: 12.00pm - 11.00pm
Sat: 12.00pm - 9.00pm
Sun: 12.00pm - 10.00pm
Website: www.apotekrestaurant.is
Email: apotek@apotekrestaurant.is
Apotek Kitchen + bar is an exciting restaurant located in one of the most beautiful corners of Reykjavík.
The restaurant is casual-smart, offering delicious food in vibrant atmosphere and stylish surroundings.
The menu is a fun mix of Icelandic and European cuisine with a smoking hot Argentinean grill. Dishes are designed to share and enjoy together.
Stop by our lively cocktail bar where award winning " pharmacists" mix together exciting artisan cocktails to suit every mood; painkillers, stimulants, tranquillisers and even placebos.
Apotek is located at Austurstræti 16, one of the first large concrete buildings in Iceland. The building is known as "Apotekið" or "the pharmacy" because it housed Reykjavíkurapotek from 1930 to 1999.
It was designed by the one-time state architect of Iceland, Guðjón Samúelsson (1887-1950). Samúelsson was a respected architect and he designed several of the more majestic buildings in the Reykjavík during his career. He was also known for mixing different trends and styles in his design, and the influences in the building range from Art Nouveau, Danish Nationalist Romanticism with curved lines, poles, marble stairs and statues used for decorations.
The design duo Leifur Welding & Brynhildur Guðlaugsdóttir designed Apotek kitchen +bar. The concept of the design was keeping the integrity of the building and it's history while creating a modern, fun and relaxed atmosphere. There are many original features in the restaurant old restored wood wall panels, original marble and wall décor.
Our kitchen is full of Iceland´s most talented chefs lead by the head chef Carlos Gimenez.