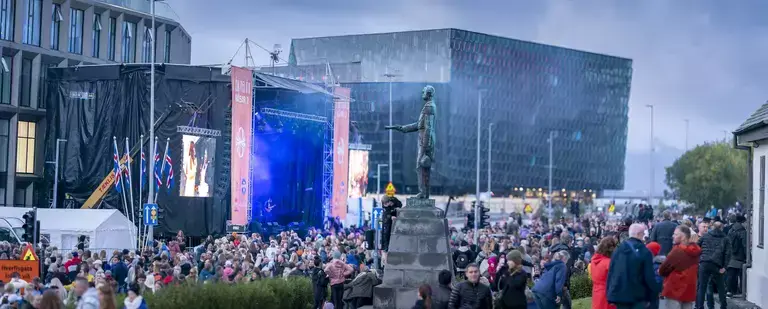 Reykjavík is a small city with a big heart
Reykjavík after Covid-19
Reykjavik is open for business and ready to welcome visitors. Locals and visitors from other parts of Iceland are already out and about, enjoying what the city has to offer. Museums and exhibitions are open as well as restaurants and bars, with limitations. People will have to respect the two-meter rule and wear masks when you can't keep the 2-meter distance, but mostly everything is open for business.
Visit Reykjavík is the official marketing office for Reykjavík City and the greater Reykjavík area. We at Visit Reykjavík focus on promoting Reykjavík as an all-year destination, by offering our visitors an impressive collection of attractions, restaurants, high street stores, boutiques, and places of historic significance. Reykjavík is a city of bold contrasts: it is both a cosmopolitan city and a small-town; vibrant and sophisticated; young-at-heart and yet full of history. Our focus for the next two years is that visitors to Iceland add a Reykjavík-day to their travel schedule, not only arrival or departure day, but at least one day enjoying the city and everything it has to offer.
We are recovering from the Covid-19 epidemic and things are getting back to normal. Restaurants, bars, and shops are open and our hotels are ready to welcome guests. We at Visit Reykjavík have used this difficult time to pause and re-think what we really stand for, and we agree that getting back to normal does not necessarily mean everything will be the same.
We are grateful for what we have, both in terms of a clean environment and for being a part of a free and humane society.
That is what we want our visitors to experience as well.
Nature City
Although the city of Reykjavík is a metropolis in every sense, it has been carefully developed and crafted around a number of easily accessible recreational areas and parks. A system of walking and cycling paths has been developed to enable people to travel around the city in environmentally friendly manner. Paths pass through popular recreational areas such as the Elliðaár valley and along the coastline on Ægissíða on the southern side of the city.
Beautiful nature can be found in all corners of Reykjavík. With mountains, islands, seaside, and dark parks to view the northern lights, you don't have to go far to experience a touch of nature.
For avid bird watchers and others alike, the nature around Reykjavík and the city itself is home to a diverse selection of birds and their habitants including garden birds, shorebirds, seabirds, water birds and heathland birds. Places like the Reykjavík Botanical gardens or Viðey Island are easily accessible and all have a rich birdlife.
Leiðarendi Cave is an impressive lava tube and a guided journey in to its depths reveals a wealth of knowledge about Icelandic history, geology and folklore. The dormant volcano Þríhnjúkagígur, is one of the few volcanoes in the world that allows entry through the top crater and all the way to the bottom of its empty magma chamber.
Of course, the Northern lights have to be mentioned as they can be seen in the city on clear and crisp winter nights. The quality of darkness is surprisingly high in many areas of Reykjavík, with beautiful secluded dark parks such as Reynisvatn Lake, Borgarholt Church Hill and Grótta Lighthouse, ensuring a great experience.
Green City
Reykjavík uses geothermal and hydropower for all electric consumption and heating, and its already-limited emission of greenhouse gas, will be further reduced by 35% in 2020. The city promotes all year round cycling and is further building out its cycling path system. Reykjavik City has also put forward a climate policy where goals are established for a carbon neutral city by 2040.
Hotels like the Fosshotels, Hotels of Iceland and Radisson Blu hotels are part of Vakinn, the official quality and environmental certification for Icelandic tourism, and Reykjavík Campsite has changed their name into Reykjavík Eco Campsite due to their excellent sustainability policy.
Reykjavík's inhabitants have become more environmentally aware the past few years and many hotels, restaurants and companies are jumping on the environmental bandwagon.
Therefore, if people want to enjoy our beautiful city in an eco-friendly way there are plenty of possibilities to do so. One can even enjoy whale watching and other tours without concern as company Elding is renowned for their responsible tourism and Green energy Travel specializes in eco-friendly tours.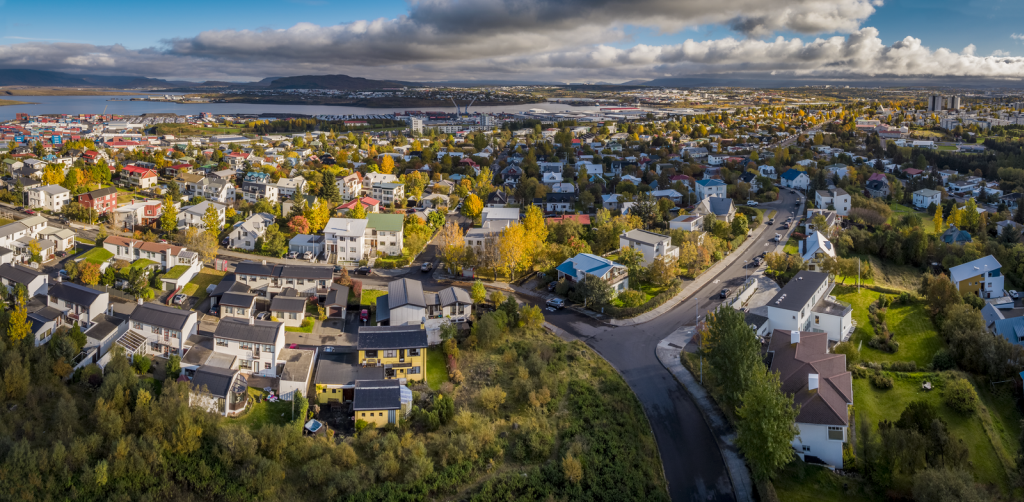 Film City
Reykjavík´s love of films is reflected in the great number of movie theatres and multiplex cinemas located in the City. As well as an Art Cinema House, screening the latest art-house releases, and Icelandic films with English subtitles. Reykjavík also supports a number of annual film festivals: Stockfish Film Festival, Reykjavík International Children's Film Festival and Reykjavík International Film Festival – RIFF.
For these reasons and many more, Reykjavík has received the honor of hosting the European Film Awards in December of 2020. The European Film Awards – EFA, will take place in Harpa Concert Hall and Conference Center, together with various side events in connection with European film production. Around 1,400 guests are expected to attend the award ceremony, which will be broadcasted live throughout Europe.
Culture City
Reykjavík is a city that is recognized for its devotion to the arts and culture. Festivals like Reykjavík Arts Festival, Reykjavik Fringe and Culture Night make their mark on the city's cultural platform. Visitors can experience the history of Reykjavík in an engaging way at Reykjavík City Museums and Reykjavík Art Museums, Iceland's largest network of museums. Other museums worth mentioning are Perlan Museum, the home to the largest nature exhibition in Iceland, Museum of Design and Applied Art which introduces Icelandic design, and The Open Air Museum, a collection of more than 20 buildings preserving Reykjavík's early history.
Reykjavík city is very proud to be a UNESCO city of literature, the first non-English speaking city to receive that honour; this is due to our rich heritage of ancient literature. Visitors can experience some of our literary histories through the Reykjavík Culture Walks app, and if one is here during the Holiday Season don't miss our famous "Jólabókaflóð" or the Christmas Book Flood. This is a time when locals visit the city's bookstores to buy new books for Christmas presents.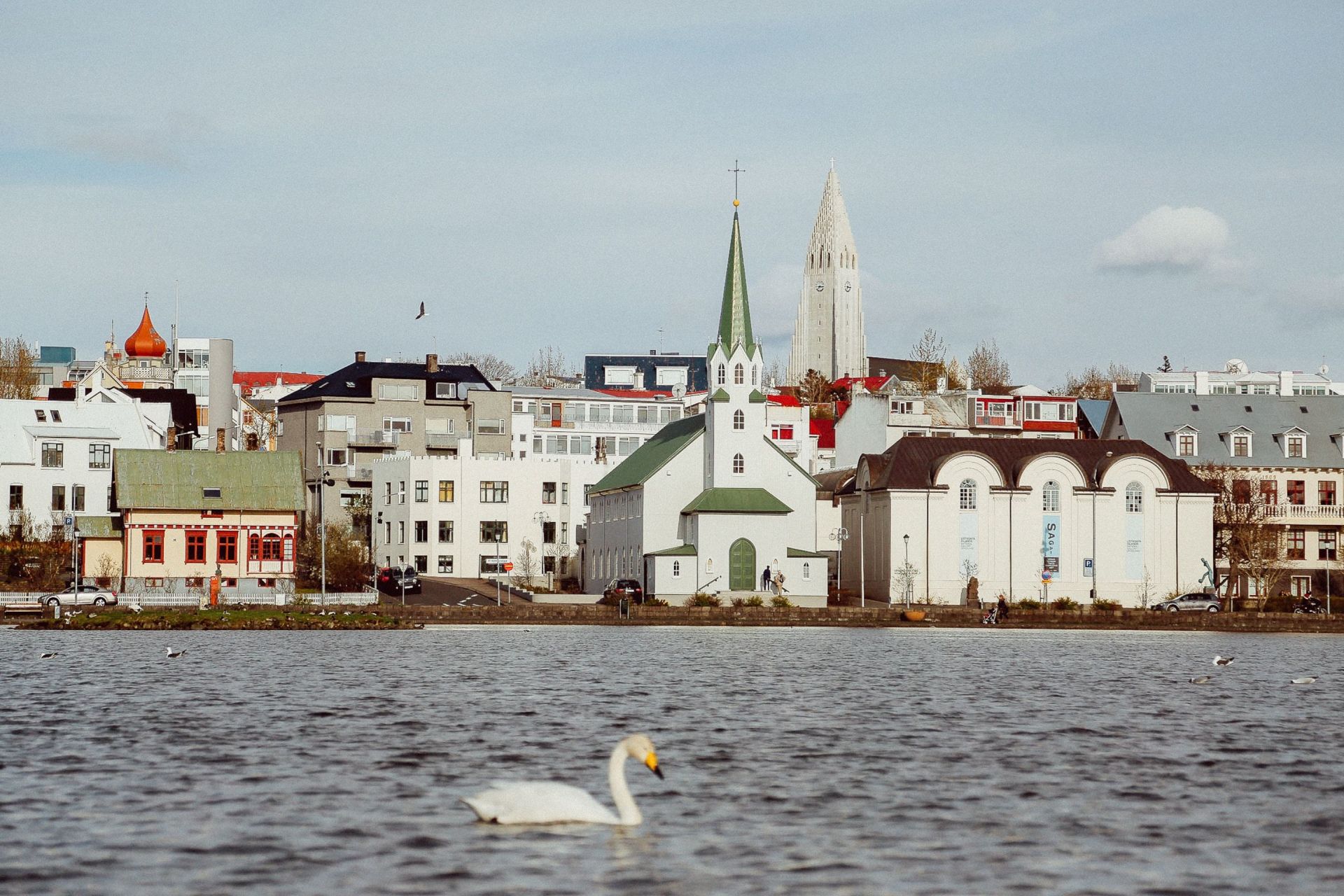 Adventure City
Summer or winter, it does not matter; if you are feeling adventurous, you can easily action-pack your stay in Reykjavík. The Reykjavík Ski areas of Bláfjöll Mountains and Skálafell Mountains are both about a 30-minute drive from the Reykjavík city center. Both areas have great slopes for downhill skiing and snowboarding as well as tracks for cross-country skiing. The area is also excellent for hiking and mountain biking during the summer. Skálafell Bike Park operates racetracks for all levels. Mountain Esja also provides grate view over Reykjavík City.
A great number of horse farms are located only a few minutes drive away from Reykjavík city center. An exciting way to explore nature in the capital area is to jump on a quad bike. Reykjavík´s backyard has proven to be an alluring natural playground for ATVs and buggies.
Playing golf under the midnight sun in Reykjavík is an adventure you will remember for a lifetime.
Music City
Reykjavík has long been a city surrounded by music. Reykjavík offers thousands of concerts every year at traditional and alternative concert venues in the city.
For those wishing to discover Icelandic music in a more relaxed environment, having a coffee and listening to music at 12 Tónar records is a great option. This little record shop in downtown Reykjavík was recently voted the world's number one music store by journalist Marcus Barnes.
The holiday season is one of the busiest period for all Icelandic musicians, and with over 60 concerts big and small, in the weeks leading up to Christmas day, we promise that even the greenest Grinch will find the holiday spirit at one of them.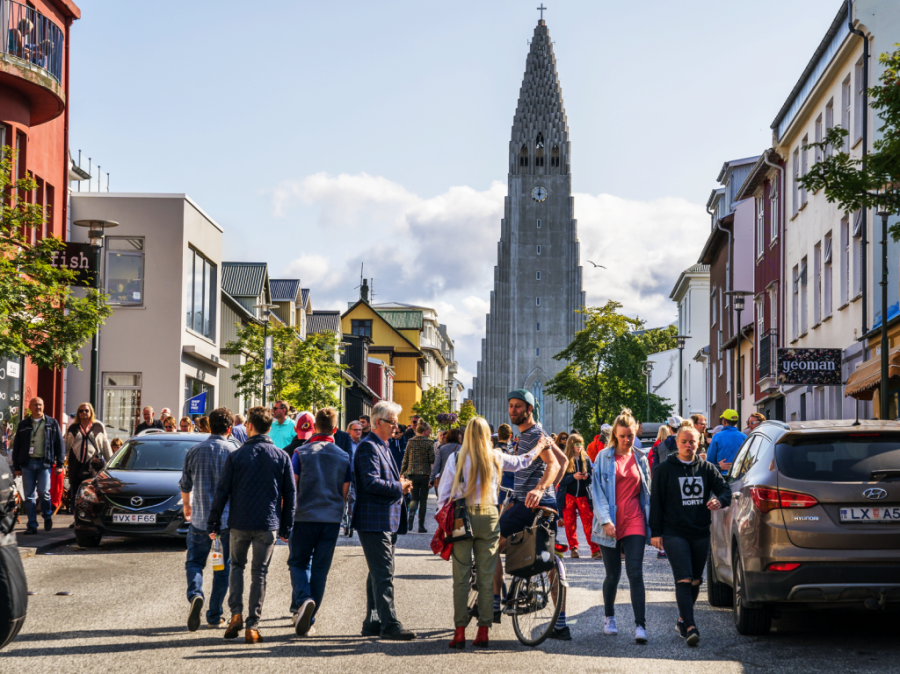 Safe City
Reykjavík has gained the reputation as one of the safest cities in the world having one of the world's lowest crime rates. It has topped indexes for being safe for women to travel and party. Apart from being the first country in the world to elect an openly gay head of state, Reykjavík is an open and integrated city where all LGBTQ+ visitors feel personally welcomed and not lost in the crowd. Reykjavík has therefore become a popular destination for queer weddings in recent years. Reykjavík is also extremely proud of its Pride festivities, putting on a spectacular sparkle in August every year, with up to one third of the population attending, showing solidarity with the cause.
Reykjavík is as well a great destination for all types of families as there is not an unsafe part of the city to be found. Instances of serious crimes are very rare, and petty theft is highly unlikely. Families can thereupon enjoy a peaceful and pleasurable trip visiting museums, swimming pools and other activities without having to worry about their safety.
Creative Food Culture
The city center of Reykjavík has seen its dining options increase dramatically in the last few years. With an array of restaurants, offering fresh traditional Icelandic ingredients like fish and lamb, prepared with international fusions. The same exciting progression has been happening for vegan and vegetarian options in the city, with a dozen restaurants focusing solely on plant-based food. Excellent microbrew pubs have opened up in Reykjavík, offering a wide selection of local brews, made with clean water. Surprisingly, the biggest change has been concerning Reykjavík's street food culture as indoor food markets have opened in the city center; at Grandi old harbor area and Hlemmur, a former central bus station.
Reykjavík Food and Fun Festival, pairs some renowned chefs from both sides of the Atlantic along with Reykjavik's best restaurants. Delicious, affordable gourmet dishes are created using Icelandic products. For a different kind of fun, food can be combined with up to a 360-degree panoramic view of Reykjavík at Perlan Museum restaurant.
Thermal Pools
The French have their cafés; the British have their pubs but we have the thermal pools. If you truly want to follow in the footsteps of the locals, you should visit one of Reykjavík's 17 swimming pools. Of course, many people come mainly for the fitness part, but the local pools are also a huge cultural thing in Iceland.
In the morning you will encounter elderly women and gents in the hot tubs, discussing news-related stuff and the weather (Icelanders love to talk about the weather). Later in the day, families gather where the young ones find a healthy outlet for what is left of that day's energy, while the parents relax in the warm water. People go on dates, friends meet to catch up and some come solo for the Zen quality of the water and steam.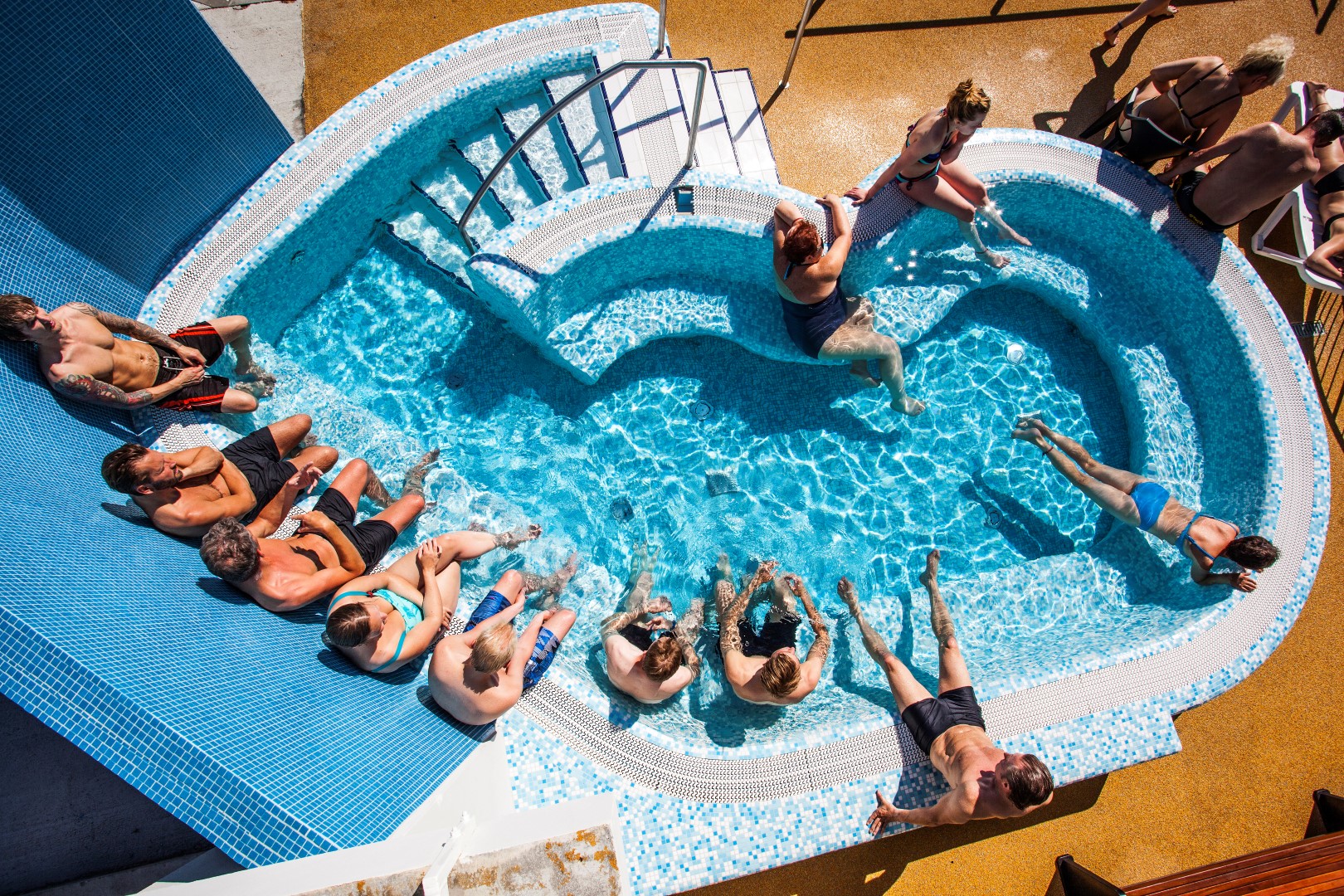 Reykjavík After Dark
In the winter, it sure gets dark early, but that does not mean everything shuts down. On the contrary, this is when you will find the locals at their best. In the city center, one can find an array of entertainment venues and bars that each offers their own unique insight into the capital's culture. The nightlife is far from the only thing Reykjavík has to offer after dark as shops and museums are open late certain days of the week, and all swimming pools in Reykjavík are open during the evening.
In recent years there's been an expansion in the entertainment section, aiming for both local and foreign crowds. Theatres have also started subtitling selected performances and Harpa concert hall has an annual event calendar that rivals other concert halls in bigger cities. A good way to start the evening would be to dine in one of the 200 restaurants, before enjoying a night or for a more zen experience; a relaxing soak in the thermal hot tubs.