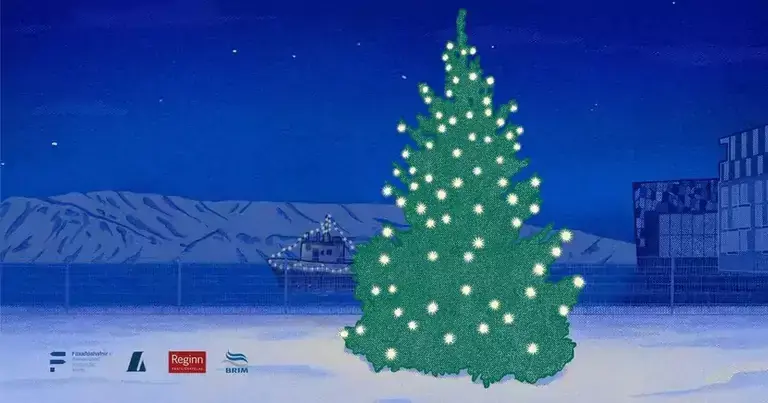 November 24, 2022
The illumination of the Hamburg tree Saturday 26th of November
On Saturday, November 26 at 5:00 p.m., the lights on the Hamburg Tree at Miðbakki in Reykjavík Harbor will be lit for the 57th time.
The tradition of putting up the Christmas tree in the Old Harbor in Reykjavík near Hamburg has its roots in a beautiful Christmas story. Icelandic fishermen who arrived in the port of Hamburg after the second war cooked fish soup for hungry people while they were being disembarked from their trawler. As a sign of gratitude, the port authorities in Hamburg established the tradition in 1965 of sending a Christmas tree to Reykjavík Harbor, which stands at the harbour during the holidays. Spruce trees are no longer shipped from Germany due to environmental considerations, and Faxaflóhafnir has therefore bought trees from Forestry in recent times.
"This year, the ceremony takes place with a changed format - as the event is being better connected to the origin of the tradition, and more parties are involved in its planning. It is therefore our hope that with this we are contributing to a beautiful Christmas event, which can grow with those who work, live or visit the port", says Sigurður Jökull Ólafsson, marketing director of Faxaflóhafna.
Schedule:
Visitors to Miðbakki will be invited to receive fish soup offered by Brims in a pop-up gallery at Geirsgatu 2-4 in Hafnartorgi. Santa Claus and an accordion player entertain guests and play Christmas carols on Kolagata and Geirsgata
- The chairman of the board of Faxaflóhafna gives a speech
- Dr Sverrir Schopka tells the story of the Hamburg tree
- The Hafnarfjörður brass band plays Christmas carols by the Christmas tree
- Rebekka Guðmundsdóttir from Brim lights the lights on the Hamburg tree