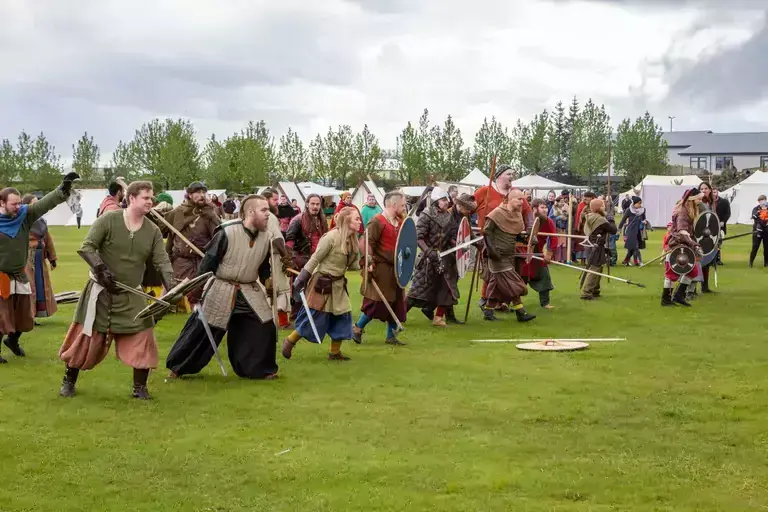 Viking Festival Hafnarfjörður
13th - 18th June 2024
The Viking reenactment group Rimmugýgur hosts the annual Hafnarfjörður Viking Festival, the oldest and biggest festival and market of its kind in Iceland.
This festival for the whole family is always held around the 17th of June and lasts about 5 to 6 days. In 2024 the dates are the 13th to the 18th of June, opening hours are 11-18, admission is free and all are welcome.
It is held in the picturesque Víðistaðatún Park Park in the centre of Hafnarfjörður. As if overnight the tranquil park transforms into a bustling viking market with tents covering the spacious field.
The Vikings sell their wares at the market; leather goods, fur, silver jewellery, swords, and exquisite horns. They roast a lamb, fight, dance, tell stories, and show us the ways of living of the old Vikings.
This Viking group is called Rimmugýgur, which is a name from the Saga of Njáll, the jewel of the crown of the Icelandic Sagas - the name in question is that of the axe Rimmugýgur which means a female battle troll!
This biggest of all Icelandic Viking groups, which was founded with 7 members in 1997, has grown in size through the years with around 200 members today.
Set sail to Iceland and join the Viking festivities!