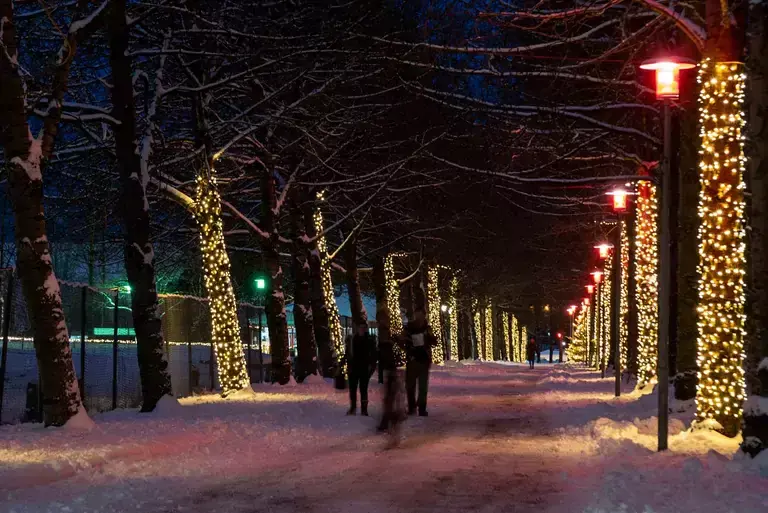 Christmas Valley in Laugardalur
In December, the whole family can have fun together in Laugardalur Christmas Valley, where Christmas lights and decorations set the mood for a festive Advent.
Like last year, Christmas lights have been installed all over the park and quite a few have been added, so now it's like an adventure to walk around the park at dusk, enjoy Christmas music, and visit the animals and the Christmas cat himself. The outdoor grills will be open for those who want to grill dinner outside in the light, and everyone is invited to the carousel during the evening openings during Advent.
The family and petting zoo will be open until 8:00 p.m. Thursdays to Sundays during Advent, from November 27 to Christmas. Standard opening hours are otherwise from 10 a.m. to 5 p.m. It will be free for 12-year-olds and under (accompanied by an adult) during the evening opening (from 5-8 p.m. Thursdays to Sundays) and admission according to the tariff for 13-year-olds and over.
In Laugardalur Christmas Valley you can find one of the 14 Christmas creatures, more on that here
The Botanical garden
It is wonderful to have a walk on a fresh winter day in the botanical garden and end up with hot cocoa in Café Flóra. Note that the opening hours in winter are from 10 -15
Ásmundarsafn
Check out the exhibition After the Blizzard by Unndór Egill Jónsson at Ásmundarsafn, where he exhibits his work in a conversation with the work of Ásmundur Sveinsson. Sculptors from different periods meet in dialogue that offers new insight into Ásmundur's heritage and introduces new works by a contemporary artist to the viewers.
The museum is open every day from 13-17
Click here for more information
The Ice Skating Rink
Keep an eye on the opening hours of the Ice Rink on their website here
Laugardalslaug swimming pool
Click here for the swimming pool's opening hours
Welcome to Laugardalur Christmas Valley!