What to see and do
Street Art in Reykjavík (including map)
---
In recent years, the streets of Downtown Reykjavík have filled up with ambitious murals of different styles and themes. Many have become well-known landmarks that both locals and visitors seek out.
Although street art has been a part of the city's culture for many years now, you could say Iceland Airwaves music festival is to "blame" for this recent trend. In 2015 & 2016 the festival paired visual artists with musicians to create "Wall poetry" in various locations. Many of these poems still live a healthy life on the walls of Reykjavík.
A great way to explore the city by foot is to chase these pieces of art from Hlemmur all the way to Grandi. On the way, you will see many of Reykjavík's best-known landmarks and attractions.
(click on the image for a high-res version of the map; below you will find the map on .pdf format.)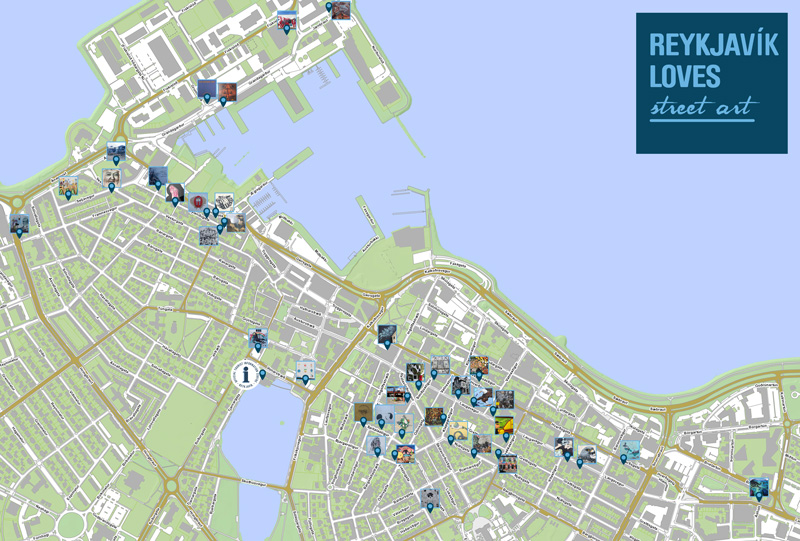 High resolution map on PDF-format.
Related attractions
Festival of the Sea
Festival of the Sea is an extension of Fishermen's Day which is held on the first Sunday in June.The festival celebrations take place on both Saturday and Sunday, with the events on Saturday being referred to as Harbour Day. The festival reflects traditional Icelandic culture and the nation's long-standing dependency on fishing.
The Icelandic Punk Museum
The Punk Museum is a small museum with a big attitude. Drop by and step into this very creative period of the Icelandic music scene.
Einar Jonsson Museum
The Einar Jónsson Museum was officially opened on Midsummer's Day in 1923. This was a watershed event for Icelandic art, as the building was the country's first art museum.
Húsdýragarðurinn - Petting Zoo and Park
Reykjavík's Zoo is definitely not the biggest park, but it sure is cute. It features Iceland's farm animals, including horses, as well as the few wild mammals who inhabit this cold place in the North.