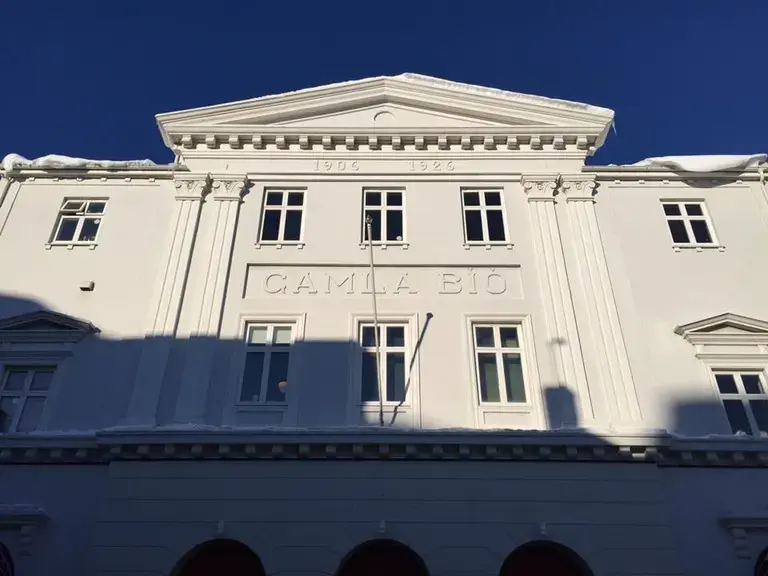 Gamla Bíó
Ingólfsstræti 2, Reykjavík 101, 5634000
Opening Hours:
Mon - Sun: 8.00am - 4.00pm
Website: https://www.gamlabio.is/
Email: gamlabio@gamlabio.is
Gamla bíó (Old cinema) is one of the most significant buildings in Reykjavík from the period of concrete classics and one of Einar Erlendsson's most important works from an artistic point of view. The façade of the building and the public space have been preserved in their original form, although the presentation of the hall has changed somewhat over the years.
It was a cinema (hence the name) from 1939 until 1981 when the Icelandic Opera acquired it and began operations there the following year.
The first opera update, The Gypsy Baron by Jóhann Strauss, premiered in Gamla bíó on January 9, 1982, and from then on the Opera maintained a vibrant musical life in the building until 2011 when it moved to the Harpa Concert Hall.
With extensive construction in the years 2014-2016, all facilities in the building were greatly improved so now Gamla bíó can establish itself among the leading event halls in Iceland and all Icelanders and their guests can enjoy this historic and beautiful building in the heart of the city center for years to come.
ATT. Opening hours vary!