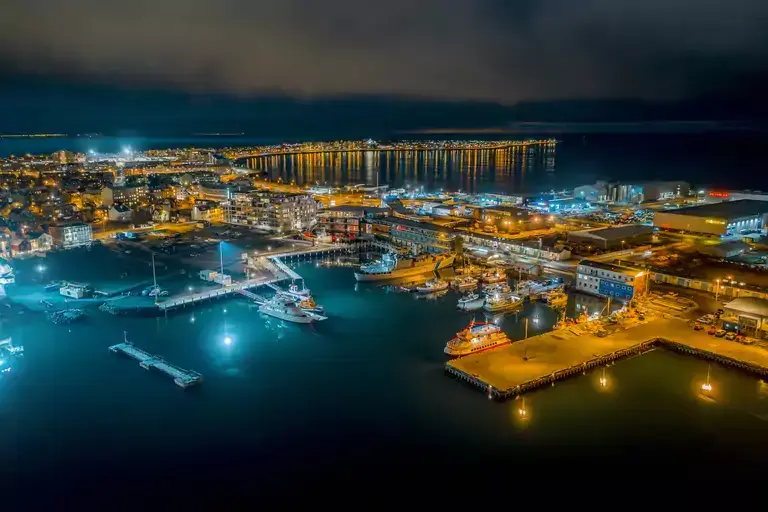 The Old Harbour
The old harbour is the heart of Reykjavík and the catalyst to its formation. The city grew up around the harbour and in the early 20th century it became one of the centres of the Icelandic trawling industry. The harbour area has been transformed in the past decades. It is still one of the most important harbours in Iceland, but in recent years tourism and whale watching have gradually replaced fishing vessels while shops and restaurants have occupied warehouses.
The heart of the city
Overview of the harbour, taken from the newly built house of Nathan and Olsen (Austurstræti 16) on May 8, 1917. Number of ships and boats within the new harbors. The middle bank is almost ready and there is a railway track behind it. Credit Faxaflóahafnir.
The excellent natural harbour was no doubt one of the reasons the first settler of Iceland, Ingólfur Arnarson, chose to settle in Reykjavík. Nature provided Reykjavík with an excellent harbour. The islands of Engey and Örfirisey, which is connected to the mainland by the Grandi isthmus, protected the harbour from the waves of the open sea. The modern harbour area is the creation of extensive landfills, and the original shoreline lies roughly where the street Hafnarstræti is today.
A great way to spend the morning or afternoon, visiting stores, cafés and museums which provide a glimpse into Icelandic history and culture and an opportunity to sample some of the best Icelandic culinary cultures.