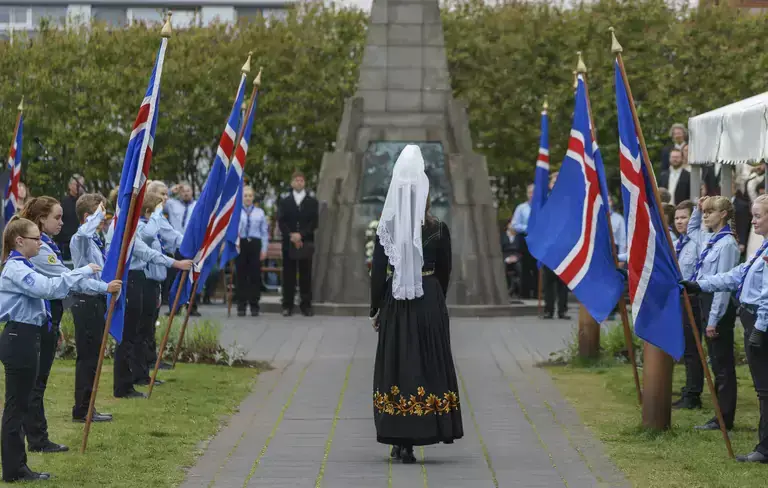 National Day of Iceland
17. júní - 17th of June
Iceland's National Day, June 17, is celebrated every year to commemorate the establishment of a republic in Iceland in 1944. Before that time, however, the day also had a place in the hearts of Icelanders, because June 17 was Jón Sigurðsson's birthday (1811-1879), Iceland's main hero of independence. The day was chosen as a national holiday to honour his contribution to the Icelandic struggle for independence from Denmark. The first records of a glorious celebration on June 17 were from the year 1907 when Jón's birthday was commemorated with a trumpet blast and speeches at Austurvellir in Reykjavík; the gathering numbered 4-6 thousand people or about half of all townspeople.
On June 17, 2022, family entertainment will be held throughout the town. You will find events in Hljómskálagarður, Grafarvogur, Breiðholt and Klambratún.
A ceremony by the Parliament and the Prime Minister's Office will begin at Austurvellir at 11.10, but it will be televised and broadcast on RÚV— the President of Iceland, Mr Guðni Th. Jóhannesson lays a wreath from the Icelandic nation in memory of Jón Sigurðsson and the Prime Minister, Katrín Jakobsdóttir will deliver a keynote speech. Fjallkonan delivers an address, but there is always a secret about who she is until the ceremony.
The 17th of June is on Facebook and Instagram
Events on the 17th of June