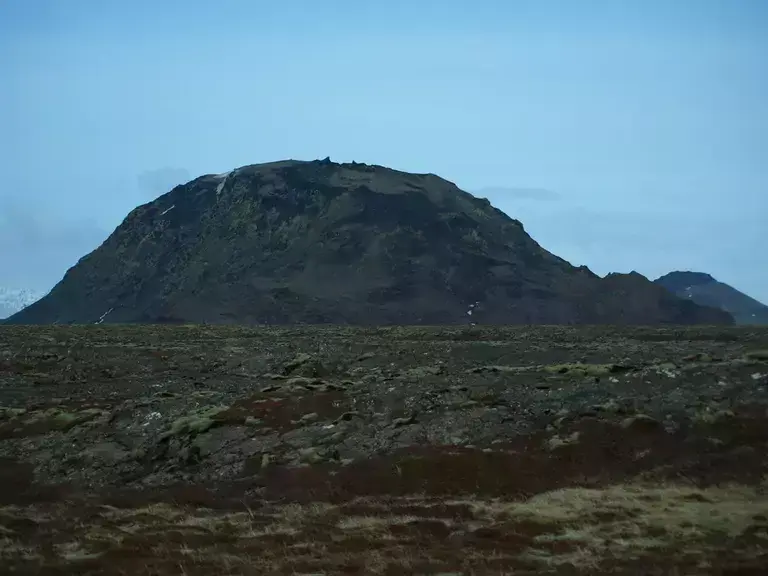 Mt. Helgafell
Formed in the late Ice Age when a volcano erupted under a glacier, today Helgafell Mountain anchors Hafnarfjörður. Rising low in the distance beyond the town, this dense sandstone and lava mound is often referred to as the town's mountain.
With an accessible and easy trail, walking on Helgafell is popular for all levels of hikers, including young children. An ascent begins at the Kaldársel sheep corral, not far from the small Kaldárbotnum Reservoir. Here, protruding and upheaved lava formations twist into endlessly fascinating shapes, including large expanses of undisturbed ropy pahoehoe and pseudocraters. Passing these, the walk continues up the flat northeast slope of Helluhraun before it hits a grassy slope and finally reaches the top. Despite standing only 338 m (1300 feet) high, the panoramic view from the summit is picture-perfect with views of Reykjavík, Flaxafói Bay, the Reykjanes Peninsula, and of course, Hafnarfjörður. To avoid the excessively steep and rocky face, it is recommended that you take the same route down the mountain. The round-trip can be completed in approximately 1½- 2 hours time.
Note: In advance of your climb, be sure to check the weather for adverse conditions and be mindful of the sometimes-high winds on the mountaintop.