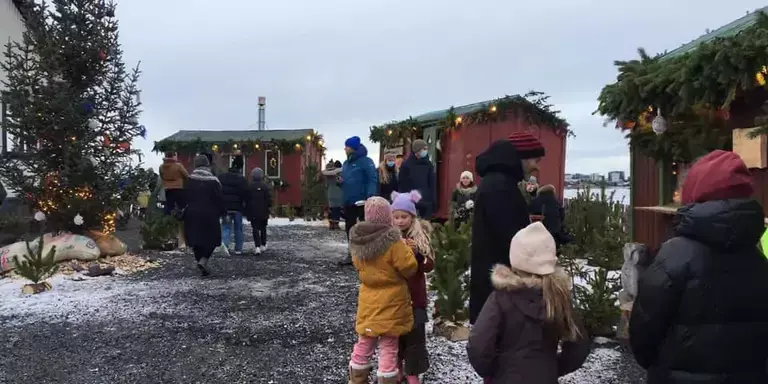 Christmas Market at Elliðavatnsbær in Heiðmörk
Christmas market, Christmas forest and Christmas tree sale at Lækjartorg
The Reykjavík Forestry Association is responsible for a variety of events on the eve of Christmas, where a cosy Christmas atmosphere and forestry are in the foreground. There will be a Christmas market in Heiðmörk, a Christmas forest in Hólmsheiði, and a Christmas tree sale in Lækjartorg.
The Christmas market in Heiðmörk
The Christmas market at Elliðavatnsbær in Heiðmörk is held every Advent weekend from 12-17 by Skógræktarfélag Reykjavíkur. In recent years, there has been a lovely Christmas mood in the market during Advent and it is gratifying to see that a visit to the market has established itself as an Advent tradition for many.
Emphasis on the outdoor experience
The Christmas market adapts its operations to the current disease control rules at any given time. There will be a coffee shop outdoors and a general emphasis on outdoor activities. We strive to create the best possible conditions for guests, but we would like to point out that it is necessary to dress well. There is an adventurous atmosphere in Rjóðrið, where a campfire will burn when writers read at 13:00 and children's book authors at 14:00. From Elliðavatnsbær, there are a number of hiking trails that can be seen on a map at heidmork.is, so it is ideal to use this unique outdoor recreation area when visiting the Christmas market.
Christmas tree sales - sustainability and ecological cultivation
Heiðmörk turned 72 this year. During this time it has been possible to create not only a unique outdoor recreation area but also a commercial forest. Most of the Christmas trees sold this year come from Heiðmörk. All the trees offered on the market are Icelandic and much more environmentally friendly than imported trees. Their carbon footprint is many times less than that of imported trees and they are cultivated without pesticides.
Rjóðrið - cultural program
Right by Elliðavatnsbær is Rjóðrið, which is a sheltered grove where it is pleasant to warm yourself by a campfire and listen to writers read from their works. There is a long tradition for authors of children's books to read in Rjóðrið, but this time the innovation will be that authors of adult books will also read there.
It is a pleasant time to take a hot drink, sit on a bench by the campfire and listen to a reading.
Writers read from recently published books - at 13 every market day.
Authors of children's books read from recently published books - at 14 every market day.
Craft market
In the handicraft market, you can find unique Christmas gifts made by artisans, food processors, and artists. Many of the products are not available in stores, so here is a good opportunity to buy both exciting food and Christmas gifts in one place. Essential oils from the forest, carved birds from wood, candles of various kinds, glass and ceramics, Christmas wreaths and decorations, jams & juices, ham and sheep's cheese, tea, wooden toys, ceramics, soaps, and knitwear are among the things for sale.
Opening hours of the Christmas market in Heiðmörk
The Christmas market in Heiðmörk by Elliðavatnsbær is open 3 Advent weekends, from 12:00 to 17:00.
2.-3. December
9.–10. December
16.–17. December
Christmas tree sale at Lækjartorg
The forestry association in collaboration with the City of Reykjavík will now for the second time offer Christmas tree sales at Lækjartorg in downtown Reykjavík from 17-22 December.
This is further increasing access to the trees and a cosy atmosphere will be created in the greenhouse which is now located on Lækjartorg. There will be Christmas trees, steps and twigs.
It will open on the 16th of December and will be open until the 23rd.
The Christmas Forest in Hólmsheiði
In The Christmas Forest in Hólmsheiði, you can cut your own Christmas tree. Guests can get saws on-site but we also encourage guests to bring their saws.
Directions: Drive out of the city east of Suðurlandsvegur past Norðlingaholt and past Heiðmerkur road. Shortly afterwards, you come to a branch on the left-hand side which is marked Nesjavellir, Hafravatn and Hólmsheiði. Immediately after entering Nesjavallavegur, there is a gravel road on the left. When you enter the gravel path, continue on the gravel path on the right, but after about 500 m there is a parking lot in the Christmas forest. A map can be found at the bottom of this page.
The Christmas Forest will be open the following weekends, from 11:00 to 16:00.
2.-3. December
9.–10. December
16.–17. December