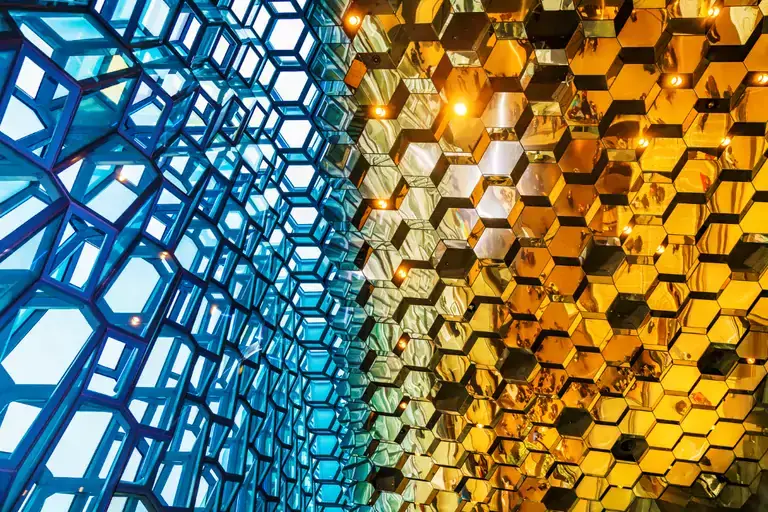 10 Free Things To Do In Reykjavík
Who doesn't love free stuff? Reykjavík can easily be enjoyed on a budget. Here are the top things to do in Reykjavík that don't cost a thing.
While we're at it, we might also mention that the Reykjavík City Card is a great way to explore the city and its culture for a moderate price. The City Card gives you access to Reykjavík's major museums, swimming pools, and public transportation. It also comes with added value in the form of discounts for our partners.
Harpa Music Hall
With construction finishing in 2011, Harpa has quickly become one of Reykjavík's signature landmarks. Admission is free, and the building is a must-see attraction for lovers of architecture. Roaming around the house is almost zen-like, offering stunning views of the mountains and sea.
Hallgrímskirkja Church
Hallgrímskirkja is probably Reykjavík's best-known landmark. Appreciating the building up close really gives you a sense of its unique character, inspired by the columnar lava rock formation. Admission is free, but a trip to the church's tower will cost you a few ISK.
Sólfar Sculpture
The third man-made structure that's become Reykjavík's hallmark is The Sun Voyager sculpture. Designed by artist Jón Gunnar Árnason, this outdoor art piece is an ode to the sun and Iceland's heritage.
Window shopping at Laugavegur and the surroundings
Window shopping can be a very fun pastime - and doesn't have to cost you a thing. In Laugavegur, Hverfisgata, Skólavörðustígur, visitors can get to know Icelandic design, art, and craft, literature. Ideally, stop somewhere for a quick bite or drink.
Grótta Lighthouse
Located on a small island by the shore in Seltjarnarnes, this lighthouse built in 1947 has become a popular destination for visitors, just like it has been for locals for years. This spot has a great view over Faxaflói Bay and the city, with buzzing birdlife all around. The island that the lighthouse stands on is accessible by foot when the tide is low.
Þúfa
Þúfa is an outdoor art-piece by Ólöf Nordal. Not only does this little hill (that's what "Þúfa" means) offer peace within the city and reference to simpler times, but it also boasts of a great view of Harpa Music Hall and Reykjavík's surrounding mountains.
Kópavogskirkja Church
The hill on which Kópavogskirkja stands is still one of Reykjavík's best-kept secrets. This spot offers some great photo opportunities with its 360° view over the city. Nearby in Hamraborg, some interesting museums can be found and a few nice, quiet cafés.
Hafnarfjordur Museum
Hafnarfjörður Museum is a museum of cultural artefacts and photographs of Hafnarfjörður town, situated in 5 different houses and a guided walkway. The museum displays the region's culture and history from the "old days" to modern times.
Marshall House
The Marshall House is an old fish-meal factory renovated to house culture and contemporary art. Here you'll find The Living Art Museum, Galley Kling&Bang, Studio Ólafur Elíasson, and The Marshall Restaurant + Bar. A great stop on the way to Þúfa, mentioned earlier.
Laugardalur Valley
Named after "The Old Washing Pools", Laugardalur Valley is one of the city's largest green, public areas with plenty of options for play, sports, and other outdoor activities. The old pools can still be found here, with an interesting exhibition on display exploring their history. Found in Laugardalur are the Botanical Gardens, a nice park to spend a sunny day. Laugardalur is also home to Reykjavík's largest swimming pool, the largest indoor and outdoor stadium, the Reykjavík Petting Zoo, and the ice skating rink.