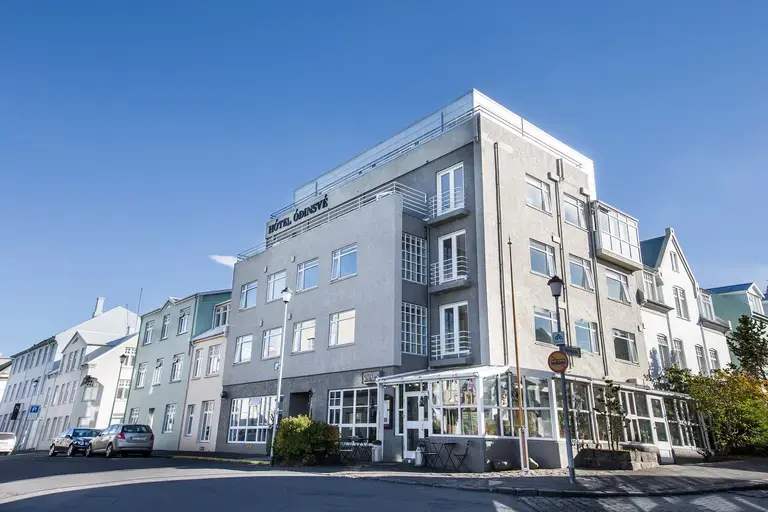 Hotel Óðinsvé
Þórsgata 1, Reykjavík 101, +3545116200
Website: https://odinsve.is/
Email: reception@odinsve.is
Hótel Óðinsvé is a charming boutique hotel offering 50 rooms, eight of which are suites (those are quite comfortable), all of which are newly renovated to the highest standard. Those seeking traditional luxury hotel features—like rows of shiny chandeliers dangling over a polished marble floor lobby—should look elsewhere. At Hótel Óðinsvé, we prefer to be personal, friendly and comfortable.
We also offer 10 luxury apartments at two separate locations; six apartments right across the street from the hotel at Tysgata 8, and four apartments 200 meters down the hill, at Skolavordustigur 7, the main shopping and event street in Reykjavik.
We want our customers to feel at home, feel like they're staying with friends. To that end, we go to great lengths to provide a relaxed atmosphere, where our friends can enjoy impeccable service that emphasizes the level of comfort and personal attention they deserve. At the right price, in the right location. Indeed, unlike many of our competitors who claim to be located "right in the heart of Reykjavík" (an easy claim to make in a city of Reykjavík's size), we actually are. Look it up.
Snaps Restaurant
While Hótel Óðinsvé is within walking distance of Reykjavík's top bars and restaurants, we are proud to say that one of the city finest is located right on our ground floor. With its homey atmosphere and luxurious, yet affordable, menu, award-winning restaurant SNAPS is a perennial favourite among locals and visitors alike. Head chef Stefán Melsteð serves up a menu that's equally inspired by the ingenious simplicity of modern Scandinavian cuisine—with its emphasis on fresh, locally sourced ingredients—and the French bistro tradition that SNAPS is modelled upon. Whether you're feasting on SNAPS' fresher-than-fresh catch of the day, a classic entrée of steak fries or enjoying a simple Old Fashioned from the bar, the restaurateur's dedicated ambition is evident and welcome.
Useful information
At Hótel Óðinsvé, check-in time begins at 14:00—check-out time is at 12:00. Be our best friend Our regulars—those of you who visit us at least three times a year—has some good things in store. Our best friends get a direct line to contact us whenever they're planning a trip, so we can ensure that they get to stay in their favourite room, pick them up from the airport and provide them with all those little things you do for your besties.