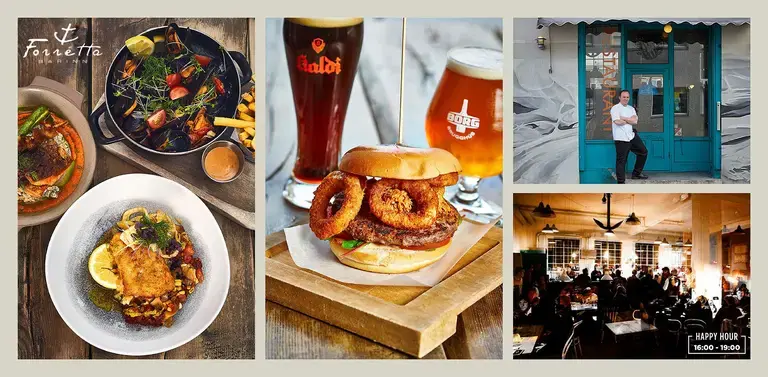 Forrettabarinn
Nýlendugata 14, Reykjavík 101, 5171800
Opening Hours:
Mon - Sun: 4.00pm - 11.00pm
Website: www.forrettabarinn.is
Email: info@forrettabarinn.is
Forréttabarinn opened in 2011 and is now owned and run by head chef Róbert Ólafsson. He has extensive experience dating back to 1994 and has worked in hotels and restaurants all over the world, including Iceland, Germany, USA and France.
Forréttabarinn offers a range of appetisers and desserts of various sizes. The menu focuses on fresh, Icelandic ingredients with a Southern European influence. It also offers a range of vegetarian dishes and a choice of four-course set meals.
The bar offers a good range of beers, locally brewed along with international brands. Wine is offered by the glass and the colourful cocktail selection is carefully crafted by their skilled bartenders. Don't miss the happy hour from 16 – 19 every day with special offers on draft beers and the house wines.
The space that now houses Forréttabarinn was built in 1939 and was previously a space for industrial workshops and warehouses. Later, the Association of Icelandic Artists rented the house and furnished the upper floors of the house under artists' studios. In late 2011, Forréttabarinn opened on half of the ground floor and 2 years later, a new bar space was added.
The restaurant's interior is modern with minimal Scandinavian influence. It is decorated with artworks, high ceilings and an open kitchen. The main bar is crafted from timber from the old harbour.
The downtown location, close to the harbour, galleries and artisan workshops, makes a great backdrop to the vibrant vibrant, funky feel, Forréttabarinn is so well known for.