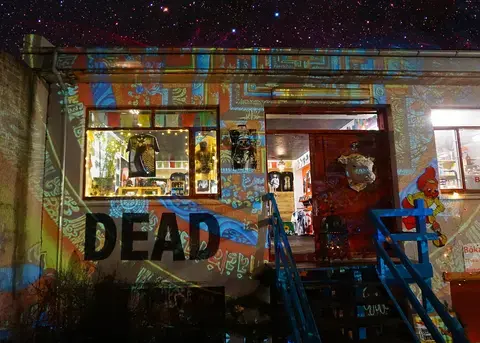 Winter Solstice Yule Ceremony
Laugavegur 29, 101 Reykjavík
Dauða Galleríið
22, December 2022
Open from 6.00pm - 11.30pm
General Admission See on official website
Be warmly welcome to our Winter Solstice Yule Ceremony, at Gallery Dead, on Laugavegur 29.
The gathering starts outdoors at 18:00, with fire, ale, steaming soup, and tunes from Símon Rúnarsson's exquisite seven-inch collection.
At 19:00, we move into the Gallery, where we will celebrate the celestial dance of darkness and light through poetry, stories and music.
- Friðgeir Einarsson, playwright and writer, summons forth something perfectly unexpected.
- Kristín Eiríksdóttir, novelist, reads from her new book.
- Kristín Ómarsdóttir, poet, shares her dreamscapes.
- Musicians, Líneik and Hallberg Daði, invoke their muses.
- Magnús Björn Ólafsson, graphic novelist, reads a Christmas story.
- Musicians, Teitur Magnússon & Steinunn Eldflaug, play Christmas songs.
- Valdimar Tómasson, Reykjavík's poet, reads from his oeuvre.
- Secret guests make an appearance.
- DJ Psychotic Simon plays music into the deep, dark night.
Admission is free, and everyone is welcome so long as space allows.
This event is part of Reykjavík's "Christmas City" event series.