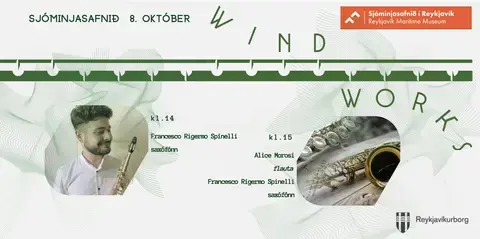 WindWorks concerts
Grandagarður 8, 101 Reykjavík
Sjóminjasafnið í Reykjavík
08, October 2022
Open from 2.00pm - 2.45pm
Website https://borgarsogusafn.is/sjominjasafnid-i-reykjavik
General Admission See on official website
Wind Works will play two concerts at the Reykjavík Maritime Museum on Saturday, 8 October at 14 and 15.
14:00
Francesco Rigermo Spinelli, saxophone
The first concert at 14:00 includes exciting music for soprano/alto saxophone. Saxophonist Francesco Rigermo Spinelli will play pieces by D. Selleras, R. Edwards and premiere a work by F. Borghetti, that he composed especially for WindWorks.
15:00
Alice Morosi, flute
Francesco Rigermo Spinelli, saxophone
In the second concert, saxophonist Franscesco Rigermo Spinelli and flautist Alice Morosi will perform works by American and Italian composers. They will premiere a work by T. Sagrazzini, also written for WindWorks.
The concert is sponsored by the City funds (Borgarsjóður and Miðborgarsjóður). There is no entrance fee for the concert other than an admission ticket to the museum.