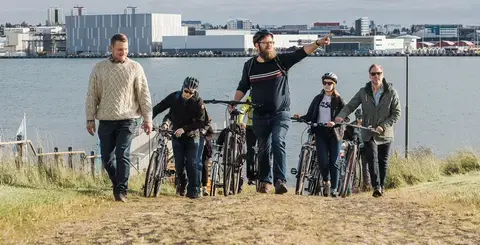 Viðey History Bike Ride with Historian Gunnar Marel
Viðey , 104 Reykjavík
Viðey
15, August 2023
Open from 7.15pm - 8.30pm
Website https://borgarsogusafn.is/videy
General Admission See on official website
Join historian Gunnar Marel Hinriksson for a bike ride around Viðey Island on Tuesday, August 15th, from 19:30-21:00. This tour provides a comprehensive look at the island's history, from the monastery to the Milljónafélag fishing company.
Along the way, you'll learn about the potato harvest of 1781, the connection between Skúli Magnússon and Gunnar Gunnarsson, and more interesting facts.
As you enjoy the bike ride under the evening sun, you'll also have the opportunity to take in the stunning mountain views and see the city from a different perspective.
The event is free of charge, but you have to pay for the ferry.
Participants must bring their own bikes and pay for the ferry, which departs Skarfabakki at 19:15. Don't miss out on this exciting and informative tour!