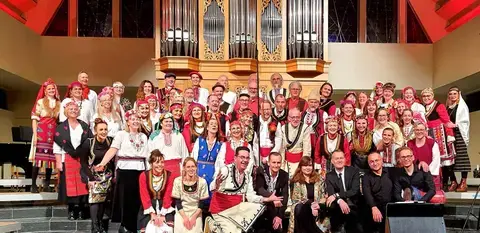 Under the Sun of Peace - Christmas choir concert
Sólheimar 14, 104 Reykjavík
Langholtskirkja
11, December 2022
Open from 5.00pm - 7.00pm
General Admission See on official website
Choir Söngfjelagið's Advent concert is an unusual and brilliant feast for eyes and ears and a yearly landmark in the cultural life of Reykjavík. From South America to the Balkans, Söngfjelagið takes pride in promoting music from different parts of the world and singing in the original language, with help from local and foreign artists.
This year's concert revolves around the theme of prayer for world peace. The event's title "Under the Sun of Peace" is a direct reference to Helgiljóð, a song and poem composed by Olga Guðrún Árnadóttir for Söngfjelagið in 2016. At every Advent concert the choir has premiered a new Christmas song written specially for the occasion. This year we will premiere a song by well-known choir member Hjörleifur Hjartarson. This is the fifth piece he has written for Söngfjelagið.
The conductor of the choir is Hilmar Örn Agnarsson, Sanne Valvanne from Finland is the artistic consultant and the musical conductor is Sigrún Kristbjörg Jónsdóttir.