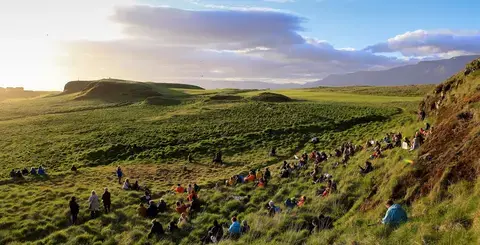 Summer Solstice Walk - The World as it is
Viðey , 104 Reykjavík
Viðey
21, June 2023
Open from 8.00pm - 11.00pm
Website https://borgarsogusafn.is/videy
General Admission See on official website
Join us for a Summer Solstice Walk on Viðey Island on the evening of 21 June. During the solstice, the sun's passage is the longest here in the northern hemisphere, and the midday sun stops rising day by day. The days will become shorter.
The guest of the walk will be Stefán Jón Hafstein, who will address the participants.
We will walk around the island and hear stories about the place. Guests are encouraged to bring a snack and a hot drink to enjoy while listening to Stefán Jón's talk before returning to the ferry.
The trail is easy, with a soft surface, but good shoes and a warm jacket are recommended. The Summer Solstice Walk in and around Reykjavík has been held annually since 1985.
Stefán Jón Hafstein has a long and diverse career behind him as a media person and a politician. For the last 15 years, he has primarily worked in connection with development cooperation. He has worked in three African countries, Namibia, Malawi and Uganda. He was most recently Iceland's ambassador to the United Nations Food and Agriculture Organization in Rome (FAO) and the World Food Program (WFP). He is a special envoy for ocean affairs at the Ministry of Foreign Affairs. Most of his work involves chairing an international working group emphasising the importance of ocean and lake food.
The ferry will leave Skarfabakki at 20:00 and back from Viðey Island no later than 23:00.
The event is free, but you must pay for the ferry ride. We recommend buying a ticket in advance of the ferry. Everyone is welcome.