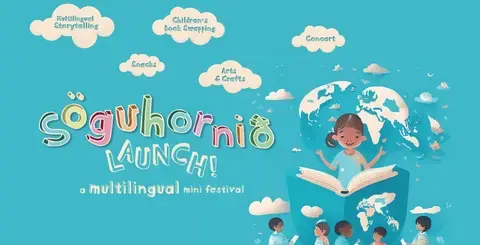 Söguhornið launch | A multilingual mini festival
Tryggvagata 15, 101 Reykjavík
Borgarbókasafnið | Menningarhús Grófinni
01, October 2023
Open from 2.00pm - 4.00pm
Website https://borgarbokasafn.is/en/event/children/soguhornid-launch-multilingual-mini-festival
General Admission See on official website
Join us for a multilingual mini festival in the Reykjavik City Library Grófin (downtown) with live music, storytime in various languages, arts and crafts, snacks, a book swap and more!
We are launching our new storytime platform Söguhornið! On this occasion we will celebrate all together in a fun and creative environment.
We will have storytimes in Spanish, Polish, Icelandic, Persian, Ukrainian, Arabic, English and Russian. People from all language backgrounds and ages are welcome to participate!
The Söguhornið platform will be active in 7 library locations and will be an invitation to hold an open story time in your language where you choose the stories and invite friends, relatives and other interested parties to come and have a nice time together in a library of your choice.