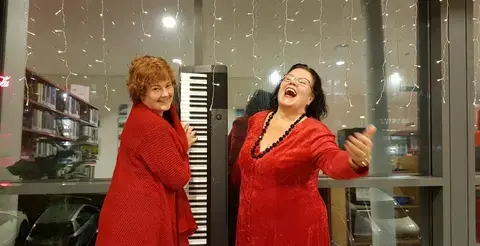 Sing along
Hraunbær 119, 110 Reykjavík
Borgarbókasafnið Árbæ
27, November 2023
Open from 4.30pm - 5.15pm
Website https://borgarbokasafn.is/vidburdir/tonlist/syngjum-saman-songstund-3
General Admission See on official website
The singer Anna Sigríður Helgadóttir, leads singing gatherings with the accompanist Aðalheiður Þorsteinsdóttir at the City Library in Árbær.
The songs are usually traditional Icelandic folk songs but this time they will focus on Christmas songs. The lyrics are projected on a screen so nothing should stop the library's singing birds to take part.
All are welcome and no former singing experience requested, we only focus on having a good time together.
Anna Sigríður Helgadóttir studied singing in Iceland and Italy and has participated in various musical performances, such as solo concerts, operas and operettas, jazz and gospel concerts. For years she worked as a music director at Fríkirkjan, the Lutheran Free Church in Reykjavík where she conducted choirs and sang at ceremonies. Anna Sigríður was also a leader at the children and youth work of Árbæjarkirkja for several years. She has been a part of the singing groups Hljómeyki, Emil and Bjargræðiskvartettinn.
Aðalheiður Þorsteinsdóttir has worked as a pianist and organist with numbers of solo singers and choirs. She has also taught pianolessons, made music exposures, computerized notebooks and worked at the Icelandic Information Music Center.