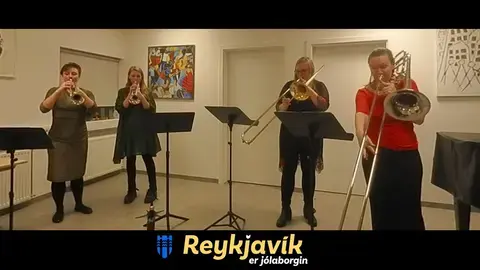 Silfurbjöllurnar play on December 23
Kolagata
Reykjastræti við Kolagötu
23, December 2022
Open from 12.00pm - 2.00pm
General Admission See on official website
Silfurbjöllurnar (The Silver Bells) is a new brass quartet founded in 2022 that consists of Hannah O'Connor and Valdís Þorkelsdóttir, trumpets, Sigrún Kristbjörg Jónsdóttir, trombone, and Ingibjörg Azima Guðlaugsdóttir, bass trombone. The quartet has prepared a diverse, fun, and exciting program of Christmas songs, both Icelandic and international.
We plan to play in the following locations on December 23:
12:00-12:30 Reykjastræti at Kolagata
12:45-13:15 Laugavegur at Bankastræti/Skólavörðustígur
13:30-14:00 Óðinstorg
This project is supported by Jólaborginni Reykjavík. By all means come see us on the 23rd!