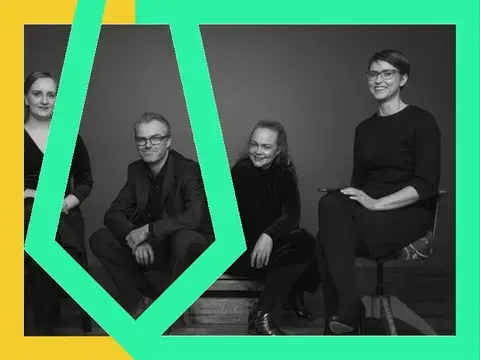 Siggi String Quartet
Ingólfsstræti 2, 101 Reykjavík
Gamla Bíó
12, October 2022 - 27, January 2023 (see calendar for other dates)

Website https://nordicmusicdays.org/siggi-string-quartet
General Admission See on official website
SIGGI STRING QUARTET perform works by Swedish, Finnish and Icelandic Composers at Nordic Music Days.
The SIGGI string quartet has become one of the leading chamber groups in Iceland in recent years and received the award Performer of the Year at the Icelandic Music Awards in 2019. SIGGI's artists are active as soloists and chamber musicians and play in the Iceland Symphony Orchestra and the Reykjavík Chamber Orchestra.The repertoire of the classical string quartet occupies a prominent place in the quartet's repertoire and the performance of contemporary music. Previous projects include the recordings of Philip Glass for Deutsche Grammophon with pianist Vi´kingur O´lafsson and the oevre of Atli Heimir Sveinsson. The quartet's debut album South of the Circle was released in 2019 by the American label Sono Luminus and has received excellent reviews since.
Programme:
Fabian Svensson
(SE) - New work (WP)
Ingibjörg Skarphéðinsdóttir
(IS) - Klakabrennur II (2019)
Halldór Smárason
(IS) - New work (WP)
Anna Huuskonen
(FI) - Artificiel par nature (2018)
Performers:
SIGGI
String Quartet
(IS):
Una Sveinbjarnardóttir, violin
Helga Þóra Björgvinsdóttir, violin
Þórunn Ósk Marínósdóttir, viola
Sigurður Bjarki Gunnarsson, cello
Guests:
Hildigunnur Einarsdóttir (IS), mezzo soprano
a.o.
We are excited to welcome you to Nordic Music Days 2022 in Iceland. The festival takes place in the capital Reykjavík and the municipality of Kópavogur. Next to many concerts at various venues and in public spaces the rich festival program offers an exhibition of innovative instruments, a conference on global impact in the arts, concerts for school children and a workshop for young music journalists. Please join in and share our passion for international community building!
The Nordic Music Days have been organized since 1888 as one of the oldest festivals for contemporary classical music in the world. The festival is unique in the sense that it is organized by the composers themselves. This years' festival is organized by the Icelandic Composers' Society.