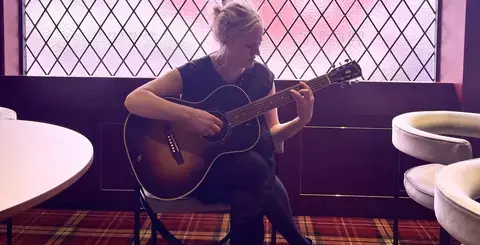 Ólöf Arnalds at Gljúfrasteinn / Laxness Museum
Gljúfrasteinn , 271 Mosfellsbær
Gljúfrasteinn - hús skáldsins
04, June 2023
Open from 4.00pm - 4.30pm
General Admission See on official website
Singer-songwriter Ólöf Arnalds is in the final stage of recording her next album, Tár í morgunsárið. She will warm our hearts with her souring songs and poetry, blending her most recent work with older classics.
Ólöf Arnalds is an Icelandic singer, songwriter, and multi-instrumentalist. Her work has been called "otherworldly" by The New York Times, "stunning" by SPIN, "bewitching" by Rolling Stone, "remarkable" by the NME, "ethereal" by Vanity Fair, and "impossibly lovely" by Paste.
You can buy tickets at the reception before the concert, the admission fee is 3.500 kr. See you at Gljúfrasteinn / Laxness Museum!