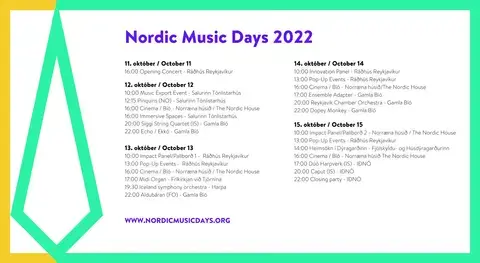 Nordic Music Days 2022
Ingólfsstræti 2, 101 Reykjavík
Reykjavík
11, October 2022 - 15, October 2022 (see calendar for other dates)
Open from 4.00pm - 11.30pm
Website //www.nordicmusicdays.org
General Admission See on official website
NORDIC MUSIC DAYS 2022
We are excited to welcome you to Nordic Music Days 2022 in Iceland! The festival takes place in the capital Reykjavík and the municipality of Kópavogur. Next to many concerts at various venues and in public spaces the rich festival program offers an exhibition of innovative instruments, a conference on global impact in the arts, concerts for school children and a workshop for young music journalists. Please join in and share our passion for international community building!
FESTIVAL THEME: IMPACT
With its theme Impact Nordic Music Days 2022 reflects upon music and art in a social, political and ecological context of the modern world. How can we make a difference? How can music and art make a difference? How does the world influence us?
The festival program raises those questions in various ways and invites everyone to participate. Keep your eyes open for our Impact Box and share your thoughts on a piece of paper on the go!
HISTORY
The Nordic Music Days have been organized since 1888 as one of the oldest festivals for contemporary classical music in the world. The festival is unique in the sense that it is organized by the composers themselves.
Each year the national societies of composers organize the festival in turn on behalf of the Council of Nordic Composers. This years' festival is organized by the Icelandic Composers' Society.