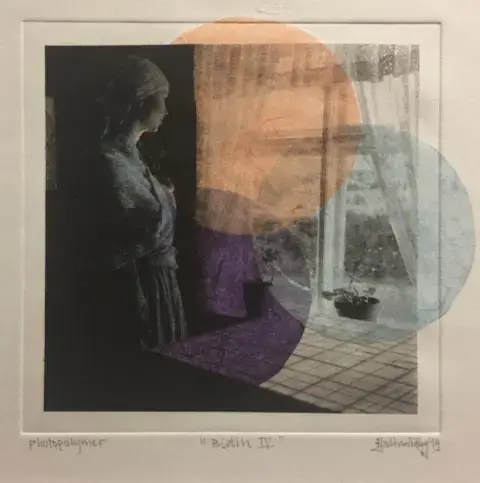 The Nail |Biðin IV
Sólheimar 23, 104 Reykjavík
Borgarbókasafnið Sólheimum
04, November 2022 - 04, January 2023 (see calendar for other dates)
Open from 10.00am - 7.00pm
General Admission See on official website
Sólheimar Culture House will be showcasing the art piece Biðin IV by Gíslína Dögg Bjarkadóttir from November 4th until the beginning of January. The art piece is provided by the Artótek, which is situated in Grófin Culture House.
Gíslína graduated in textile and fashion design from The Iceland university of the arts and she also has a teacher certification in arts. Many of her pieces are inspired by women, especially the anonymous and invisible women who made history, art and life itself, but have been forgotten through the years. Gíslína's pieces are diverse and are made with different techniques.
Freyja Rein, employee at the library in Sólheimar chose the piece and had this to say about it: "The air is changing. Winter is coming. I feel like she is standing there waiting for him like an old acquaintance. The last colors of summer surround her and prepare her for what is to come."
The Nail is an art exhibition at Sólheimar where one art-piece will be showcased at any given time. This is the 12th exhibition in the series. The art can be bought or rented-to-own where one becomes its owner when the rent has reached the sales price. The buyer (or rentee) of the exhibited art can choose the next art-piece, from the Artótek, to be showcased on the Nail.
The piece can be rented for 2.000 kr. a month or bought for 42.000 kr.
Information on the Artótek, the artist and the piece can be found on the Artótek website https://www.artotek.is/
For further information:
Lísbet Perla Gestsdóttir
lisbet.perla.gestsdottir@reykjavik.is | s. 411 6160
Hólmfríður Gunnlaugsdóttir
holmfridur.gunnlaugsdottir@reykjavik.is | s. 411 6112