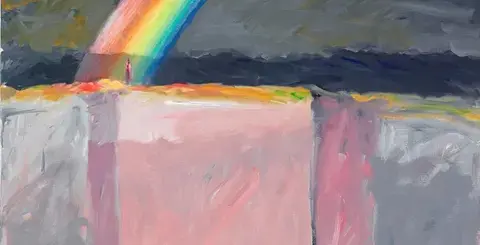 In My Language – Family Workshop in Spanish
Strandgata 34, 220 Hafnarfjörður
Hafnarborg – menningar- og listamiðstöð Hafnarfjarðar
30, September 2023
Open from 1.00pm - 3.00pm
Website https://hafnarborg.is
General Admission See on official website
[Ver versión en español abajo.]
Saturday September 30th at 1-3 p.m., artist Íris Hadda will lead a family workshop in Spanish at Hafnarborg. At the workshop, children and adults will get an opportunity to make three dimensional landscapes out of various materials in connection with the exhibition Landscape for the Chosen Ones. Participants will also have a chance to scope out the exhibition in search of inspiration for their own artistic creations.
The exhibition Landscape for the Chosen Ones explores different aspects of escapism. The exhibition consists of artworks by younger and older artists alike, created in diverse media such as painting, sculpture, print and video.
Íris Hadda is an artist born in Iceland, but she has lived most of her life in Spain. She is a trained art historian and expert in creative writing. She has been living in Iceland since 2020, where she is currently studying photography at Ljósmyndaskólinn alongside working at the Reykjavík Art Museum. Among projects that Íris Hadda has taken on recently is photographic research related to the situation of refugees in Iceland.
In My Language is an event programme focused on making Hafnarborg more accessible to people of different backgrounds by welcoming guests to the museum in various languages. The event is a collaboration between Hafnarborg and the aid organization Get Together that provides support for asylum seekers and refugees in Hafnarfjörður. The programme is supported by the Museum Fund.
Free entry – everyone welcome.
---
En mi idioma – taller familiar en español
El sábado 30 de septiembre de 13:00 a 15:00, la artista Íris Hadda dirigirá un taller familiar en español en el museo Hafnarborg en Hafnarfjörður. El taller, destinado tanto a niños como adultos, consistirá en la creación de paisajes tridimensionales con distintos materiales, tomando como inspiración la exposición Paisaje para los elegidos. Con este taller se incita a los participantes a buscar inspiración en la exposición para su propia creación artística.
La exposición Paisaje para los elegidos explora distintas realidades en las que artistas exploran el paisaje y su realidad desde distintos acercamientos. Las obras expuestas son de artistas de distintas generaciones que trabajan distintos medios como son pintura, escultura, obras impresas y video.
Íris Hadda es una artista nacida en Islandia que ha residido la mayor parte de su vida en España. Formada como historiadora del arte y experta en escritura creativa, vive en Islandia desde el año 2020. En la actualidad cursa estudios en Fotografía en Ljósmyndaskólinn y trabaja en el museo de arte de Reykjavík. Entre los proyectos emprendidos de manera reciente se encuentra la documentación fotográfica de la situación de los refugiados en Islandia.
En mi idioma es un programa que organiza eventos que buscan hacer Hafnarborg accesible a personas de distintos orígenes en su idioma. El programa es una colaboración entre Hafnarborg y la organización Get Together, cuyo objetivo es brindar apoyo a los solicitantes de asilo y refugiados de Hafnarfjörður. Todos los eventos cuentan con el apoyo de los fondos del museo.
Entrada gratuita – todos son bienvenidos.