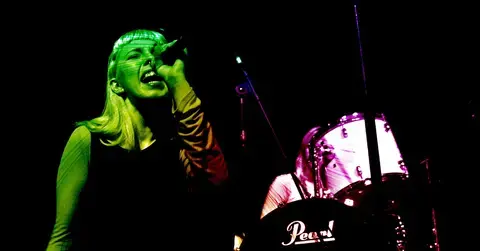 Museum night | Poetry Slam - Dance piece - DJ
Tryggvagata 15, 101 Reykjavík
Borgarbókasafnið Grófinni
03, February 2023
Open from 8.00pm - 11.00pm
Website https://borgarbokasafn.is/vidburdir/tonlist/safnanott-2023-ljodaslamm-dansverk-plotusnudur
General Admission See on official website
🔸 20:00-21:00 Poetry Slam | The stage is yours!
Hæfileikafólk á sviði ljóð- og sviðslistar flytja frumsamin verk.
🔸 21:00-21:30 Dansatriði | Brot úr flæði
Samvinna-Traust-Tenging-Stuðningur-Umönnun.
🔸 21:30-22:00 Úrslit Ljóðaslamms tilkynnt. Vinningshafi endurflytur verk sitt.
🔸 22:00-23:00 Dj Bjarni K. plays music.
〰️➰〰️➰〰️
Poetry Slam 2023 | The stage is yours!
Participants: Elísabet Sóldís Þorsteinsdóttir, Sunna Benjaminsdóttir Bohn, LiLBirdie (Ingibjörg Birta Jónsdóttir), Hallbjörg Helga Guðnadóttir, Sparkle (Sindri Freyr Bjarnason) and Embla Hall.
The Poetry Slam (Ljóðaslamm) has been a regular and a popular event at the Reykjavík City Library through the years. Known poets, musicians and performance artists have taken their first steps at the slam.
Judges: Steinunn Jónsdóttir (from Daughters of Reykjavík), Jón Magnús Arnarsson (winner of the Poetry Slam 2017) and Örvar Smárason (writer and member of the bands FM Belfast og MÚM).
〰️➰〰️➰〰️
Dance piece | Fragment from the dance piece Flæði
Students from Klassíska listdansskólinn show a fragment from the dance piece Flæði, which they have adopted to the space of the library.
Choreographer: Camilo Ernesto
Music: Uniko.VI.Emo - Kimmo Pohjonen, Samuli Kosminen, Krosnos Quaret, Aromobates, NDB- Ninos Du Brasil
Dancers: Ari Jónsson, Dagmar Lilja Stefánsdóttir, Dagný Rós Björnsdóttir, Elísa Hjaltested, Hekla Ýr Þorsteinsdóttir, Íris Hulda Arnarsdóttir,Karen Inga Gylfadóttir, Nína Sigurrós Hjaltadóttir, Rakel Talía Sigfúsdóttir, Salka Þorgerður J. Stelludóttir, Sylvía Kristín Ívarsdóttir and Thelma Lind Ásgeirsdóttir.