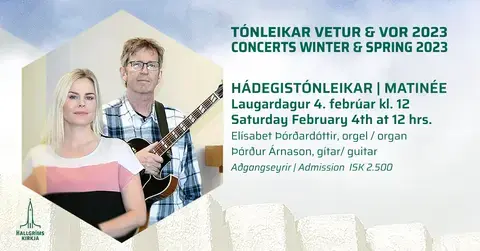 Matinée - Elísabet Þórðardóttir, organ and Þórður Árnason, guitar
Hallgrímstorg 1, 101 Reykjavík
Hallgrímskirkja, Reykjavík
04, February 2023
Open from 12.00pm - 12.30pm
Website https://www.hallgrimskirkja.is/en/calendar/calendar-list/matinee-elisabet-thordardottir-organ-and-thordur-arnason-electric-guitar
General Admission See on official website
Matinée
Saturday February 4th at 12 hrs.
Elísabet Þórðardóttir, organ
Þórður Árnason, guitar
On the program will be something for everyone from Bach to late 70's and early 80's Icelandic progressive rock.
Elísabet Þórðardóttir completed her final exam in piano performance from the New Music School in 2001. In the years 2001-2004, she studied piano at the Musikhochschule Luzern in Switzerland. Elísabet began studying at the Icelandic Church Music School in 2012 and completed her cantor exam in 2017 and a solo stage performance in 2018 under the guidance of Björn Steinar Sólbergsson. She currently works as an organist at Laugarnes Church and as a piano teacher and accompanist at Hafnarfjörður's Conservatory.
Þórður Árnason initially studied with guitar teacher Gunnar H. Jónsson and in the years 1976 – 1978 he studied at the Reykjavík School of Music and then 1984 – 1986 at the Berklee College of Music in Boston.
Þórður has played with various bands, including The fire brigade, the Þursa group and Stuðmen. He has participated in a number of other projects. He has played on numerous records as well as working in both television and theatre.
He has also worked as a guitar and ensemble teacher at M.Í.T., Music School F.Í.H. and Hafnarfjörður Conservatory, where he still works.
Tickets are available at the entrance and on https://tix.is/is/event/14794/
Admission ISK 2.500