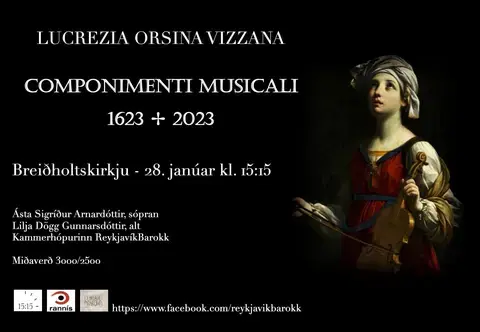 Lucrezia Orsina Vizzana - Componimenti Musicali 1623 + 2023
Þangbakki 5, 109 Reykjavík
Breiðholtskirkja
28, January 2023
Open from 3.15am - 4.30am
Website https://reykjavikbarokk.com/
General Admission See on official website
The baroque ensemble ReykjvíkBarokk presents the Icelandic premier of Componenti Musicali, a collection of motets by the Italian composer Lucretia Orsina Vizzana (1590-1662) in a concert on Saturday, January 28 at 3:15 PM in Breiðholtskirkja.
The performance marks the 400th anniversary of the publishing of the collection on January 1,1623 in Venice. It contains musical compositions by women composers who lived in the many convents of Bologna in the 17th century where the arts thrived and flourished.
Performers:
Ásta Sigríður Arnardóttir, soprano
Lilja Dögg Gunnarsdóttir, alto
Guðný Einarsdóttir, baroque organ
Helga Aðalheiður Jónsdóttir, recorder
Diljá Sigursveinsdóttir, baroque violin
Anna Hugadóttir, baroque viola
Sigurður Halldórsson, barooque cello
The concert is made possible by a grant from Tónlistarsjóður.