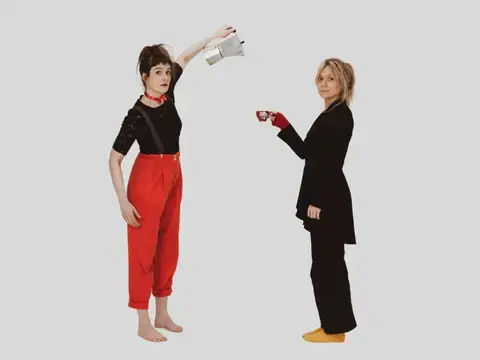 Love a Nervous Wreck, no Dance at Ufsaklettur - Júlía & Tinna
Óðinsgata 2, 101 Reykjavík
Mengi
29, January 2023
Open from 8.00pm - 9.30pm
Website https://www.darkmusicdays.is/is/astinein
General Admission See on official website
This event is part of Dark Music Days 2023.
A concert performance of a new chamber opera for mezzo-soprano and cello, by Anna Halldórsdóttir, written to the poetry of Elísabet Jökulsdóttir from her book Ástin ein taugahrúga, enginn dans við Ufsklett (Love a nervous wreck, no dance at Ufsaklettur).
Performers:
Tinna Þorvalds Önnudóttir, Mezzo soprano and
Júlía Mogensen, Cellist
Spindrift Theatre is an Icelandic-Finnish collective. It was founded in 2013 and consists of six performers. Two of them, Tinna and Bergdís, have recruited an amazing group of women and created this piece.
Tinna Þorvalds Önnudóttir graduated with a BA degree in acting in 2010, and has studied classical singing since 2012, under the guidance of Alina Dubik. Both an educated actress and operasinger, she looks to find the joy of experimenting within the form of opera.
Bergdís Júlía Jóhannsdóttir is the director of the performance. She graduated with a BA in acting in 2013, and has since gained extensive experience both as an actress and director. She has just finished directing the music theatre piece: "Skemmtilegt er myrkrið" (Joyful is the Darkness), by Elín Gunnlaugsdóttir at Harpa concert hall.
Anna Halldórsdóttir is the composer of the piece. She has received the Icelandic Music Award and other accolades for her work. She has published three solo albums and created music for films, documentaries and theatre.
Júlía Mogensen is a classically trained cellist/performer/improviser/collaborator, and she has worked with a diverse range of artists, both on stage and recordings. She studied at the Iceland University of the Arts, Guildhall School of Music and Drama in London and also studied in Berlin. During 2013-2019, Júlía was a member of the Icelandic Symphony Orchestra and the Icelandic Opera.
Elísabet Jökulsdóttir is the poet of the work on which the piece is built. She has published multiple books of poetry as well as short stories and novels. She has also written a number of plays, which have been performed both in Iceland and abroad.
https://www.facebook.com/SpindriftTheatre
https://www.instagram.com/spindrifttheatre/