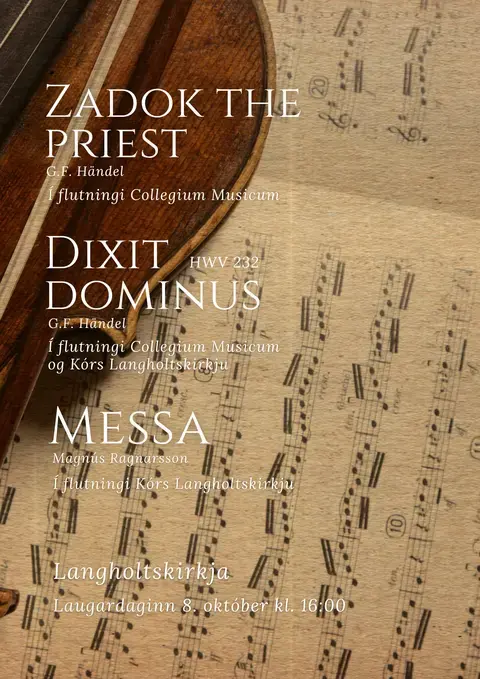 Langholt Church Choir & Collegium Musicum - Joint Concert
Sólheimar , 104 Reykjavík
Langholtskirkja
08, October 2022
Open from 4.00pm - 6.00pm
General Admission See on official website
In the first concert of the '22‒'23 season Langholt Church Choir welcomes the ensemble Collegium Musicum (choir and orchestra) from Bergen, Norway. It is one of the city's leading ensembles and therefore a great pleasure to welcome them in Iceland. The program consists of two of G. F. Händel's great choral works, Zadok the Priest and Dixit Dominus, as well as a new Icelandic mass by Magnús Ragnarsson.
The concert will be held in Langholtskirkja at 4 o'clock PM, 8 October. Tickets will not be available online and only at the entrance of the church before the concert. The regular price is 2900 ISK, but 1900 ISK for students, people with disabilities, senior citizens and members of the Langholt Church Culture Association.
Zadok the Priest is among Händel's most renowned pieces and one the best known in classical music. It was composed for the coronation of King George II in 1727 and has been performed at the coronation of all British monarch ever since.
Händel composed the second piece, Dixit Dominus, at the young age of 22, and it is a setting of Psalm 110, which begins with the words: "The Lord said". The piece is considered to be a great testament to Händel's early music composition and is characterized by dynamic and lively music, fraught with tension, where the psalm's dramatic text is powerfully reflected in the music. It is, furthermore, quite demanding for the choir, consisting of a five-part chorus, with two soprano parts.
Magnús Ragnarsson, the conductor of Langholt Church Choir, composed his a capella mass for a four-part chorus. It is based on the traditional five parts of the Latin mass: Kyrie, Gloria, Credo, Sanctus and Agnus Dei. The mass is modern in style, but is clearly under the influence of
Gregorian chant and the old liturgical tonality. Langholt Church Choir premiered the piece in 2021 and a recording of it will be published on streaming services this fall.
Collegium Musicum's very own orchestra and concertmaster, Dag Anders Eriksen, will accompany the choirs in the concert with local reinforcements. Magnús Ragnarsson is the conductor.
Collegium Musicum regularly performs on its own, led by its conductor, Håkon Matti Skrede, or various visiting conductors, such as Nicolas Kraemer, performing a repertoire ranging from baroque to contemporary music. In recent years the choir has frequently collaborated with the Bergen Philharmonic Orchestra and its principal conductor, Edward Gardner. That fruitful collaboration has led to several award-winning recordings, including Peter Grimes (2021) which the renowned classical music magazine Gramophone named as the record of the year.